The Future Of Retirement (Is In Huskies' Hands)
For the second time in four years, a team from Michigan Tech won a national retirement security essay competition.

The student team, comprised of graduate student Zach Rosenbaum and undergraduates Cole Peppin and John Ruf, won the 2019 iOme Challenge sponsored by the Women's Institute for a Secure Retirement (WISER). The iOme Challenge is a national competition designed to raise awareness among college students about the impact of retirement security on the social and economic well-being of society.

Students from across the country responded to the annual essay competition with a policy paper and a promotional video. They were asked to imagine that Congress named them to an Independent Commission on Retirement, with instructions to re-evaluate and modernize the retirement system from the perspective of Gen Z-ers. The Michigan Tech team's winning essay was titled "The Basic Proposal: Retirement Policy for a New Generation."

Winning the iOme Challenge is no small feat; the Husky team faced competition from universities including Harvard and Columbia. The winning team shares a $5,000 prize, with an additional $1,500 awarded to the team's advisor, Emanuel Xavier-Oliveira, associate professor of economics.

In addition to meeting policymakers from the US Senate and the House of Representatives, including senators Debbie Stabenow and Gary Peters and rep. Jack Bergman, the team presented its paper at a symposium in Washington, DC.
Watch iOme Presentation Basic Plan video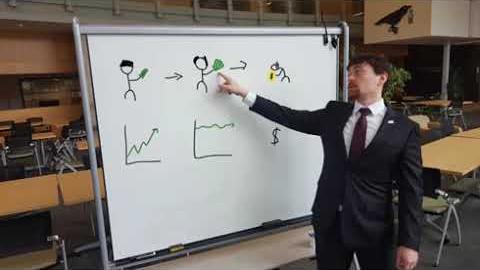 iOme Presentation Basic Plan
---
---
Huskies Master Management In State Competition
Each spring semester, up to 12 Michigan Tech students compete in THE Project, an annual collegiate project management competition offered by the Western Michigan Project Management Institute. It engages college students in the practice of project management*, develops their leadership skills, and provides them with a
platform to demonstrate their abilities to business and community leaders.

Michigan Tech has competed in all eight of the competitions, placing second and third in 2019, third in 2018, and first back in 2017 (beating out other Michigan schools, including Western Michigan University and Grand Valley State University).

*Project Management: The way a person or group organizes and manages resources that are necessary to complete a project.
Student-Run Investment Fund Grows To Nearly $2 Million
In 1998, Michigan Tech was an early adopter of student-run investment funds. While other institutions have played catch-up to model similar programs—primarily for graduate students— Michigan Tech's portfolio management program is still unique. Here, there is no safety net. Undergraduate students call the shots and have full control to determine investment philosophy.

This year's team grew the fund to $1.8 million!

Interested in joining the Applied Portfolio Management Program (APMP)? Each spring semester, students of all majors are invited to apply. Participants are chosen based on rigorous interviews, demonstrated aptitude, and leadership skills in the areas of finance and financial economic theory. Email dean@mtu.edu for more information.
Watch Learn more about APMP video
Learn more about APMP
Minor In Business
Chances are Michigan Tech graduates will go on to work for, start, or run a company. Learn solid business skills as an undergraduate with the addition of a business minor. Course content complements a variety of STEM-based majors.
"By minoring in business, students will learn the fundamentals of operating a business, including critical marketing and accounting skills to better prepare them to work in and lead a technology-focused enterprise."
New Degree Programs
New Data Analytics Concentration in Accounting
The increasing importance of data and analytics has changed the field of accounting and Huskies are responding to the need. A new 18-credit concentration was introduced this year, which leverages accounting, information systems, and math coursework to help accounting students become specialists in databases, data cleaning and visualization, statistical programming, and analytical methods.
Master's Degree in Engineering Management
Take your STEM degree further by pursuing a master's degree in engineering management (MEM). This new program with an accelerated, one-year path positions graduates for managerial roles in technology fields.
Learn more: mtu.edu/business/graduate/engineering-management
Construction Management
As an interdisciplinary degree, construction management students at Michigan Tech have access to the tools, resources, and mentorship of both the College of Business and the Department of Civil Engineering. The program provides students a well-rounded, hands-on curriculum and a 100-percent job placement rate! Learn more: mtu.edu/construction-management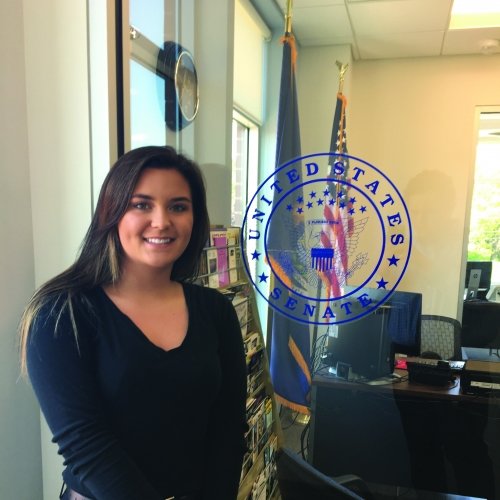 Which Business Major Is Right For You?
Visit mtu.edu/business/undergraduate/assessment and take our one-minute assessment to discover more.
Where Do Business Huskies Intern? Just to name a few. . .
Auto Owner's Insurance
Bank of America/Merrill Lynch
Entrust Datacard
Fastenal
Fiat Chrysler
General Motors
Kohler
Manthei Group
Mercer
US Senate Offices
Yanfeng Automotive Interiors
---
"I'm learning about the legislation process while honing my skills."
Pursuing A Business Major At Michigan Tech Is A Crazy Smart Decision:
Michigan Tech undergraduate placement rate overall

student-run investment funds in the nation valued at nearly $2 million

sponsored scholarships available to business Huskies

student-to-faculty ratio
Donor Pride Alive
Check out the incredible impact from Black and Gold Give Back Day held this spring. A Husky thank you to all who contributed!
total raised for COB

single-largest donation

total number of donors

Gifts came in from 17 states and 5 countries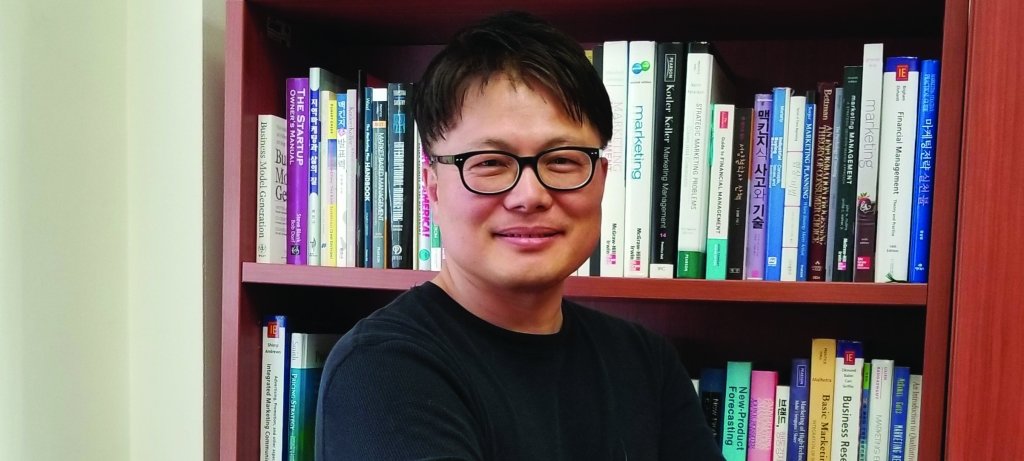 Business Teacher Of The Year
The students have spoken, and the 2018-19 teacher of the year in the College of Business is Jun Min, associate professor of marketing. Min was recognized for his dedication, passion, and for going the extra mile to support students. One nominator wrote: "Jun Min genuinely cares about his students and their success. He goes out of his way to hold meetings after class, just to get to know students and their goals." Min gives his time and resources, developing connections for students that lead to paid internships, co-ops, and full-time employment. He also serves as the advisor to the Michigan Tech student branch of the American Marketing Association.

All about Dr. Min:

Book I think every student should read: Rich Dad, Poor Dad by Robert Kiyosaki. It discusses the various streams of income every entrepreneurial-minded person should consider. It also advocates personal financial literacy, which is a skill all students (of any major) should learn in their early career development to
achieve professional success in the future.

Quote I live by: "Every man's life ends the same way. It is only the details of how he lived and how he died that distinguish one man from another." -Ernest Hemingway

Before I was a professor I was: A senior research executive at AC Nielsen in New York. I conducted international marketing projects that focused on the customer solutions for corporate business problems. I enjoyed working with many passionate marketers in more than 20 different countries.

My research is in: The business relationship governance strategy to initiate, develop, and maintain the system of customer value delivery. In particular, the emerging digital business relationship requires more innovative marketing channel management to respond to demands from tech-savvy customers and their
lifestyles.

I spend my downtime by: Fishing, even though most of the time I end up feeding them rather than catching them [chuckles].

Why marketers are needed now: The first three industrial revolutions have changed our lifestyle from manufacturing-product orientation to the consumer-brand experience. A common success from these previous industrial revolutions was the huge impact on the supply side. The Fourth Industrial Revolution will result in an enormous improvement in the supply side, creating new roles for marketers who are responsible for demand, satisfying customer needs and wants, and play a critical role in future business.
Best In Business: Get To Know Top Students In The College Of Business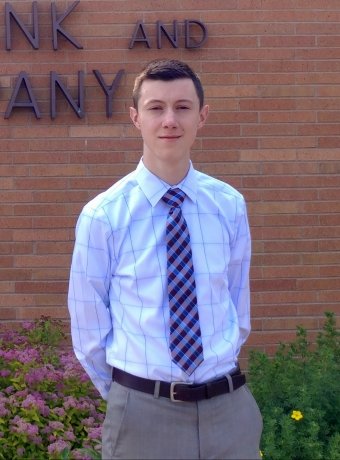 Anthony Custard
Martial artist. Applied Portfolio Management Program investor and finance student. Anthony Custard '21 of Marquette, Michigan, is the 2019 Outstanding Man of Business. This past summer, he participated in a co-op with Superior National Bank and Trust in preparation for a career in banking. Anthony says that the award is a culmination of his hard work so far and his belief in himself.
---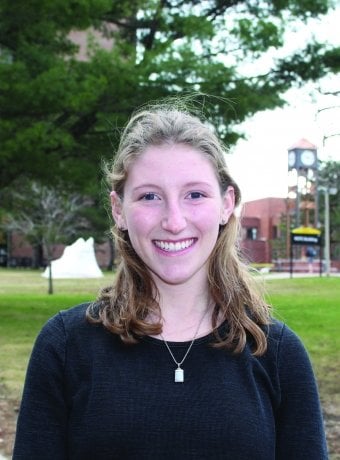 Sarah Goble
Nordic skier. Economics student and researcher. Sarah Goble '20 of Harbor Springs, Michigan, is the 2019 Outstanding Woman of Business. Over the summer, she traveled to Germany to participate in an intensive international business and economics program. Sarah is honored that the award is an opportunity to showcase her efforts outside
the classroom.
---
Blueprint For Success
The leap from classroom to career is now clearer for business students. "The Professional Blueprint program rewards students who complete various steps in professional development," says Sheila Milligan, senior lecturer. Steps in the program include students visiting Career Services on campus to improve their LinkedIn profile, participating in mock interviews, or engaging in an opportunity to do a presentation. "These are important experiences to become a job-ready professional," Milligan says. Those who complete the program earn an honor cord designation at graduation.

Learn about more resources and opportunities for business undergraduates: mtu.edu/business/undergraduate/organizations
Michigan Technological University is a public research university founded in 1885 in Houghton, Michigan, and is home to more than 7,000 students from 55 countries around the world. Consistently ranked among the best universities in the country for return on investment, Michigan's flagship technological university offers more than 120 undergraduate and graduate degree programs in science and technology, engineering, computing, forestry, business and economics, health professions, humanities, mathematics, social sciences, and the arts. The rural campus is situated just miles from Lake Superior in Michigan's Upper Peninsula, offering year-round opportunities for outdoor adventure.