Guiliang Tang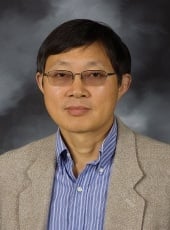 Professor, Biological Sciences
PhD, Weizmann Institute of Sciences, Israel, 2001
Recruitment
One Graduate or Undergraduate Student Researcher in Computer Science is Needed to Do Research on Genome Browser (JBrowse) and RNA-seq on Hourly Pay (February 5, 2017)
One graduate or undergraduate student researcher in computer science will be recruited and paid hourly to work on installing JBrowse and RNA-seq using a Linux computer. Interested students please contact Dr. Guiliang Tang.
Biography
Dr. Tang conducted his graduate research on the catabolic pathway of the essential amino acid lysine in the laboratory of Dr. Gad Galili at the Weizmann Institute of Sciences, Israel. He then moved to the laboratory of Dr. Phillip D. Zamore at the University of Massachusetts Medical School for his post-doctoral research on plant RNA interference (RNAi) and microRNA (miRNA) pathways. He established his independent Gene Suppression Laboratory at the University of Kentucky (UK) and became a tenured Associate Professor there.
In October 2011, he moved from UK to Michigan Technological University (MTU) after a visit to Michigan's Upper Peninsula (U.P.) for a family reunion and enjoying the first winter time outdoor activities with his wife and kids. In May 2016, he became a full Professor at Michigan Tech.
Links of Interest
Specialties
Gene Silencing
RNA Interference (RNAi)
MicroRNA (miRNA)
RNA Silencing in Plant Germ Extract and Drosophila Embryo Lysate.
Fungal RNAi and microRNA
MicroRNA Technologies: Small Tandem Target mimic (STTM) and MicroRNA Array
Plant Electrophysiology in Plant microRNA STTM lines and Venus flytrap.
Recent Publications
Peng T, Qiao M, Liu H, Teotia S, Zhang Z, Zhao Y, Wang B, Zhao D, Shi L, Zhang C, Le B, Rogers K, Gunasekara C, Duan H, Gu Y, Tian L, Nie J, Qi J, Meng F, Huang L, Chen Q, Wang Z, Tang J, Tang X, Wei H, Chen X, Zhao Q, Tang G. (2018) A Resource for Inactivation of microRNAs Using Short Tandem Target Mimic Technology in Model and Crop Plants. Mol Plant. 11(11): 1400-1417.
Ya‐Fan Zhao, Ting Peng, Hong‐Zheng Sun, Sachin Teotia, Hui‐Li Wen, Yan‐Xiu Du, Jing Zhang, Jun‐Zhou Li, Gui-liang Tang, Hong‐Wei Xue, Quan‐Zhi Zhao. (2018) miR1432‐OsACOT (Acyl‐CoA thioesterase) module determines grain yield via enhancing grain filling rate in rice. Plant biotechnology journal doi: 10.1111/pbi.13009. [Epub ahead of print]
Lei Tian, Haiping Liu, Ligang Ren, Lixia Ku, Liuji Wu, Mingna Li, Shunxi Wang, Jinlong Zhou, Xiaoheng Song, Jun Zhang, Dandan Dou, Huafeng Liu, Guiliang Tang, Yanhui Chen. (2018) MicroRNA 399 as a potential integrator of photo-response, phosphate homeostasis, and sucrose signaling under long day condition. BMC plant biology 18 (1), 290.
Chao Song, Xiao-Huang Qin, Qiao Zhou, Zi-Yang Wang, Wei-He Liu, Jun Li, Lan Huang, Yang Chen, Guiliang Tang, Dong-Jie Zhao, Zhong-Yi Wang. (2018) PlantES: A Plant Electrophysiological Multi-Source Data Online Analysis and Sharing Platform. Applied Sciences 8 (11), 2269.
Wang Y, Shi C, Yang T, Zhao L, Chen J, Zhang N, Ren Y, Tang G, Cui D, Chen F. (2018) High-throughput sequencing revealed that microRNAs were involved in the development of superior and inferior grains in bread wheat. Sci Rep. 14;8(1): 13854.
Yang, T., Wang, Y., Teotia, S., Zhang, Z., & Tang, G. (2018). The making of leaves: how small RNA networks modulate leaf development. Frontiers in plant science, 9, 824. Read More
Liu, H., Yu, H., Tang, G., & Huang, T. (2018). Small but powerful: function of microRNAs in plant development. Plant cell reports, 1-14. Ream More
Zhao, Y., Wen, H., Teotia, S., Du, Y., Zhang, J., Li, J., ... & Zhao, Q. (2017). Suppression of microRNA159 impacts multiple agronomic traits in rice (Oryza sativa L.). BMC plant biology, 17(1), 215. Read More
Teotia, S., Zhang, D., & Tang, G. (2017). Knockdown of Rice microRNA166 by Short Tandem Target Mimic (STTM). In Functional Genomics (pp. 337-349). Humana Press, New York, NY. Read More
Tian, B., Wang, S., Todd, T. C., Johnson, C. D., Tang, G., & Trick, H. N. (2017). Genome-wide identification of soybean microRNA responsive to soybean cyst nematodes infection by deep sequencing. BMC genomics, 18(1), 572. Read More
Teotia, S., & Tang, G. (2017). Silencing of Stress-Regulated miRNAs in Plants by Short Tandem Target Mimic (STTM) Approach. In Plant Stress Tolerance (pp. 337-348). Humana Press, New York, NY. Read More
Yang M, Li C, Cai Z, Hu Y, Nolan T, Yu F, Yin Y, Xie Q, Tang G, Wang X. (2017) SINAT E3 Ligases Control the Light-Mediated Stability of the Brassinosteroid-Activated Transcription Factor BES1 in Arabidopsis. Dev Cell . 41(1): 47-58. DOI:10.1016/j.devcel.2017.03.014. Read More
Zhang Z, Hu F, Sung MW, Shu C, Castillo-González C, Koiwa H, Tang G, Dickman M, Li P, Zhang X (2017) RISC-Interacting Clearing 3'- 5' Exoribonucleases (RICEs) degrade uridylated cleavage fragments to maintain functional RISC in Arabidopsis. Elife DOI:10.7554/eLife.24466. Read More
Zhang H, Zhang J, Yan J, Gou F, Mao Y, Tang G, Botella JR, Jian-Kang Zhu (2017) Short tandem target mimic rice lines uncover functions of miRNAs in regulating important agronomic traits. Proc Natl Acad Sci U S A. DOI:10.1073/pnas.1703752114. Read More
Wanzhen LI, Yulong WANG, Jianyu ZHU, Zhangxun WANG, Guiliang TANG, Bo HUANG (2017)Differential DNA methylation may contribute to temporal and spatial regulation of gene expression and the development of mycelia and conidia in entomopathogenic fungus Metarhizium robertsii. Fungal Biology (Online) Read More
Jun Yan, Chunzhao Zhao, Jianping Zhou, Yu Yang, Pengcheng Wang, Xiaohong Zhu, Guiliang Tang, Ray A. Bressan, Jian-Kang Zhu (2016) The miR165/166 Mediated Regulatory Module Plays Critical Roles in ABA Homeostasis and Response in Arabidopsis thaliana. Plos Genetics DOI:10.1371/journal.pgen.1006416. Read More
Yang Chen, Dong-Jie Zhao, Zi-Yang Wang, Zhong-Yi Wang, Guiliang Tang, and Lan Huang (2016) Plant Electrical Signal Classification Based on Waveform Similarity. Algorithms 9(4), 70. Read More
Lina Shi, Xiaoqing Tang, Guiliang Tang (2016) GUIDE-seq to Detect Genome-wide Double-Stranded Breaks in Plants. Trends in Plant Science 21(10): 815-818. Read More
Sachin Teotia, Deepali Singh, Xiaoqing Tang, Guiliang Tang (2016) Essential RNA-Based Technologies and Their Applications in Plant Functional Genomics. Trends in Biotechnology. 34(2):106-23. Read More
Wu X, Ding D, Shi C, Xue Y, Zhang Z, Tang G, Tang J. (2016) microRNA-dependent gene regulatory networks in maize leaf senescence. BMC Plant Biol. 16:73. doi: 10.1186/s12870-016-0755-y. Read More
Wang X, Chen L, Jin H, Wang S, Zhang Y, Tang X, Tang G (2016) Screening miRNAs for early diagnosis of colorectal cancer by small RNA deep sequencing and evaluation in a Chinese patient population. OncoTargets and Therapy. 9: 1159-1166. Read More
Zhang Z, Wu X, Shi C, Wang R, Li S, Wang Z, Liu Z, Xue Y, Tang G, Tang J. (2016) Genetic dissection of the maize kernel development process via conditional QTL mapping for three developing kernel-related traits in an immortalized F2 population. Mol Genet Genomics. 291(1):437-54. Read More
Chi M, Bhagwat B, Tang G, Xiang Y. (2016) Knockdown of Polyphenol Oxidase Gene Expression in Potato (Solanum tuberosum L.) with Artificial MicroRNAs. Methods Mol Biol. 1405:163-78. Read More
Bhagwat B, Chi M, Han D, Tang H, Tang G, Xiang Y. (2016) Design, Construction, and Validation of Artificial MicroRNA Vectors Using Agrobacterium-Mediated Transient Expression System. Methods Mol Biol. 1405:149-62. Read More
Sachin Teotia and Guiliang Tang (2015) To bloom or not to bloom: Role of microRNAs in plant flowering. Molecular Plant 8(3): 359-377 (Highly Cited) Read More
Xiaoyun Jia, Na Ding, Weixin Fan, Jun Yan, Yiyou Gu, Xiaoqing Tang, Runzhi Li, Guiliang Tang (2015) Functional plasticity of miR165/166 in plant development revealed by small tandem target mimic. Plant Science, 233: 11-21. Read More
Zhenying Cai, Jingjing Liu, Haijiao Wang, Cangjing Yang, Yuxiao Chen, Yongchi Li, Shanjin Pan, Rui Dong, Guiliang Tang, Juan de Dios Barajas-Lopez, Hiroaki Fujii, and Xuelu Wang (2014) GSK3-like kinases positively modulate abscisic acid signaling through phosphorylating subgroup III SnRK2s in Arabidopsis. Proc Natl Acad Sci U S A. 111(26): 9651-6 Read More
Peng T, Sun H, Qiao M, Zhao Y, Du Y, Zhang J, Li J, Tang G, Zhao Q. (2014) Differentially expressed microRNA cohorts in seed development may contribute to poor grain filling of inferior spikelets in rice. BMC Plant Biol. 2014 Jul 23;14(1):196. Read More
James Wong, Lei Gao, Yang Yang, Jixian Zhai, Siwaret Arikit, Yu Yu, Shuyi Duan, Vicky Chan, Qin Xiong, Jun Yan, Shengben Li, Renyi Liu, Yuanchao Wang, Guiliang Tang, Blake C. Meyers, Xuemei Chen and Wenbo Ma (2014) Roles of Small RNAs in Soybean Defense against Phytophthora sojae Infection. Plant J. 2014 Jun 18. doi: 10.1111/tpj.12590. [Epub ahead of print] Read More
Chi M, Bhagwat B, Lane WD, Tang G, Su Y, Sun R, Oomah BD, Wiersma PA, Xiang Y. (2014) Reduced polyphenol oxidase gene expression and enzymatic browning in potato (Solanum tuberosum L.) with artificial microRNAs. BMC Plant Biol. 11;14(1):62. Read More
Tang G and Tang X. (2013) Short Tandem Target Mimic: A Long Journey to the Engineered Molecular Landmine for Selective Destruction/Blockage of microRNAs in Plants and Animals. Journal of Genetics and Genomics. 40 (6): 291–296. Read More
Bhagwata B, Chia M, Su L, Tang H, Tang G., Xiang Y. (2013) An in vivo Transient Expression System Can Be Applied for Rapid and Effective Selection of Artificial microRNA Constructs for Plant Stable Genetic Transformation. Journal of Genetics and Genomics. 40(5): 261-70. Read More
Tang G*, Yan J, Gu Y, Qiao M, Fan R, Mao Y, Tang X*. (2012) Construction of short tandem target mimic (STTM) to block the functions of plant and animal microRNAs. Methods 58(2):118-25.(*Corresponding authors) Read More
Yan J, Gu Y, Jia X, Kang W, Pan S, Tang X, Chen X, Tang G. (2012) Effective small RNA destruction by the expression of a short tandem target mimic in Arabidopsis. Plant Cell. 24(2):415-27. (Highly Cited) Read More
Lewis RW, Tang G, McNear DH Jr. (2012) Morphological and genetic changes induced by excess Zn in roots of Medicago truncatula A17 and a Zn accumulating mutant. BMC Res Notes. 5(1):657 Read More
Ren L. and Tang G. (2012) Identification of sucrose-responsive microRNAs reveals sucrose-regulated copper accumulations in an SPL7-dependent and independent manner in Arabidopsis thaliana. Plant Science, 187: 59-68 Read More
Dianwei Han, Jun Zhang, and Guiliang Tang (2012) MicroRNAfold: pre-microRNA secondary structure prediction based on Modified NCM model with thermodynamics-based scoring strategy. International Journal of Data Mining and Bioinformatics 6(3):272-91 Read More
Iyer NJ, Jia X, Sunkar R, Tang G, Mahalingam R. (2012) microRNAs responsive to ozone-induced oxidative stress in Arabidopsis thaliana. Plant Signal Behav 7(4):484 - 491. Read More
Lijuan Ji, Xigang Liu, Jun Yan, Wenming Wang, Rae Eden Yumul, Yu Ju Kim, Thanh Theresa Dinh, Jun Liu, Xia Cui, Binglian Zheng, Manu Agarwal, Chunyan Liu, Xiaofeng Cao, Guiliang Tang, and Xuemei Chen* (2011) ARGONAUTE10 and ARGONAUTE1 Regulate the Termination of Floral Stem Cells through Two microRNAs in Arabidopsis. PLoS Genet. 7(3):e1001358. Epub 2011 Mar 31. Read More
Xiaoyun Jia, Jun Yan, and Guiliang Tang (2011) MicroRNA-mediated DNA methylation in plants. Frontiers in Biology 6(2):133-139 Read More
Tang X, Tang X, Gal J, Kyprianou N, Zhu H, Tang G. (2011) Detection of microRNAs in prostate cancer cells by microRNA array. Methods Mol Biol. 732:69-88. Read More
Dianwei Han, Guiliang Tang, and Jun Zhang (2011) A Parallel Strategy for Predicting the Secondary Structure of Polycistronic MicroRNAs. Int. J. Bioinformatics Research and Applications (In press)
Guiliang Tang (2010) Plant microRNAs: An insight into their gene structures and evolution. Seminars in Cell and Developmental Biology 21:782-789. Read More
Wang WX, Wilfred BR, Madathil SK, Tang G, Hu Y, Dimayuga J, Stromberg AJ, Huang Q, Saatman KE, Nelson PT (2010) MiR-107 Regulates Granulin/Progranulin with Implications for Traumatic Brain Injury and Neurodegenerative Disease. Am J Pathol. 177(1):334-45 Read More
Recent Funding
Inactivation of microRNAs in Crop Plants Using Short Tandem Target Mimic (STTM) Technology. Award Number:1340001; Principal Investigator:Guiliang Tang; Co-Principal Investigator:Xuemei Chen, Wenbo Ma, Harold Trick, Hairong Wei; Organization:Michigan Technological University;NSF Organization:IOS Award Date:06/01/2014; Award Amount:$2,499,979.00.
Recent Projects
Inactivation of microRNAs in Crop Plants Using Short Tandem Target Mimic (STTM) Technology.
EAGER: RNAi Gene Discovery Tool to Randomly Generate Dominant Mutant Pools in Plants