Xiaohu (Mark) Tang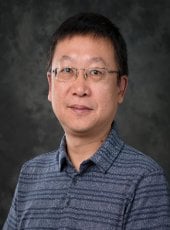 Assistant Professor
Dept. of Biological Sciences
PhD, The Weizmann Institute of Science
Summary
The Laboratory of Cancer Metabolism and Functional Genomics is to characterize deregulation of cancer metabolism and the role of nutrients during cancer initiation and progression. In this perspective, we are aiming to understand the underlying mechanisms and pursue alternative and feasible means to apply on patients. In addition, understanding of diet-cancer interactions could establish a strategy for long-term cancer prevention.
Links of Interest
Research Interests
Cancer Genetics and Metabolism
Mechanisms of Cancer Initiation and Progression
Functional Genomics and Bioinformatics
Interactions of Diet and Nutrition with Cancer
Tang, X., Alothaim, T., & Charbonneau, M. (2022). Recurrent triple-negative breast cancer from cysteine deprivation loses tumorigenicity via downregulation of the CST4 signaling. Read more
Mao, Y., Schoenborn, J., Wang, Z., Chen, X., Matson, K., Mohan, R., ... & Tang, X. (2022). Transgenic overexpression of microRNA-30d in pancreatic beta-cells progressively regulates beta-cell function and identity.

Scientific Reports

,

12(1), 1-12. Read more
Amer, A., Alothaim, T., & Tang, X. (2022). Selenoprotein Sepp1 determines cysteine dependence in pancreatic cancer.

Cancer Research, 82(12_Supplement), 3032-3032. Read more
Coleman, M. F., Liu, K. A., Etigunta, S. K., Pfeil, A. J., Tang, X., Fabela, S., ... & Hursting, S. D. (2021). β Hydroxy β Methylbutyrate synergizes with cytotoxic chemotherapy and immunotherapy in a mouse model of pancreatic cancer. Cancer Research, 81(13_Supplement), 3151-3151. Read more
Tahiyat Alothaim, Morgan Charbonneau, Xiaohu Tang.

The HDAC6 inhibitors promote the synthetic lethality of cysteine in breast cancer. Sci Rep 11, 10956 (2021). Read more

Zhihong Wang, Ramkumar Mohan, Xinqian Chen, Katy Matson, Jackson Waugh, Yiping Mao, Shungang Zhang, Wanzhen Li, Xiaohu Tang, Leslie S Satin, Xiaoqing Tang. microRNA-483 Protects Pancreatic β-Cells by Targeting ALDH1A3. Endocrinology 2021 May 1;162(5). Read more

Lin, CC., Yang, WH., Lin, YT. et al. DDR2 upregulation confers ferroptosis susceptibility of recurrent breast tumors through the Hippo pathway. Oncogene 40, 2018–2034 (2021). Read more
Yiping Mao, Jacob Schoenborn, Zhihong Wang, Xinqian Chen, Ramkumar Mohan, Shungang Zhang, Xiaohu Tang. Anoop Arunagiri, Peter Arvan, Xiaoqing Tang. Overexpression of microRNA-30d in pancreatic beta-cells leads to a progressive beta-cell failure.

Submitted
Lin CC, Mabe NW, Lin YT, Yang WH, Tang X, Hong L et al. RIPK3 upregulation confers robust proliferation and collateral cystine-dependence on breast cancer recurrence. Cell Death Differ 2020; 27: 2234-2247
β-Hydroxy-β-Methylbutyrate supplementation preserves muscle mass and reduces tumor growth in obese mice. MF Coleman, KA Liu, X Tang, S Fabela, LM Lashinger, Z Cui, SD Hursting. Cancer Research 2019; 79 S13, 1090-1090
Walzer KA, Kubicki DM, Tang X, Chi JT. Single-Cell Analysis Reveals Distinct Gene Expression and Heterogeneity in Male and Female Plasmodium falciparum Gametocytes. mSphere 2018; 3.
Lin CC, Kitagawa M, Tang X, Hou MH, Wu J, Qu DC et al. CoA synthase regulates mitotic fidelity via CBP-mediated acetylation. Nat Commun 2018; 9: 1039.
Bowers LW, Rossi EL, McDonell SB, Doerstling SS, Khatib SA, Lineberger CG et al. Leptin Signaling Mediates Obesity-Associated CSC Enrichment and EMT in Preclinical TNBC Models. Mol Cancer Res 2018; 16: 869-879.
Tang X, Ding CK, Wu J, Sjol J, Wardell S, Spasojevic I et al. Cystine addiction of triple-negative breast cancer associated with EMT augmented death signaling. Oncogene 2017; 36: 4235-4242.
Tang X, Ding CK, Wu J, Sjol J, Wardell S, Spasojevic I et al. Cystine addiction of triple-negative breast cancer associated with EMT augmented death signaling. Oncogene 2017; 36: 4379.
Tang X, Wu J, Ding CK, Lu M, Keenan MM, Lin CC et al. Cystine Deprivation Triggers Programmed Necrosis in VHL-Deficient Renal Cell Carcinomas. Cancer Res 2016; 76: 1892-1903.
Tang X, Keenan MM, Wu J, Lin CA, Dubois L, Thompson JW et al. Comprehensive profiling of amino acid response uncovers unique methionine-deprived response dependent on intact creatine biosynthesis. PLoS Genet 2015; 11: e1005158.
Keenan MM, Liu B, Tang X, Wu J, Cyr D, Stevens RD et al. ACLY and ACC1 Regulate Hypoxia-Induced Apoptosis by Modulating ETV4 via α-ketoglutarate. PLoS Genet 2015; 11: e1005599.
Tang X, Lin CC, Spasojevic I, Iversen ES, Chi JT, Marks JR. A joint analysis of metabolomics and genetics of breast cancer. Breast Cancer Res 2014; 16: 415.
Lamonte G, Tang X, Chen JL, Wu J, Ding CK, Keenan MM et al. Acidosis induces reprogramming of cellular metabolism to mitigate oxidative stress. Cancer Metab 2013; 1: 23.
Tang X, Seyb KI, Huang M, Schuman ER, Shi P, Zhu H et al. A high-throughput screening method for small-molecule inhibitors of the aberrant mutant SOD1 and dynein complex interaction. J Biomol Screen 2012; 17: 314-326.
Tang X, Lucas JE, Chen JL, LaMonte G, Wu J, Wang MC et al. Functional interaction between responses to lactic acidosis and hypoxia regulates genomic transcriptional outputs. Cancer Res 2012; 72: 491-502.
Targeted cancer therapy
Function genomics on cancer metabolism

Cancer genomics and epigenetics
Undergraduate students, visiting students, and scholars are welcome to inquire about lab practice and research. Previous research experience with molecular and cell biology is preferred.

Molecular Biology (BL4030/5030)
Epigenetics (BL4038/5038)
Cancer Biology (BL4752/BL5752)
Research Capstone (BL4530)