Ruth Archer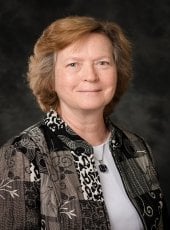 Contact
906-487-3180
136W Wadsworth Hall
Director of Continuous Improvement
PhD, Business Administration with a specialization in Industrial/Organizational Psychology, Northcentral University
MBA, St. Mary's University in San Antonio, Texas
BS, Electrical Engineering, Michigan Technological University
Biography
Ruth Archer is the Director of Continuous Improvement at Michigan Technological University, where she manages the continuous improvement activities for the university. Archer is responsible for facilitating improvements that close the gap between current state and the university's strategic goals, fostering the continuous process of people development, and promoting collaborative partnerships and sharing Lean expertise in the state, the nation, and the global community. In addition, she teaches several courses on Lean principles, teamwork, and communication, and serves as the advisor for two student organizations--Leaders in Continuous Improvement and Silver Wings.

Archer holds a BS in Electrical Engineering, an MBA, and a PhD in Business Administration with a specialization in organizational psychology. She is the chairperson for the Americas Division of the Lean Higher Education Global Steering Committee, an examiner for Michigan Performance Excellence (MIPEx), and on the events committee for the Michigan Lean Consortium. Archer is certified in Lean Office and Service through the University of Michigan, Lean Production Systems through the University of Kentucky, and Change Management through Prosci.

Before working at Michigan Tech, Archer served in the United States Air Force, where she held multiple positions, including aircraft master technician and quality maintenance inspector, test equipment designer, aircraft electromagnetic signature collector, radar capability modeler, current and future radar engineer, executive officer, and AFROTC instructor.