Six continents and 23 countries: Cara (Hanson) Decker '10 and Jeffrey Decker '09 spent the past year on a grand tour of the planet.
Why limit ourselves to a two-week honeymoon when we could travel the world for a year instead?
That's the question Cara (Hanson) Decker '10 and Jeffrey Decker '09 asked themselves while planning their wedding. The pair secured good engineering jobs in Virginia after leaving Michigan Technological University, and their plans for getting hitched came in under budget. That, coupled with household budgeting, allowed the Deckers to save $55,000, leave their jobs and live the dream.
"For about a year before we left, we combed through all of the travel books at our local library to get an idea of how much certain things would cost: lodging, meals and tickets for tourist attractions," Cara, an environmental engineer, says. And in true engineer fashion: "We have multiple elaborate, messy spreadsheets that we have been using this past year."
The pair cut out small things like cable TV and limited eating out to save some money for the trip, but they also made the decision to structure their lives to live on one salary and save the other.
"We are very blessed to have had very good jobs since we both have engineering degrees from Michigan Tech," Jeff, who graduated with a mechanical engineering degree, says. "Once we made the decision that saving was the priority, the rest of the decisions were much easier."
After reading a number of blogs written by other people traveling the world and flipping through travel guides (the Deckers recommend the Lonely Planet series), the couple was able to make an educated guess about the cost of such a trip. It seemed reasonable to spend $135 a day, with prices in more expensive countries balanced out by cheaper costs in other countries. They kept a running spreadsheet of daily expenses to stay under budget.
Cara and Jeff each made a list of the top 10 places they would like to visit; happily, the couple had similar destinations in mind. They hung up a world map and marked their planned stops for about three months of the 12-month trip. The remainder of the trip was planned while they traveled.
Those pins on the map became six continents and 23 countries, all experienced while living out of 50-liter backpacks: Iceland, Finland, Sweden, Poland, U.K., France, Ireland, Germany, Austria, Italy, Greece, Tanzania, U.A.E., India, Singapore, Vietnam, Thailand, Cambodia, Malaysia, Japan, Australia, New Zealand, Peru.
Around the World in 80 Meals
It's said the surest way to understand a culture is to smell and taste it. And if the copious pictures of food on their blog are any indication, it's clear the Deckers have enthusiastically embraced sampling the local cuisine on their travels. Be forewarned—you will likely become incredibly hungry looking at the images on their "Engineered Wanderlust" blog, but on occasion the pair has ended up staring down at a dish that appears less than appetizing.
"We both LOVE food, but had never tried dishes from most of the places we visited before we got to that country," Cara says. "When we arrived in Cambodia, our first meal was from a street cart, and it looked like we ordered little white worms. Good thing they turned out to be rice noodles!"
Mango sticky rice. Conveyor belt sushi. Grilled piranha. Whether preparing the meal themselves during a cooking class in Peru or watching their meal prepared in a roadside lean-to, the pair's culinary adventures during their year abroad have been boundless. The Deckers have found that embracing local cuisines has translated into embracing the ways they've changed and grown during their travels.
"I have completely opened myself up to living in the moment. We have put our trust into many strangers this past year. Jeff has gotten his haircut outside on a sidewalk by a Vietnamese man who spoke zero English. We have stayed in stranger's houses and left as friends. We no longer put value on material objects, but embrace experiences."
Huskies Abroad
The Deckers note that not every minute of their experience has been glamorous or fun. They battled gastric issues. They were tricked into paying a non-existent baggage storage fee during a bus ride. They came up close and personal with the Indian rupee crisis during their time in India. It has been important for them to spend time just relaxing and planning the next legs of their trip. By building time in to recharge rather than check off every attraction from their list they've been able to keep up their stamina for travel.
"Travel isn't always as glamorous as my Instagram account makes it out to be," Cara says. "For example: we are convinced that our water wasn't treated on our last day on Mount Kilimanjaro so we spent the next 72 hours going from the fetal position in bed to the toilet. Or the time in India when I was in a tuk tuk that was literally two seconds away from getting covered by poop from a cow on the side of the road (thank goodness, the tuk tuk driver threw it in a quick reverse). But those experiences pale in comparison to seeing the Cliffs of Moher (Ireland), having a glass of Ouzo on our hotel balcony overlooking the Acropolis (Greece), cooking green curry in Thailand, diving the Great Barrier Reef or scrambling up a mountain to see Machu Pichuu (Peru)."
The couple says that their favorite stops of the trip were the Highlands of Scotland, Greece, Vietnam and New Zealand. And happily, their travels have been punctuated by visits from family who have tagged along for a leg of the trip, or by staying with friends.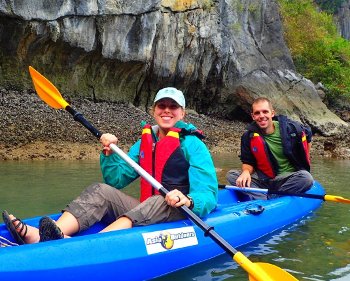 During her time at Michigan Tech, Cara spent a summer participating in research in Bolivia and another in Tanzania as part of her International Sustainable Development Engineering certificate. She kept in touch with students from those countries, and was able to reconnect when the Deckers visited Tanzania. The couple also started their trip with Tony Oxley '10, '11 and Sara Maihofer '10 by going with them to Finland to visit Sara's family. The Deckers also randomly bumped into Bri Drake '10, '15 in Sweden.
The Deckers return from their trip this week and hope to settle in Michigan. Their year abroad has been quite literally the experience of a lifetime.
"The world is as big and scary, or as small and intimate as you make it," Cara says, adding that she appreciates living in a time when travel is easy. "Don't be satisfied with pictures from books or the internet. Get outside of your comfort zone and open yourself to new experiences. Don't be afraid to start small, like checking out a new park on the other side of town. You won't regret it!"
And if quitting a job to travel the world for a year sounds daunting, consider the benefits of living on the cheap and seeing a different corner of the planet every day rather than the same cubicle corner daily.
"Just go for it. The experiences will be totally worth it, and quitting your job and chasing a dream isn't nearly as scary as it seems," Jeff says. "You can always make more money and return to what you were doing, but you can't make more time, so use what you have now."
Michigan Technological University is a public research university, home to more than 7,000 students from 54 countries. Founded in 1885, the University offers more than 120 undergraduate and graduate degree programs in science and technology, engineering, forestry, business and economics, health professions, humanities, mathematics, and social sciences. Our campus in Michigan's Upper Peninsula overlooks the Keweenaw Waterway and is just a few miles from Lake Superior.