Clean Snowmobile Challenge Winners Announced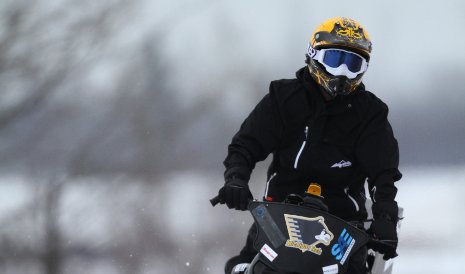 The local ski shop in Houghton, Michigan has held an "El Nino is a Jerk" sale all winter. But in spite of the warm temperatures and melting snow, students from around the northern hemisphere gathered at Michigan Technological University to test their cleaner, quieter snowmobiles.
The Clean Snowmobile Challenge is an annual competition through SAE International, hosted by Michigan Tech's Keweenaw Research Center and the Department of Mechanical Engineering –Engineering Mechanics. The events and tests are held north of Houghton at the Keweenaw Research Center, where student teams run a gambit of tests ranging from a 100-mile Endurance Run to oral presentations to noise and emissions measurements. They compete in three categories: internal combustion, diesel utility class and zero emissions.
Winners
Internal combustion is the largest category. The University of Wisconsin-Madison team, winners of last year's competition, took home the traveling MacLean-Fogg Cup again and the International Snowmobile Manufacturers Association award for first place overall. They also set the bar for clean and quiet: taking home awards for lowest in service emissions sponsored by Sensors, Inc. and quietest snowmobile sponsored by the PCB Group, as well as the SAE International award for best overall internal combustion design.
Competition was stiff, however, and the runner-up teams in internal combustion were close behind. École De Technologie Supérieure and Clarkson University placed second in a virtual tie, the final competition points were within 0.1 percent of each other. École De Technologie Supérieure also took home the best safety award; Clarkson also won the CAMSO best performance award.
The zero emissions category, which covers electric snowmobiles, posed a major challenge. The category is of interest to many research organizations seeking ways to travel in polar regions without contaminating experiment samples. Lapland University of Applied Sciences, the winners from last year, also took the lead again this year, winning the John Deere Electronic Solutions award for first place. They also won best overall electric design from SAE International. Lapland also traveled 19.2 miles on a single charge, the second longest miles achieved in CSC history. Michigan Tech had the second highest point score and South Dakota School of Mines and Technology was third. However, both failed to compete in the distance event.
Although a smaller category—with only two teams competing—the diesel utility class represent a unique group, one that students say focuses on hard work over performance, which is important for agricultural and small engine-based industries. North Dakota State University once again placed first receiving the John Deere Power Systems award. The University of Buffalo team was unable to compete in the emission and range test, but they were recognized by DENSO and BASF for their bold use of a very modern diesel engine with the Innovation award and the Best of the Best award, respectively.
Besides the overall winners, other teams caught the attention of the judges for their work in specific areas.
Rochester Institute of Technology won the AVL best overall IC lab emissions award—meeting the high standards of the mechanical engineers and companies assessing the snowmobiles. They also won a portable 5-gas analyzer from Horiba to help them in future years. This is the second year Horiba has acknowledged a "Team in Need." The University of Idaho won the Gage Products best fuel economy, a crucial part of making the students' prototypes both cleaner and marketable; they also took home the Faurecia award for most innovative emissions design and the ENovations "Can-Do E-Controls Award."
Marketability is considered important for the teams and weighs in on the teams' scores. Kettering University is the Blue Ribbon Coalition most practical design winner while the University of Idaho won the Kohler "most likely to be manufactured" award. Perhaps the most prestigious award won by the University of Idaho is the Founders award for being the Most Sportsmanlike in the eyes of other teams.
Another aspect is usability; after all, snowmobiles need to be fun to ride. The University of Wisconsin–Platteville took both awards for Woody's best acceleration and Polaris Industries best handling. They also won the Hayes Performance Systems Trail Trac Award.
The University of Minnesota Duluth won the Mahle Powertrain best engine design. Michigan Tech won the Continental Emitec award for best value.
Noise and Emissions
The Keweenaw Research Center shop is a wide-open space, separated with toolboxes and tapelines. The main room smells like oil, with a strong whiff of hurry up and wait. Students and volunteers wearing safety glasses pack the room. Lounging doesn't last long as teams are called up to run diagnostic tests and have their sleds looked over.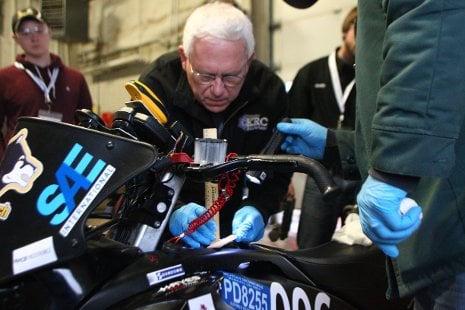 Each test is meant to assess a different aspect of emissions and noise control for the sleds. This Unscripted story dives deep into what it takes to engineer a cleaner, quieter sled. It's no easy feat—the students prepare for months in advance and have to meet the high standards set by SAE International to even compete. The work has real meaning, though: Just this past fall in Michigan, for example, the Department of Natural Resources announced they would be cracking down on snowmobile noise on state trails.
"We want to challenge students to create better, cleaner and quieter sleds," says Sean Egmon, from the sponsoring company AVL North America, who oversees the emissions tests. "It's not easy, but some of these teams were innovative and really rose to the occasion."
The process is nerve wracking for the teams, however.
"It's heartbreaking, watching all your hard work for the past year get tested in a matter of minutes," commented one team member from University of Wisconsin–Madison. "This is the make it or break it event."
Endurance Run
Another all or nothing event is the Endurance Run. To pass this test, students drive their snowmobile from the Keweenaw Research Center to Copper Harbor, a 100-mile trip. Not everyone makes it.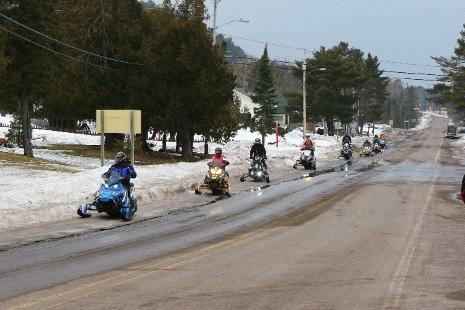 This year, teams had to contend with warm weather—not ideal for engines designed to operate through the cold winter months. Because of temperatures in excess of 40 degrees Fahrenheit, only six teams made it: Clarkson University, École De Technologie Supérieure, University of Idaho, Michigan Tech, University of Wisconsin–Platteville and the University of Waterloo.
Next Year
The Keweenaw Peninsula is practically guaranteed to have snow, making it an ideal winter wonderland for hosting the Clean Snowmobile Challenge. Next year's registration opens in October.
Jay Meldrum, one of the event organizers and director of the Keweenaw Research Center, hopes to continue expanding the event. He especially hopes for more competitors in the zero emissions and diesel utility categories.
"The gauntlet is thrown," Meldrum says, challenging students to push into these newer and sometimes more challenging arenas. "We now have good competition and success in the internal combustion category, but just a few years ago, barely half the sleds ever made it out of the shop. I want to see this in electric and diesel."
Michigan Technological University is a public research university, home to more than 7,000 students from 54 countries. Founded in 1885, the University offers more than 120 undergraduate and graduate degree programs in science and technology, engineering, forestry, business and economics, health professions, humanities, mathematics, and social sciences. Our campus in Michigan's Upper Peninsula overlooks the Keweenaw Waterway and is just a few miles from Lake Superior.