Alumni Association Announces 2016 Award Winners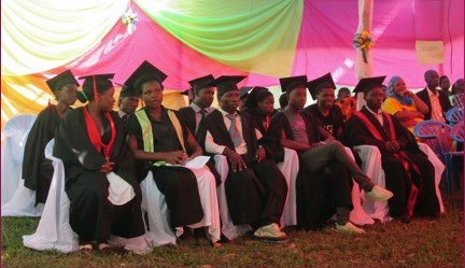 Michigan Technological University's Alumni Association has named its 2016 award winners. Each year members of the Michigan Tech Alumni Association Board of Directors review dozens of nominations of outstanding alumni and friends to determine award recipients. s.
The 2016 recipients include:
Humanitarian Award — James Tanis '57, '58 Geological Engineering / Geophysics, and Janet Tanis, Sedona, Arizona.
Presented to those alumni and friends who, through their outstanding involvement and dedication, have made a significant contribution of volunteer leadership or service which has improved or enriched the lives of others and the welfare of humanity, and whose accomplishments reflect admirably on or bring honor to their Alma Mater.
Mr. and Mrs. Tanis are founders of the Bwindi Community Program, helping the children of rural Uganda get an education.
Outstanding Young Alumni Awards — Benjamin Almquist '04 Materials Science and Engineering, London, England and Dr. Johnathon Aho '08 Mathematical Sciences / Biological Sciences, Rochester, Minnesota.
Presented to alumni under the age of 35 who have distinguished themselves in their careers. The award recognizes the achievement of a position or some distinction noteworthy for one so recently graduated.
Honorary Alumni Award — John Patton, former professor of chemical engineering, 1968-77, El Paso, Texas.
This award honors individuals who have provided service and support of the university characteristic of dedicated alumni. The Association reserves this award to recognize the strongest non-alumni supporters of Michigan Tech.
Outstanding Service Award — Joshua '03 and Jana Fogarty '05 Materials Science and Engineering, Plymouth, Wisconsin.
Presented to alumni and friends making significant contributions to the success of the Association and/or the University.
Distinguished Alumni Award — William Bernard, Jr. '69 Metallurgical & Materials Engineering, Perrysburg, Ohio.
This award recognizes alumni who have made outstanding contributions both in their careers and to Michigan Tech over a number of years.
Many of these awards will be presented at the Alumni Reunion Awards Dinner on August 5. For additional information, contact Alumni Relations.
Michigan Technological University is a public research university, home to more than 7,000 students from 54 countries. Founded in 1885, the University offers more than 120 undergraduate and graduate degree programs in science and technology, engineering, forestry, business and economics, health professions, humanities, mathematics, and social sciences. Our campus in Michigan's Upper Peninsula overlooks the Keweenaw Waterway and is just a few miles from Lake Superior.