Dave Brule Sr. Donates $250,000 in Electrical Engineering Scholarships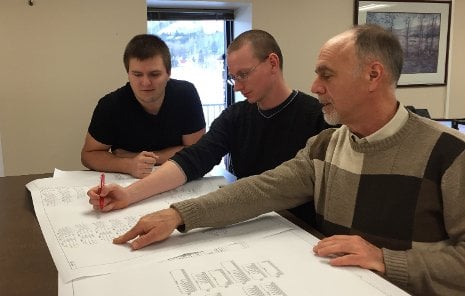 David Brule Sr., an alumnus and longtime supporter of Michigan Technological University, has donated $250,000 to support student scholarships in electrical engineering. Scholarships totaling $50,000 will be awarded each year for five years.
The scholarships are designed to promote the study of electrical power engineering. Recipients of these scholarships will be designated as Systems Control Scholars, in recognition of Brule's Iron Mountain, Michigan-based company: Systems Control.
The first recipients have been chosen and will be honored at a luncheon on campus on Thursday, February 25. They are Ester Buhl, Lauren Clark, Dustin Hanes, Zachary Jensen, Jonathan Schulz, Casey Strom and Troy Johnston, all electrical engineering majors.
"The Electrical and Computer Engineering Department has a wonderful relationship with Mr. Brule going back many years, and we are truly grateful for everything that he has done, not only for us but for all of Michigan Tech," said Dan Fuhrmann, chair of the department. "Dave and his colleagues at Systems Control recognize that it is going to take a special effort to meet future workforce needs in power and energy, and they have really raised the bar in terms of the philanthropic response to that need. We are of course delighted that he has chosen to direct his support toward Michigan Tech ECE students," he added.
Scholarship Winners Speak
"This extremely generous award will have a huge impact on the development of my educational and professional career," said scholarship winner Lauren Clark, a second-year electrical engineering student from Pittsburgh, Pennsylvania. "I can't thank Systems Control enough for the opportunities they have given me. I hope to be successful in the power industry, designing economical solutions for people's energy needs."
Another recipient, Casey Strom, is a 41-year-old non-traditional student from Calumet. Already a Michigan Tech alumnus in surveying, he decided to return to Tech to earn a second degree in electrical engineering with a focus in power. "My current status makes me ineligible for financial aid other than unsubsidized student loans," he said. "This scholarship provides capital to help fund my dream of pursuing a career in electric power engineering. This scholarship not only affects me, but my entire family, and makes this endeavor a possibility."
Both Clark and Strom hope to work for Systems Control.
"Systems Control fully understands the value of the education a Michigan Tech engineer receives," said Dave Brule. "Newly minted Tech graduates are productive and contribute to their new employer's mission virtually from day one of employment. Systems Control employs 46 Tech alums currently, and we are actively recruiting more.
A Future at Systems Control
"I am pleased to be able to support the educational and career goals of aspiring electrical engineers with the establishment of the Systems Control Scholarship program," he went on to say. "It is our goal to attract the best and the brightest among Tech's electrical engineering students as Systems Control Scholars. We hope to employ them full time upon graduation.
"The power generation, transmission and control industry is in the midst of significant growth and change," Brule pointed out. "The development of distributed energy, clean technology, grid modernization and grid hardening represent substantial opportunities for years to come, for Systems Control and its customers. We need to develop, attract and retain the best and the brightest to this exciting field, such that Systems Control can continue in its leadership role as North America's largest manufacturer of electrical control panels and substation equipment enclosures."
Systems Control, a division of Northern Star Industries, Inc., is North America's leader in the design and manufacture of engineered solutions that enable the reliable delivery of energy. The company employs more than 500 people at its Iron Mountain facility, providing engineered solutions for the production of electrical control panels, sub-station control enclosures, energy storage enclosures and electrical transmission protection services.
Houghton SmartZone Office
"Our solutions help energy transmission companies bring power from the source of generation to the consumer," said David Rowe, manager of Systems Control's Houghton SmartZone office.
The company's SmartZone office opened last May and now employs three full-time staff—all Michigan Tech alumni—and seven interns from the University. Rowe said he can see an additional 10 to 15 Systems Control employees in Houghton within a year or two.
Michigan Technological University is a public research university, home to more than 7,000 students from 54 countries. Founded in 1885, the University offers more than 120 undergraduate and graduate degree programs in science and technology, engineering, forestry, business and economics, health professions, humanities, mathematics, and social sciences. Our campus in Michigan's Upper Peninsula overlooks the Keweenaw Waterway and is just a few miles from Lake Superior.