Alumni Travel to Tech for 43 Consecutive Winter Carnivals
By Mark Wilcox | Published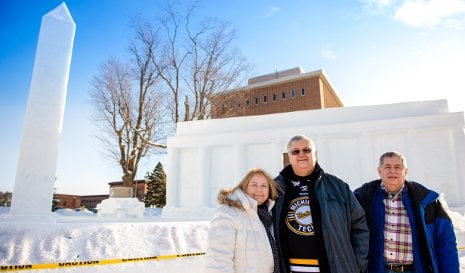 In the fall of 1969, Jim Accetta, Carl Benz and Dan Bonner were first-year students at Michigan Technological University, living in Douglass Houghton Hall. The three freshmen met Ed Anderson, a second-year electrical engineering major. The young men bonded over a variety of campus and residence hall activities, most notably Winter Carnival.
Their first Winter Carnival in February of 1970 has evolved into a tradition. The four friends and their families have used Carnival as their reunion site for more than four decades.
Accetta and his wife Sally were back in Houghton last week, attending their 43rd consecutive Winter Carnival since leaving campus as a married couple in 1973. Now retired, the couple live six months out of the year in Del Ray Beach, Florida and "travel the rest of the year."
This year, because of medical issues, Benz and his wife Rena and Bonner and his wife Frankie, a Calumet native, were forced to stay at home in Toledo, Ohio, and downstate Corrunna respectively. Anderson, who works for US Steel in Southgate, Michigan, was the only member of the group able to join the Accettas for their annual Winter Carnival visit.
While Jim and Sally have made it 43 straight, the attendance records of their friends are as nearly impressive. "This is only the second time in 44 years that all of us haven't been able to make it," Sally Accetta says.
Their initial reason for coming back to campus in those post-graduation years was a common one back then.
Huskies Hockey
"We came back for hockey," says Jim. It was the Golden Age of Michigan Tech hockey, and it just so happened one of their friends from DHH was one of Tech's all-time greats, Hall of Famer George Lyle.
"We came back to see George and watch hockey, and it just kind of turned into an annual thing."
Not that the friends needed much prodding, as Winter Carnival was an important part of their lives as students. In fact, DHH was such a close-knit group, they led to a change in Winter Carnival rules, according to Jim Accetta.
"We got along so well, and we were so well organized, we decided to compete with the fraternities," something that was unheard of for a residence hall, he recalls.
"We won the statue competition and pretty much every other event."
Speed Skating Superstar
It was in the speed skating competition where the All-American Lyle lent a helping hand—or a helping skate, as it turned out.
"George wasn't playing hockey; he had to sit out a year because he had transferred (from another school). So he was our speed skater," Acetta explains. The skaters from the fraternities had official looking speed skating attire and long Olympic-style speed skates, while Lyle showed up in sweats and hockey skates.
"He was so dominant, he skated the last two laps backwards and still won," Jim recalls.
Douglass Houghton Hall's overall win prompted a rule change at the time, keeping residence halls from competing with fraternities.
As the 1970s gave way to the '80s, Michigan Tech's dominance in college hockey waned, but that didn't stop the friends from making their annual Carnival pilgrimage to Houghton, now with children in tow.
Sally Accetta recalls some pretty large gatherings. "Around 1977 we all started having children, so it seemed natural to take them along. Sometimes we had a couple of vans and brought our own babysitters with us. "
Whereas Huskies hockey had initially been the motivation for the Winter Carnival trips, the draw became catching up and enjoying the company of old friends and their families.
But time marches on, and in recent years, as nests have emptied, the family units are small once again. Even so, the four friends and their spouses return to Tech each February.
Their annual visits have become so much a part of Winter carnival local merchants even prepare for them.
"Amy at the Travelodge makes signs and puts out flowers for us, and Victoria has items for us that she normally doesn't have on her menu (at Victoria's Kitchen), to make us feel welcome," Sally said.
Even though their winter plans haven't changed in decades, Accetta says Tech's Winter Carnival has.
"There's more of a party atmosphere these days," he said. "You might have had a little music while working on the statues, but the big party that the All-nighter is now, we didn't have that. It was pretty serious stuff."
Anderson noticed a new sport since his student days on campus. "We didn't really have broomball then," he says. "If we did it wasn't a big deal. Now it's a big deal."
Accetta says the statues have changed as well. "The quantity of the large statues has gone down, there are not as many big statues as there used to be, but the quality and detail have certainly improved from our day. They're using irons and things like that. We never used irons, maybe a torch here and there, but that's it."
Girls, Girls, Girls
Another big change on campus didn't go unnoticed by Accetta.
"There's girls here now," he says. During his first year at Tech, he says, out of an enrollment of about 4,900 students, only around 16 were coeds. "It was so bad that if you saw a girl on campus, you'd run and tell your roommate, 'Guess what? I saw a girl today.'"
Anderson says it was the campus activities that created a bond that time hasn't been able to break.
"Let's face it, you're pretty remote up here, so the more activities you became involved with, the greater your experience. It forms a bond."
Not only did Tech leave a lasting impression on Anderson, Accetta and their friends, the friends made a lasting impression on Tech.
"The wooden sign in front of DHH, we made that," Accetta says. "We noticed none of the residence halls had signs in front of them. We got some old wood and made the sign. I can't believe it's still there today."
The sign remains, but the days of 25 cent standing-room hockey tickets at Dee Stadium and basketball games at Sherman Gym are just memories. But like the sign, the commitment of Accetta and his friends to return for at least a few more Winter Carnivals remains.
"We've said we'd like to make 50 in a row, and then see," Jim said. "But who knows? By that time, the grandkids will be old enough to make the trip with us."
Michigan Technological University is a public research university, home to more than 7,000 students from 54 countries. Founded in 1885, the University offers more than 120 undergraduate and graduate degree programs in science and technology, engineering, forestry, business and economics, health professions, humanities, mathematics, and social sciences. Our campus in Michigan's Upper Peninsula overlooks the Keweenaw Waterway and is just a few miles from Lake Superior.