Make, Create, Innovate: Design Expo 2016
By Allison Mills | Published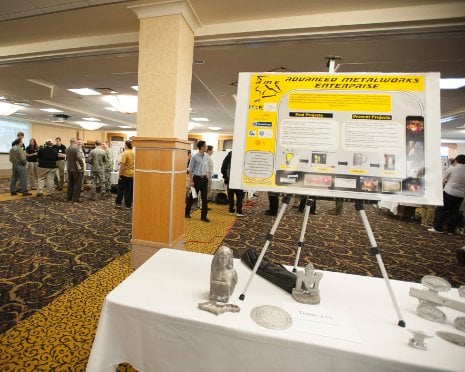 What do a satellite tag anchoring system for Humpback whales, a pandemic ventilator for third world countries, a 793-mpg supermileage vehicle and a low-cost avalanche beacon have in common?
They're all student projects on display at Michigan Tech's 16th annual Design Expo on Thursday, April 14, from 8 a.m. to 4 p.m. in the Memorial Union Ballroom on the Michigan Technological University campus. The event is free and open to the public.
The expo showcases the breadth and depth of undergraduate project work with more than 600 students participating. They pursue projects in two categories: Michigan Tech's Enterprise and senior design programs.
Industry, Design, Enterprise
Projects and posters will on display throughout the day. A panel of judges comprised of corporate representatives and university faculty and staff will critique the projects. Many of the projects are sponsored by industry. Design Expo event sponsors include ITC Holdings, Black & Veatch, American Transmission Co, Code Blue, Kimberly-Clark, Miller Electric, Plexus, as well as Michigan Tech Alumni Association and the university's Office of Innovation and Commercialization.
Michigan Tech's innovative Enterprise program is open to all majors and facilitates interdisciplinary learning, leadership development and team-based project work. Diverse teams of first-year through graduate-level students develop products, processes, and services within their market space, with multiyear participation.
Senior Design challenges teams of highly dedicated senior-level students to explore and address real-world design challenges in their final year. The program connects students and industry sponsors through open-ended projects where teams follow the complete design process from ideation to realization.
For a complete schedule of events—and a full list of teams and projects on display at the Expo—visit www.expo.mtu.edu.
Michigan Technological University is a public research university, home to more than 7,000 students from 54 countries. Founded in 1885, the University offers more than 120 undergraduate and graduate degree programs in science and technology, engineering, forestry, business and economics, health professions, humanities, mathematics, and social sciences. Our campus in Michigan's Upper Peninsula overlooks the Keweenaw Waterway and is just a few miles from Lake Superior.