Tech Students Challenge Themselves on Extreme Vacations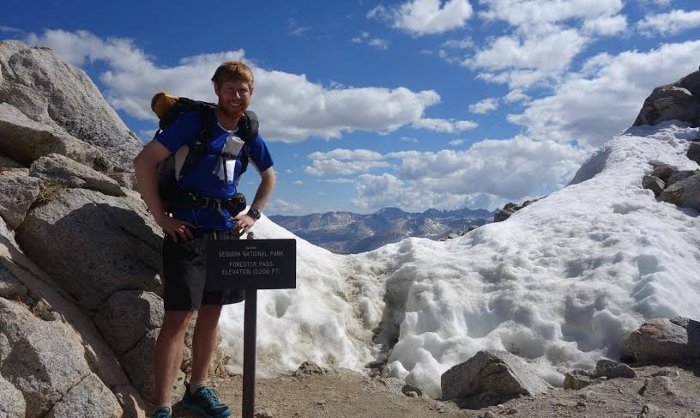 What did you do this summer? Many students at Michigan Technological University enjoyed going back home, working an internship or continuing to take classes. But, what about the others? Some of their summer vacations were a bit more extreme. One biked across the country to help build affordable housing. Another explored a new country, and a third hiked throughout the mountains almost all the way up the West Coast.
Noah Kelly, a second-year mechanical engineering student from Saginaw, Mich., rode his bike from Jacksonville, Fla. to Monterey, Cal. — a total of 4,100 miles in 11 weeks. He was a part of a team for Bike & Build, an organization whose mission is to raise awareness and funds for affordable housing in the United States. Kelly's team raised over $160,000 and spent 15 days working on building sites with other organizations like Habitat for Humanity. Typical days included sleeping on the floor at various schools and church basements, waking up at 4 a.m., hitting the road by 6 a.m., and then pedaling an average of 70 miles a day.
Biking to Build Houses
"I wanted to spend my time this summer doing something that seemed to me to be 'larger than life,' Kelly explains. "In a sense, Bike & Build is a project that no individual could single-handedly accomplish, but as a team, we were able to do incredible things. At the same time though, I wasn't going to get across the country unless I was the one pedaling my bike, and that aspect of the trip was very singular. I found the relationship between those two things to be very interesting."
While Kelly was balancing the relationship between his drive and the drive of his team, Carly Joseph transitioned from studying abroad to exploring. Joseph, a third-year biomedical engineering student from Clarkston, Mich., studied at the Pontifical Catholic University of Valparaiso, Chile, until June. Then, in mid-June, she traveled to Easter Island and ran the 42k/26.2 mile marathon across the island. After that, Joseph traveled to the Atacama Desert in the northern part of Chile, the driest place on earth. In early July, she left Chile for Argentina. First, she spent a week in the capital, Buenos Aires, and then traveled to a small town in the Argentine Sierras to rock climb. Joseph finished her summer in Patagonia, where she worked as an on-snow intern for SASS Global Travel, a backcountry skiing and snowboarding camp.
Easter Island Marathon
"My favorite memory was racing the full marathon on Easter Island," Joseph says. "I did all of the training for the race alone while I was in Chile, but my hard work paid off, and I really enjoyed the race. It was a really challenging course that started with 10 miles going uphill, but the views were amazing. There is a mystical energy about being in such a remote location with such a rich and unique Polynesian culture."
Joseph wasn't the only one enjoying beautiful sights; another student adventured on one of the United States' National Scenic Trails. Kyle McGurk, a fourth year electrical and computer engineering student from DePere, Wis., hiked 2,150 miles of the Pacific Crest Trail from the Mexican Border to Cascade Locks, Ore. He covered about 81 percent of the route on a singular journey.
Hiking the Pacific Crest
"Going into the trip, I assumed that the hardest part would be physical," says McGurk. "The hardest part in practice became controlling my thoughts and emotions to make myself continue. Giving up would have been easy; waking up painfully sore every morning, being swarmed with bugs, suffering from severe dehydration and the uncertainties that came from the drought — these were all challenges physically. Mentally, however, I had to teach myself to take that all in and continue with the 10 to 12 hours of hiking to keep the forward progress going. These hours gave me a lot of time to think and dwell on the trials. It was hard to cope with, but I learned to take it all in stride."
All three students are now back at school and ready to balance their formal education with the wisdom they acquired from their experiences this summer. "Life experience is an extension of formal education," says McGurk. "The summer has added to my desire to take on classes and campus initiatives with a renewed passion."
To those of you who are wondering if you should tackle adventures like these next summer, "Why not?" asks Kelly. "I think that question really takes situations that seem big and scary or maybe really difficult, and it puts them in perspective, which allows you to do anything imaginable."
Joseph adds, "The right time to switch up your usual routine isn't going to fall from the sky — you have to make it happen. "
Michigan Technological University is a public research university, home to more than 7,000 students from 54 countries. Founded in 1885, the University offers more than 120 undergraduate and graduate degree programs in science and technology, engineering, forestry, business and economics, health professions, humanities, mathematics, and social sciences. Our campus in Michigan's Upper Peninsula overlooks the Keweenaw Waterway and is just a few miles from Lake Superior.