Tarun Dam Wins Distinguished Teaching Award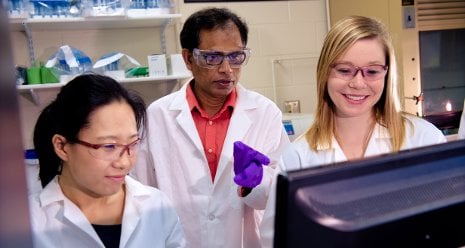 Tarun Dam joined the chemistry faculty at Michigan Technological University as part of the third wave of the University's Strategic Faculty Hiring Initiative. The Initiative, which began in 2008, looked to create several new faculty positions each year dedicated to a specific theme. Dam was one of 11 faculty hired in the area of health and energy initiatives. His hiring proved to be a good move, as he has won one of the University's prestigious teaching awards.
Dam, an assistant professor of chemistry, is the recipient of the 2015 Distinguished Teaching Award in the Assistant Professor, Professor of Practice and Lecturer category
Dam received his MS and PhD degrees from the University of Calcutta, India. He came to the Albert Einstein College of Medicine in New York as a postdoctoral fellow and subsequently became a faculty member there. He continued his research in glycobiology and received the "Young Scientist Award" for his contribution to biocalorimetry, the measurement of the energy created or expended in biological or biochemical processes.
He joined the Michigan Tech chemistry faculty in 2010, and started the Laboratory of Mechanistic Glycobiology, which is engaged in cutting-edge research related to human health and disease.
Although he has published 43 research articles, scientific reviews and book chapters, Dam feels that teaching is as important as research. He teaches biochemistry (both introductory and advanced), pharmaceutical chemistry and glycobiology.
Dam is a strong supporter of undergraduate research and tries to inspire students to pursue scientific research as a career. He has devised a teaching tool called Continuous and Rapid Testing (CaRT), which promotes student involvement, preparedness and communication.
He has developed a new graduate-level advanced biochemistry course and numerous laboratory-based research courses. Dam is a core faculty member of the Biochemistry and Molecular Biology (BMB) graduate program at Michigan Tech and a member of Michigan Tech Life Science and Technology Institute.
He was inducted into Tech's Academy of Teaching Excellence in 2014.
"It was impossible to sit through Dr. Dam's lectures without getting excited about chemistry or science," one of his students said. "He is truly an inspiring professor. He also knows the materials like he knows his name."
Dam says he feels humbled and honored by the award. "I especially feel grateful to my students for finding my teaching helpful and for showing unusual maturity, honesty and responsibility.
Dam will receive a monetary award of $2,500 and a plaque that will be presented at an awards dinner sponsored by University President Glenn Mroz in the fall.
William Kennedy, an associate professor in the Department of Cognitive and Learning Sciences, received this year's Distinguished Teaching Award in the Professor, Associate Professor category.
Michigan Technological University is a public research university, home to more than 7,000 students from 54 countries. Founded in 1885, the University offers more than 120 undergraduate and graduate degree programs in science and technology, engineering, forestry, business and economics, health professions, humanities, mathematics, and social sciences. Our campus in Michigan's Upper Peninsula overlooks the Keweenaw Waterway and is just a few miles from Lake Superior.