Studying on the Rolling Ocean
By Monica Lester | Published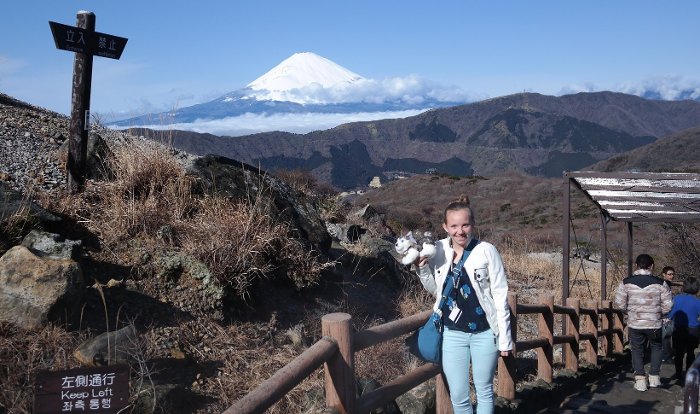 Many dream of traveling to faraway places, but not many students get the chance to live their dream while they are still in college, let alone travel to 12 different countries within four months while still pursuing a degree. But that's exactly what Sasha Burnett is doing as she studies abroad with Semester at Sea.
Semester at Sea is a study-abroad program that provides the opportunity to gain new experiences by traveling and learning aboard the MV Explorer, a state-of-the-art floating campus. The Spring 2015 voyage is currently traveling from San Diego, Cal., to Hawaii, Japan, China, Vietnam, Singapore, Burma, India, Mauritius, South Africa, Nambia, Morocco and England.
Burnett is a second year environmental engineering student at Michigan Tech. "I have always known that I wanted to study abroad, but I had no idea where I wanted to go," she says. "When my boyfriend found Semester at Sea on the study abroad website, I couldn't help but think that traveling to 12 different countries was the best option."
Burnett received a full scholarship to participate in this program in exchange for an individual project she is conducting during her time on the ship. Her eventual goal is to use her environmental engineering degree to travel the world and help communities that don't have safe, drinkable water to develop methods of treating groundwater, so she incorporated that interest into her project.
In each of the ports where the MV Explorer is docking, Burnett will be testing the quality of the drinking water using a First Alert drinking water test kit. The kit tests the water for pH, chlorine, hardness, lead, nitrates/nitrites, bacteria and pesticides.
Before she left for the semester, Burnett did some research on each of the port cities to determine their current water use situation. She also tested the ship's water to serve as a standard. Burnett has also made the effort to contact a local water company at each port and to speak with locals about their water use.
"Each month I am holding a seminar where other students on the ship can come to hear about the results and discuss possible solutions for that area," says Burnett. "The ultimate goal of the project is to see the range in water quality globally and to develop some solutions to fix it."
As you can imagine, class atmosphere is a little different on a ship compared to the MEEM. While on Semester at Sea, students live with their professors and their families. Everyone travels to the same places, eats in the same dining hall, experiences the same rough seas, and sometimes goes on the same shore trips. Faculty frequently ask students to join them for lunch and encourage them to drop by whenever they have a question.
"Although I love the small campus at Michigan Tech, I feel as though the professors teach and then go home for the rest of the day," says Burnett. "Here, we are always learning, and a question never goes unanswered."
Burnett continues, "Most of our classes are focused on teaching us information about the places that we are visiting. If it is an art class, we learn about the art in the next port city. If it's a geohazards class, we learn about the potential hazards where we are going. During our time at the port, we don't have classes, but we are each learning different things about the country, and when we come back to class, we have the opportunity to discuss them together and learn from them."
Getting your sea legs can also be a large change from walking like a penguin up in Houghton's icy climate, and that's what Burnett calls her biggest challenge. "There have really been two challenging parts of the program for me, but they go hand-in-hand," she says. "One is that if you get seasick, there is no escaping it, and classes are required so you can't have a sick day. The other is that there is never enough time to recover in between ports. It is all a learning process though, and once you learn to balance sleep and experiences, there is no downside to this program."
In addition to her sea legs warning, Burnett says, "Do it!" if you are considering apply to this program.
"It is only a month into the program, and I have already learned so much about myself and about the world around me," she explains. "This program is all about community, and while on board, you form this huge family and everyone looks after each other. I have absolutely no regrets for joining Semester at Sea, and if given the opportunity, I would do it again in a heartbeat!"
Michigan Technological University is a public research university, home to more than 7,000 students from 54 countries. Founded in 1885, the University offers more than 120 undergraduate and graduate degree programs in science and technology, engineering, forestry, business and economics, health professions, humanities, mathematics, and social sciences. Our campus in Michigan's Upper Peninsula overlooks the Keweenaw Waterway and is just a few miles from Lake Superior.