Michigan Tech Celebrates World Water Day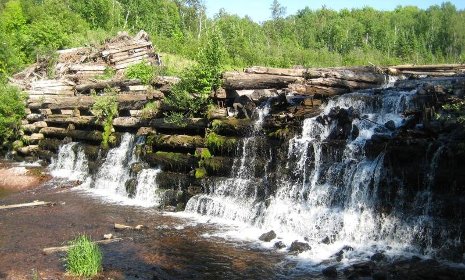 Water is a natural resource none of us can live without. Every year, in recognition of this vital resource and the challenges it presents to people all over the world, Michigan Tech celebrates World Water Day. This year a week of activities are scheduled from March 19-24, in observance of World Water Day on March 22.
World Water Day has been celebrated around the globe each year since its origination in 1993 by the United Nations General Assembly. It's a day to celebrate water, to focus on ways to make a difference for the members of the global population who suffer from water-related issues and to prepare for how we manage water in the future.
"This week represents one of the opportunities to hear about current water issues," says Noel Urban, a professor of civil and environmental engineering and director of Michigan Tech's Center for Water and Society. "Classes generally study the science, engineering and general policies of water resources, but this puts a face of reality to it."
World Water Day events include:
Thursday, March 19
Green Film Series: "DamNation", Forestry G002, 7 p.m.
This film explores changes in national attitude from pride in big dams as engineering wonders to growing awareness that our future is bound to the life and health of our rivers. The showing will be approximately 87 minutes long, and Joseph Wagenbrenner, assistant professor of the School of Forest Resources and Environmental Science will lead a discussion afterwards.
Monday, March 23, Poster Session:
Students will be present for discussions about their posters from 2:30 - 4 p.m. in the first floor hallway of the GLRC. Posters will remain on display through Tuesday, February 24.
"This competition gives the opportunity for students to display their research," says Carol Asiala, assistant research scientist/engineer for the Department of Geological and Mining Engineering and Sciences and the Center for Water and Society. "It gives them exposure and practice in poster presentations before they go to conferences and other functions."
Cash prizes will be awarded in two categories: "Original Research" and "Coursework/Informational." "Original Research" posters can focus on any aspect of water, but "Coursework/Informational" posters will earn additional points if the posters incorporate the 2015 World Water Day theme: "Water and Sustainable Development."
Distinguished Speaker, GLRC 202, 4 p.m., reception following.
Professor Peter Goodwin will present a lecture on "River Restoration and Flood Management". Goodwin is the director of the Center for Ecohydraulics Research at the University of Idaho and also served as the science director for the California Delta Program. He is the DeVlieg Presidential Professor in Ecohydraulics and Professor of Civil Engineering at the University of Idaho.
Art Exhibit: "The Texture of Water"
Guest Artists: Jamie Allen (painting), Tom Rudd (sculpture), Paul Rose (photography)
Tom Rudd will be on hand to give an introduction to his sculptures in the art exhibit at 3:30 p.m. in GLRC 201. The exhibit will run through the end of April.
Tuesday, March 24, Panel Discussion, 9 a.m., GLRC 202
"What role will dams play in future water resource management?"
Panel moderator: Latika Lagalo, School of Business and Economics
Panel members:
Peter Goodwin, Professor of Civil Engineering, Center for Ecohydraulics Research, University of Idaho, specializing in Geomorphology in River Restoration
Bill Leder, president, Copper Country Trout Unlimited and professor of civil engineering at Michigan Tech
Dave Rulison, Otter Lake Property Owners Association
Jim Pawloski, Michigan Department of Natural Resource Water Resources Division, Dam Safety
"The panel will try to bring it closer to home," says Urban. "There are lots of dams in Michigan, and even though the topic is on how we can further manage rivers, this talk on the dams will bring a local focus to the issue."
World Water Day events at Michigan Tech are sponsored by the Michigan Tech Center for Water & Society, the Great Lakes Research Center, Lake Superior Stewardship Initiative, Keweenaw Unitarian Universalist Fellowship, Keweenaw Land Trust, and Michigan Tech Department of Visual and Performing Arts.
Michigan Technological University is a public research university, home to more than 7,000 students from 54 countries. Founded in 1885, the University offers more than 120 undergraduate and graduate degree programs in science and technology, engineering, forestry, business and economics, health professions, humanities, mathematics, and social sciences. Our campus in Michigan's Upper Peninsula overlooks the Keweenaw Waterway and is just a few miles from Lake Superior.