Shokuhfar, Ott receive Diversity Awards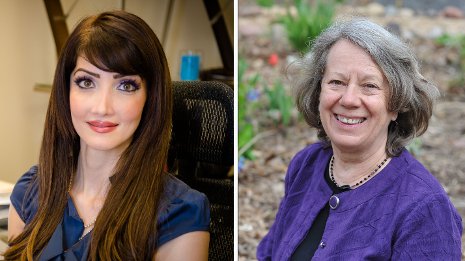 Two Michigan Technological University faculty members have been selected as recipients of Insight Into Diversity Magazine's 100 Inspiring Women in STEM Awards.
Linda Ott, a professor in the department of computer science and Tolou Shokuhfar, assistant professor in mechanical engineering-engineering mechanics, were selected for this national honor.
The award is presented as a tribute to 100 women whose work and achievements not only encourage others in their individual STEM (Science, Technology, Engineering and Mathematics) fields, but also inspire a new generation of young women to consider careers in STEM.
Ott has been on the Michigan Tech faculty for more than 35 years, serving as department chair from 1996 to 2010.
Jennifer Donovan, director of news and media relations at Michigan Tech, nominated Ott for the prestigious honor. "She is certainly deserving of this award," Donovan says. "She established and runs the popular Women in Computer Science summer programs for high school girls at the University and spearheaded a successful effort to get the Michigan Tech Computer Science Department to become a Pacesetter Partner with the National Center for Women and Information Technology." The Pacesetters program focuses on attracting and retaining women in computing fields.
Donovan also mentioned that Ott is a founder of the Michigan Celebration of Women in Computing Conference, designed to support and encourage female computing students.
Ott says she is deeply honored by the recognition, which she calls "quite unexpected."
She says that over the past 30 years she's been disheartened as the number of women undergraduates in the computer science program declined and continued to stay extremely low.
"I've always been grateful that I had the opportunity to have a programming class when I was in high school, and I want today's young women to have a similar exposure to computing."
Ott says computer science can lead to many exciting careers in very diverse fields.
"The best solutions to today's problems come when diverse teams tackle those problems," Ott said. "I believe women should have equal exposure and access to these well-paying careers. Attracting women to computer science is a win for everyone."
Shokuhfar, as a member at the Society for Women in Engineering and the American Society of Mechanical Engineers. She regularly meets with female engineering students at both the undergraduate and graduate levels. She currently mentors 10 female students, most of whom gained interest in her research by attending weekly group meetings where she spoke.
In addition to her position at Michigan Tech, Shokuhfar is an adjunct faculty member at the University of Illinois at Chicago (UIC) and in the UIC College of Dentistry. In 2014, she received the National Science Foundation's most prestigious award (CAREER Award) for her contributions on engineering functional proteins. This award is given in support of junior faculty who exemplify the role of teacher-scholars through outstanding research and the integration of education. With the support of this award and as part of her teaching, training and outreach activities, Shokuhfar has been recruiting and mentoring female and underrepresented students to work in her research lab.
She was nominated for the Diversity Award by Alexander Yarin, distinguished professor at the UIC Department of Mechanical and Industrial Engineering. Yarin, who has published two joint papers with Shokuhfar, nominated her after visiting her lab at Michigan Tech. "I've been impressed with the level of her work," he says.
Shokuhfar says she is "honored and extremely excited" over this national recognition. Being a mechanical engineering professor, she recalls the first time she entered an engineering class to teach. "I was shocked! Out of 46 students in my class, only two were female. I realized that someone needs to do something to make a difference." She says she promised herself to do all she can to be an inspiring role model for woman and attract them to engineering field. Shokuhfar says she hopes the national honor and recognition will open windows to let her peers and mentees of both genders realize the importance of bringing females into science and engineering fields.
Launched 40 years ago, Insight Into Diversity is the oldest and largest diversity magazine in higher education, providing a forum for readers who want to be part of a national conversation about diversity and inclusion in both academic and business environments.
Michigan Technological University is a public research university, home to more than 7,000 students from 54 countries. Founded in 1885, the University offers more than 120 undergraduate and graduate degree programs in science and technology, engineering, forestry, business and economics, health professions, humanities, mathematics, and social sciences. Our campus in Michigan's Upper Peninsula overlooks the Keweenaw Waterway and is just a few miles from Lake Superior.