Parade of Nations Announces its 2015 Theme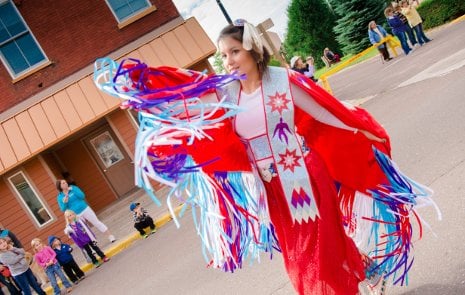 Dragons, serpents and a host of other mythical characters are headed for Houghton in September, when the annual Parade of Nations celebrates its 2015 theme: World of Lore and Legends.
The Parade of Nations and the Multicultural Festival that follows in the Dee Stadium is scheduled for Saturday, Sept. 19. Organizations at Michigan Tech, Finlandia University and in the community are being invited to build floats or march in traditional dress in the parade. Flags from more than 60 countries will be unfurled.
Ethnic Food
International foods and crafts will be on sale at the Dee at the Multicultural Festival right after the parade, with free entertainment from many lands. Organizations can apply to have booths.
Each year, the Parade of Nations sponsors a poster display by elementary school children. The schools participating this year are Chassell Elementary and E.B. Holman Elementary in Stanton Township. The children's art work, based on the Parade of Nations theme or anything else cultural, ethnic or national, will be displayed at the Dee Stadium during the Multicultural Festival after the parade.
Celebrating Diversity
This is the 26th year that the Parade of Nations has celebrated the ethnic diversity in the Keweenaw. It traditionally draws thousands of visitors from all over Michigan and nearby states.
"We are inviting everyone of all ages to join us once again for this year's festivities," said Darnishia Slade, director of International Programs and Services at Michigan Tech and chair of the Parade of Nations planning committee. "We look forward to welcoming and celebrating our international community with you."
For more information, contact Darnishia Slade, dslade@mtu.edu, 906-487-2160.
Michigan Technological University is a public research university, home to more than 7,000 students from 54 countries. Founded in 1885, the University offers more than 120 undergraduate and graduate degree programs in science and technology, engineering, forestry, business and economics, health professions, humanities, mathematics, and social sciences. Our campus in Michigan's Upper Peninsula overlooks the Keweenaw Waterway and is just a few miles from Lake Superior.