Michigan Tech 1 of 5 Universities Chosen to Help Improve Diversity in Mechanical Engineering Education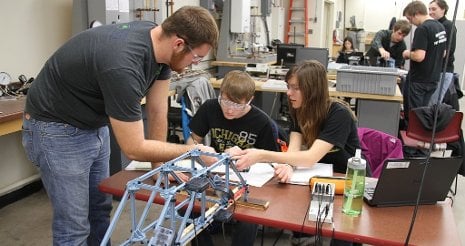 Michigan Technological University's Department of Mechanical Engineering-Engineering Mechanics is one of five mechanical engineering departments nationwide selected by the National Science Foundation (NSF) to participate in a new diversity training program. The others are Purdue, Oregon State, Texas Tech and the University of Oklahoma.
The NSF program is called Transforming Engineering Culture to Advance Inclusion and Diversity (TECAID). The program's goal is to diversify mechanical engineering education, making it more inclusive of women and under-represented minorities.
Undergraduate Diversity
Michigan Tech's mechanical engineering department applied for the program because it wants to increase the diversity of its undergraduate students. Yet despite the department's best efforts, it has had little success increasing undergraduate diversity, going from 3.9 percent under-represented minorities and 8.7 percent women in fall 2009 to 5.1percent under-represented minorities and 11.8 percent women in fall 2014.
In a letter endorsing the mechanical engineering department's application for TECAID, Dean Wayne Pennington said that the College of Engineering has made "significant strides in diversifying our faculty and student body, particularly the representation of women. In disciplines such as mechanical and electrical engineering, however, the gains have been very small."
New Curriculum
The mechanical engineering department's winning application focused on its new curriculum, including a shift to project-based mechanical engineering practice courses in which students work as teams to tackle open-ended problems more like real engineering practice. The new curriculum launched in fall 2014.
"Cultural differences on teams can lead to miscommunication and feelings of frustration and resentment," a team led by Greg Odegard, associate chair and director of undergraduate studies, wrote in their TECAID application. "We want our students to learn the importance of actively forming teams that are diverse in terms of ethnic background, gender and perspective. By valuing diversity and inclusiveness, they will be better mechanical engineers."
Through its TECAID activities, Tech's mechanical engineering department hopes to become a model for other departments at Michigan Tech and for mechanical engineering departments across the nation.
The team guiding the TECAID program, in addition to Odegard, includes Bill Predebon, chair of mechanical engineering-engineering mechanics; Nancy Bar, communications and senior design program advisor; Professor Brad King, director of research; and Professor Michele Miller.
Michigan Technological University is a public research university, home to more than 7,000 students from 54 countries. Founded in 1885, the University offers more than 120 undergraduate and graduate degree programs in science and technology, engineering, forestry, business and economics, health professions, humanities, mathematics, and social sciences. Our campus in Michigan's Upper Peninsula overlooks the Keweenaw Waterway and is just a few miles from Lake Superior.