Alumnus Funds Mechanical Engineering Scholarships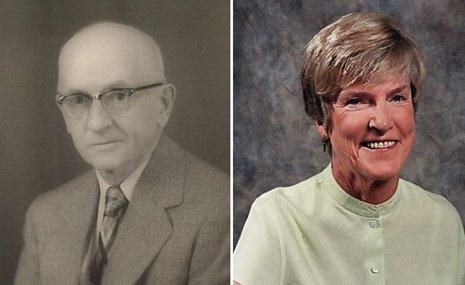 New and current students studying mechanical engineering at Michigan Technological University could be eligible for a new scholarship, thanks to a $2.3 million gift from the estate of an alumnus.
William P. Robinson, '41, established the scholarship fund to offer financial assistance to mechanical engineering majors. Initially established within the Michigan Tech Fund in 1995 but not funded until recently, the William P. Robinson Endowed Scholarship Fund has received nearly $2.3 million from the estate of Robinson's daughter, the late Patricia Hall of Fort Collins, Colo.
Robinson, born in 1918, graduated from Michigan Tech in 1941 with a degree in mechanical engineering. He spent the majority of his career in Wisconsin's Fox River Valley, employed by the Kimberly Clark Corporation. He was very active in the stock market and managed his own portfolio, which grew considerably.
When he died in 2013, the bulk of his estate went to his only child, daughter Patricia Hall, a long-time employee of Colorado State University. Hall died last year, and in keeping with her father's history of generosity to his alma mater, bequeathed the bulk of his estate to the Michigan Tech Fund, which in turn funded the William P. Robinson Endowed Scholarship Fund.
Mechanical Engineering Scholarships
First through fourth year students majoring in mechanical engineering will be eligible to apply. A 2.75 grade point average is required to qualify for the scholarships, which are renewable for four years.
Robinson's gift reflects his long history of philanthropy to Michigan Tech, which resulted in his achieving the status of President's Society Member for previous gifts totaling between $1,000 and $10,000.
William Predebon, department chair of Mechanical Engineering-Engineering Mechanics, said his department certainly benefits from the endowed scholarship.
"This is a major gift to our mechanical engineering program," Predebon said. "I am extremely grateful to ME alumnus William Robinson and his family for this substantial donation."
Predebon says gifts of this nature are essential to higher education. "Today, due to the rising cost of higher education, scholarship funds often become what in the end makes the difference between attending and not attending college for qualified students. The Robinson Scholarship funds will make a difference in the lives of many ME students for years to come."
Michigan Technological University is a public research university, home to more than 7,000 students from 54 countries. Founded in 1885, the University offers more than 120 undergraduate and graduate degree programs in science and technology, engineering, forestry, business and economics, health professions, humanities, mathematics, and social sciences. Our campus in Michigan's Upper Peninsula overlooks the Keweenaw Waterway and is just a few miles from Lake Superior.