Copper Pavilion Dedicated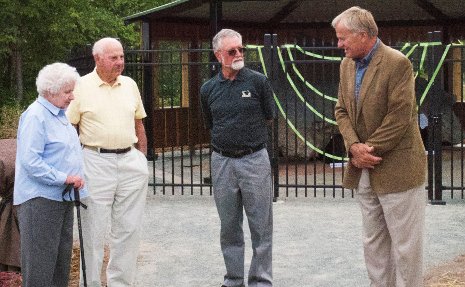 HOUGHTON — The latest addition to what is rapidly becoming a mineral museum complex was unveiled and dedicated Monday afternoon by Michigan Technological University. University officials, museum supporters and many others gathered outside the A. E. Seaman Mineral Museum for the dedication of the Copper Pavilion, the new home of the Guinness World Record 17-ton native copper slab.
The slab, recovered from the bottom of Lake Superior, has been exhibited by the Quincy Mine Hoist Association since 2001. Earlier this year, it was moved to a pedestal adjacent to the Seaman Mineral Museum, and a pavilion was constructed overhead to protect the slab, and its visitors, from the weather.
Michigan Tech President Glenn Mroz credited John and Jane Matz of Traverse City, whose generous donation made the exhibit possible. "It's great for the University to have relationships with friends like them who are not alumni, but recognize a need and are there to help out," Mroz said.
Museum Director Ted Bornhorst said the pavilion, which houses the museum's largest specimen by far, is an important addition to the rapidly growing museum complex. After several temporary homes over the years, the museum was built at its present location on Sharon Avenue and opened in 2011. Last year, the Phyllis and John Seaman Garden was dedicated.
Bornhorst said the Copper Pavilion, which is free and open to the public, is a perfect draw to the museum.
"Our hope is that we continue to grow and develop additional aspects to the museum. Our garden, which features both rocks and plants, and now the Copper Pavilion, are free and always open. Hopefully these attractions draw visitors to the museum and gift shop."
John Matz said his and his wife's long-time support of the museum is quite simple to explain. "We like a really good museum," he said. "This is a particularly good museum for the Keweenaw mining region. It's nice that they've finally found a good, permanent home.
His wife agreed. "They 've taken good care of everything," Jane Matz said.
The Copper Pavilion is located adjacent to the A. E. Seaman Mineral Museum, 1404 Sharon Ave. in Houghton.
Michigan Technological University is a public research university, home to more than 7,000 students from 54 countries. Founded in 1885, the University offers more than 120 undergraduate and graduate degree programs in science and technology, engineering, forestry, business and economics, health professions, humanities, mathematics, and social sciences. Our campus in Michigan's Upper Peninsula overlooks the Keweenaw Waterway and is just a few miles from Lake Superior.