Biomedical Engineering Students Honored by Goldwater Scholarship Program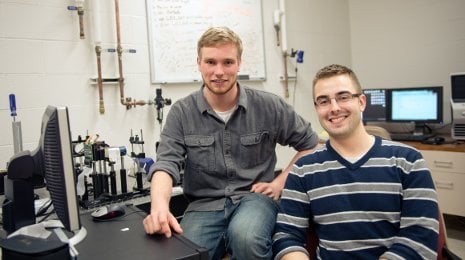 The Barry M. Goldwater Scholarship and Excellence in Education Foundation has honored two Michigan Technological University biomedical engineering students. Mitchell Kirby, a third-year student, won a Goldwater Scholarship, and Dillon Gronseth, a second-year student, received honorable mention in the scholarship program.
Goldwater scholarships — established by Congress to honor the late Senator Barry M. Goldwater — are based on academic merit, research experience and intent to pursue a career in science, engineering or mathematics. The purpose of the program is to provide a continuing source of highly qualified scientists, mathematicians and engineers by awarding scholarships to college students who intend to pursue careers in these fields.
Will Cantrell, associate professor of physics and Michigan Tech's faculty representative for the program, says: "The Goldwater Scholarship is intended to recognize and encourage young scientists and engineers. It is an achievement simply to be nominated; receiving the scholarship or honorable mention is to be held up as an exemplar."
Kirby, who is pursing a degree in biomedical engineering with a minor in electrical engineering, says his career goal is to earn a PhD in biomedical engineering and conduct research on biomedical optics and photonics. He is the ninth Michigan Tech student ever to win a Goldwater Scholarship.
Kirby has published multiple peer-reviewed papers and his work with research advisor Sean Kirkpatrick was presented at an international conference in California hosted by SPIE Photonics West.
Kirkpatrick has high praise for Kirby and his research. "The research Mitch is doing in our lab is really cutting edge, it's graduate-level work," he says. "The results that he is producing will likely transform aspects of how we non-invasively image blood flow and perfusions (the delivery of fluids through an organ or tissues) in humans."
Kirby says, "I feel honored to have received this scholarship and fortunate that it comes as a by-product of the work that truly motivates and excites me." Kirby says he also is grateful for the guidance and support he's received over the past few years.
Kirkpatrick feels Kirby is a worthy recipient. "Mitch is highly deserving of the Goldwater Scholarship. I think he embodies what this scholarship is all about," he says.
Gronseth conducts research in the lab of Megan Frost, an associate professor of biomedical engineering. He says that receiving honorable mention for the Goldwater Scholarship, a rarity for a second-year student, reminds him of how much he has learned and how far he has come in a short period of time.
"It has validated the importance of the skills I have gained through my work and pushed me to work harder to achieve my goals," he says. Gronseth hopes to publish his first paper this year.
Peggy Goldwater Clay, Chair of the Board of Trustees of the Barry Goldwater Scholarship and Excellence in Education Foundation, says 260 scholarships for the 2015-16 academic year were awarded to sophomores and juniors across the US The scholarship winners were selected from a field of 1,206 nominees. The one and two year scholarships will cover the cost of tuition, fees, books and room and board up to a maximum of $7,500 per year. In addition to Kirby, six other scholarship winners are attending Michigan schools; three from the University of Michigan-Ann Arbor, two from Michigan State University and one each from Hope and Calvin College.
Of the nine Goldwater Scholarship recipients from Michigan Tech, four, including the last three, have been biomedical engineering majors, more than any other discipline. Biomedical engineering has also produced two of Tech's three honorable mentions.
Michigan Technological University is a public research university, home to more than 7,000 students from 54 countries. Founded in 1885, the University offers more than 120 undergraduate and graduate degree programs in science and technology, engineering, forestry, business and economics, health professions, humanities, mathematics, and social sciences. Our campus in Michigan's Upper Peninsula overlooks the Keweenaw Waterway and is just a few miles from Lake Superior.