Making Michigan Tech a Safe Place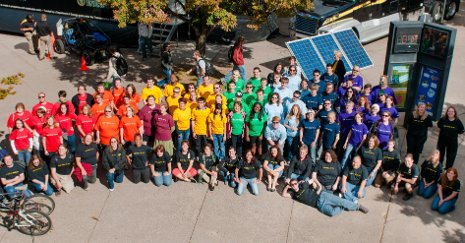 Imagine an environment where each person is treated with dignity and respect, free from discrimination, prejudice and harassment. This place is a goal for Michigan Tech's campus, provided by the Center for Diversity and Inclusion's (CDI) Safe Place program.
The Michigan Tech Safe Place program is a network of faculty and staff "Allies" who serve as resources for individuals with questions or concerns related to gay, lesbian, bisexual, transgender, queer, or questioning (GLBTQ) issues. "The goal behind it is to give faculty, staff and graduate students the correct tools, terminology, and resources to make this campus GLBTQ-friendly," says Jacq Spitzack, the CDI services coordinator who oversees various programs including Safe Place.
GLBTQ Allies
Allies are volunteers from the faculty and staff who go through an intensive training that addresses GLBTQ identities, issues students may face, how to assist those students, and ways to prevent and deal with homophobia and transphobia. "Currently, we are only serving faculty and staff who work with students," says Spitzack. "I would like to see it grow to train undergraduates and anyone in leadership positions. That way everyone is aware and can help make this campus more GLBTQ-friendly."
Allies display the program logo on their office door, which lets students know that people work there are willing and trained to assist them. With the logos, Allies are able to create visible spaces across campus that serve as initial points of contact for students who need assistance. That way, they can serve the GLBTQ community by answering questions and/or referring students to other on- or off-campus resources.
"It helps Tech students who identify with GLBTQ feel comfortable and helps people here understand GLBTQ students' experiences and issues they face," Spitzack explains. "It helps limit micro-aggression in the classroom and around campus."
The Safe Place training offers insight and discussion on how to best serve Michigan Tech's GLBTQ community without imposing on individual's moral, ethical and religious views. Open-mindedness and understanding is emphasized. Allies may play an important role on campus with the Safe Place Program by:
Providing a safe and accepting environment.
Listening (but not counseling).
Helping students form support networks.
Answering questions about GLBTQ resources on campus and in the local community.
Assisting students who need to report harassment.
The training to become an Ally is a two-day affair: day one examines the terminology and issues faced by GLBTQ students, and day two focuses on resources and how to answer questions.
All staff and faculty are encouraged to sign up for the sessions. "If they truly want to be inclusive of all their students, then they need to go," says Spitzack. "Without training, you may not know all the needs and issues the GLBTQ students face. Even if you don't think you have any GLBTQ students, you never know, and it doesn't mean that a micro-aggression won't happen or won't affect them." There is still time to sign up for the sessions on October 17th and 21st.
Pride Week
The first round of Safe Place training was offered over the past two weeks, just in time for Pride Week, which is this week. Hosted by Keweenaw Pride and the CDI, Pride Week features:
Tuesday, Sept. 23: Wear Pride Day, enter to win a prize at the Hamar House, 8 am – 8 pm, and Breaking Down the Barriers: Reimagining a Campus without Violence worskshop - 6:30 – 8 pm at the Hamar House.
Wednesday, Sept. 24: Showing of "Philadelphia" at 8 –10 p.m. in Fisher 135.
Thursday, Sept. 25: Grab a snack and listen to a panel of professional drag queens during the Drag Queen Diaries – 6 – 8 p.m. in the Douglass Houghton Hall (DHH) Ballroom.
Friday, Sept. 26: Amateur Drag Competition - 6 – 8 p.m. in the DHH Ballroom.
Saturday, Sept. 27: The 15th Annual Drag Show – 8 p.m – midnight at the Rozsa Center.
Sunday, Sept. 28: Brunch with the Queens – 11 a.m. – 1 p.m. at Canterbury House.
Michigan Technological University is a public research university, home to more than 7,000 students from 54 countries. Founded in 1885, the University offers more than 120 undergraduate and graduate degree programs in science and technology, engineering, forestry, business and economics, health professions, humanities, mathematics, and social sciences. Our campus in Michigan's Upper Peninsula overlooks the Keweenaw Waterway and is just a few miles from Lake Superior.