Dow Chemical Sponsors Great Lakes Bay Science & Engineering Festival at Delta College
By Jennifer Donovan | Published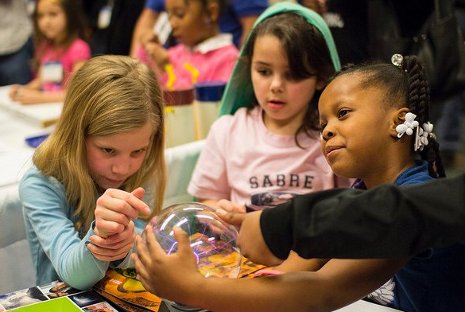 The Dow Chemical Company, the Michigan Tech Mind Trekkers and Delta College are teaming up again to present the Dow Great Lakes Bay Regional Science and Engineering Festival at Delta College Sept. 26-27.
The festival will feature the Michigan Tech Mind Trekkers performing their dramatic demonstrations of science and engineering mysteries. The event is designed to excite children, teens and their families about science and engineering by engaging them in fun, hands-on activities such as puncturing balloons without popping them and making liquid nitrogen ice cream. And yes, it's good to eat.
Science & Engineering Festival
On Friday, Sept. 26, sixth, seventh and eighth graders from the region will have the festival all to themselves during four sessions just for schools. On Saturday, Sept. 27, the festival is free and open to the public from 9 a.m. to 4 p.m. on the Delta College campus.
"Part of Dow's STEM (science, technology, engineering and math) mission is to build the workforce of tomorrow by empowering teachers and motivating students," said Rob Vallentine, global STEM director for Dow. The Dow Great Lakes Bay Regional Science Festival is a perfect opportunity for students and teachers to experience hands-on learning."
Other major sponsors and partners include Delta College, Bay Area Community Foundation, Saginaw Community Foundation, ACS Chemistry for Life, Mid-Michigan American Institute of Chemical Engineers, Michigan Department of Transportation, Consumers Energy, General Motors and Holiday Inn.
Mind Trekkers
Michigan Tech Mind Trekkers are trained student volunteers and staff who conduct high-energy and sometimes startling demos and hands-on activities. They make eyes pop and curiosity spring to life as they show children how to walk on (or sink in) a sticky, white liquid called ooblek or make a magnet float in mid-air—no strings attached—all while explaining the science behind the mystery.
"Mind Trekkers brings the Wow! of science and engineering to young people all over the country," said Cody Kangas, director of Michigan Tech's Center for Pre-college Outreach, which sponsors Mind Trekkers. "We are grateful to Dow Chemical and all of the sponsors for bringing this event back to the Great Lakes Bay Region."
Since its creation in 2010, Mind Trekkers has taken its science and engineering show on the road, performing at the Boy Scout Jamboree, DestiNation Imagination and twice at the USA Science & Engineering Festival in Washington, D.C.
For more information or to arrange interviews, contact: Cody Kangas, ckangas@mtu.edu, 906-487-2219; cell 906-231-7068.
---
Delta College is one of the nation's leading community colleges, known for innovation, community leadership, teaching excellence and graduates who make a difference. Ninety-seven percent graduates in the last five years live in Michigan, and 80 percent reside in Delta's service area – Bay, Saginaw and Midland counties. To enroll, or for more information about Delta College visit www.delta.edu.
Michigan Technological University is a public research university, home to more than 7,000 students from 54 countries. Founded in 1885, the University offers more than 120 undergraduate and graduate degree programs in science and technology, engineering, forestry, business and economics, health professions, humanities, mathematics, and social sciences. Our campus in Michigan's Upper Peninsula overlooks the Keweenaw Waterway and is just a few miles from Lake Superior.