Physics Department Recognized Nationally for Percentage of Women PhDs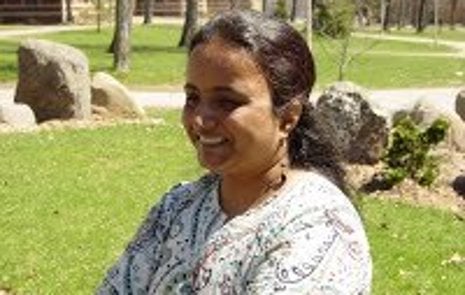 The American Physical Society--an organization that works to advance and spread knowledge of physics through research journals, scientific meetings, education, outreach and advocacy--just issued a report listing the universities that awarded the highest percentages of PhDs in physics to women between 2010 and 2012. Michigan Tech placed 12th in the nation with 42 percent of physics PhDs earned by women.
"This is a well-deserved recognition of the physics faculty members who are committed to diversity at Michigan Tech," said Ravindra Pandey, chair of the Department of Physics.
Michigan Tech has made increasing the numbers of women students and graduates a key part of its strategic plan. Due to a number of recruitment and retention initiatives, the percentage of women has been rising at the University, now nearing 25 percent, and Tech's goal for 2035 is a student body that is 40 percent female.
Women in Physics
"The Physics Department has already met and surpassed that goal, which is a great accomplishment," said President Glenn Mroz. "This is awesome recognition of the work of Ravi and his faculty."
The College of Engineering also has been recognized recently for its percentage of overall doctoral degrees awarded to women. In its latest Profiles of Engineering and Engineering Technology Colleges, the American Society for Engineering Education (ASEE) ranked Michigan Tech 10th in the nation in percentage of engineering doctorates earned by women. According to the ASEE, engineering doctorates received by women at Michigan Tech totaled 31.9 percent of all engineering doctoral degrees awarded by the University in 2013.
Michigan Technological University is a public research university, home to more than 7,000 students from 54 countries. Founded in 1885, the University offers more than 120 undergraduate and graduate degree programs in science and technology, engineering, forestry, business and economics, health professions, humanities, mathematics, and social sciences. Our campus in Michigan's Upper Peninsula overlooks the Keweenaw Waterway and is just a few miles from Lake Superior.