Ten Times Over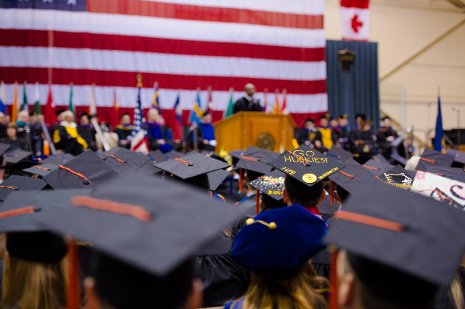 It's never a snapshot of just one perspective.
On campuses across the country, students are ascending one side of a stage, shaking hands, and descending as graduates, careers and experiences and possibilities laid out before them.
These are a few snapshots of one. But not just one. Rebecca Miner is finishing her third Tech degree today, a doctorate in Rhetoric and Technical Communication. Her family is seated in a skybox in the arena while she's up near the stage with the rest of the newly-minted PhDs. It's quiet in the arena. Warm. The only constant sound, aside from the voices calling names, is the sound of camera shutters capturing every moment ten times over.
Near the end of Commencement, President Glenn Mroz gives everyone a few moments to take everything in, after the speeches, the introductions, the ceremony. Around the arena, pockets of people—people who have made a profound difference in the lives of these graduates—are called to stand in turn. It is their support, their being in the picture, that has filled this arena with purpose on a Saturday afternoon in May.
Would all of the spouses, partners and children of our graduates please stand. This is a very special group without whom this ceremony would not have been possible.
Becky thinks of Todd Schmidt , a 2000 Tech graduate, not only as her husband, but as her anchor. By not holding her back: by helping her hold onto her place. By supporting. When she began her PhD, they were living in Marquette. She commuted to Houghton, he to his job in Escanaba. He seems unfazed by the idea of all of the driving, the sacrifices. "We're all just so extremely proud of her," he says from the skybox, looking out toward the stage. "So proud."
They've simply carried on. Through childbirth—Becky and Todd have two children, aged 5 and 7-months—and Becky's diagnosis with rheumatoid arthritis, they've kept going.
"I try not to let my illness slow me down," Becky says before the ceremony. "It's just part of my daily life. We get through it."
What Becky saw in rheumatoid arthritis, besides something to fight through, was an opportunity. "It opened a whole door of opportunity for me," she says, speaking of her research. "And I walked through it."
"We walked through it. It's been a total team effort. I'm so grateful to Todd and my entire family for pursuing this the same way I have. The energy I put into it they added to ten times over."
Would all the parents, step-parents, grandparents, and guardians of the graduates please stand and remain standing.
Four people who stand proudly, but perhaps unsurprised, are Becky's parents and in-laws. Accomplishment after accomplishment, they've marveled at what she's achieved. "When she was little, about two, she was sitting on our living room floor surrounded by a pile of strings and sticks," her mother explains. "Just sitting there, she built a kite. Then we flew it, found out what to improve—problem-solve."
"And she was doing that at two."
Her father also marvels, recounting Becky's career in industry before returning to academia.
"Then, one day, I overheard her say 'Mom, you were right. I want to teach.' And she did."
All of today's graduates have had the opportunity to share an important part of their lives with the faculty of the University. Would those faculty who are here please rise, accept our thanks for a job well done and remain standing.
"I owe a debt of gratitude to Patty Sotirin," Becky says. "And to Karla Kitalong, Diane Shoos and Jennifer Slack. Patty is my advisor, and her patience and understanding and support has gotten me here."
Patty Sotirin, professor in the Department of Humanities, has known Rebecca Miner for nearly a decade. "I'm honored to be Becky's PhD advisor," she reflects. "Becky has a passion for learning what matters to people whose lives are difficult and for contributing to more equitable and engaging possibilities."
Karla Kitalong worked closely with Becky throughout her doctorate as well. "She asks for help when she needs it, but she almost never needs it," says the associate professor of humanities."I have thoroughly enjoyed working with Becky; she's a student, more than that she is a valued colleague and friend."
Would all the brothers, sisters, aunts, uncles, cousins and other family members now please stand.
Jan is Becky's only sibling, a fellow Tech alumna ('88), and also one of her biggest cheerleaders.
"Sure, there's ten years separating us in age, but we're as close as can be otherwise," Jan explains.
Jan and Becky have found a rhythm in their lives that centers around school and family. "We plan vacations and gatherings based on when classes are off or what have you," Jan says. "My husband and I timed our wedding so it fit Becky's spring break. I needed her to be there."
Becky feels much the same way. "It's the support that makes this happen," she says. "It's how much everyone has pitched in; my husband, parents, sister and her family, my in-laws, sister-in-law and her family. It's a web of support, and I'm really grateful for that."
For her part, Jan marvels at what Becky has earned today. "She's always persevered and advocated for herself. To be able to accomplish this is amazing."
Would all the friends, University staff and those of us who are here because we want to honor these graduates, please join in standing.
In her years in humanities, a number of office staff have supported Becky along the way. Their names come out without hesitation "Sue, Kim, Jackie, Gina, Marjorie, they all helped me get here. They do SO much for us."
Sue Niemi, Kim Puuri, Jackie Ellenich, Gina Dunstan and Marjorie Lindley, like the support staff throughout the University, have played a huge part in keeping the graduate students in humanities organized and on-track over the last decade.
"She was always there for me," Becky says. Marjorie, now in the School of Forest Resources and Environmental Science offers: "She is a very sweet caring person, and with everything she has gone through with this journey and traveling back and forth and now she's graduating with her PhD. How awesome is that?"
And lastly, will those who have gone before these graduates—and shown the way—our accomplished alumni, please stand.
"The Tech community is really a main part of her life," Todd says. "Of our lives. We are so extremely proud of her." He rattles off events and reunions they make a point of attending. "Tech is a central part of our story. I've got a degree from here, and she has three. This is where we've made lifelong friends."
Would the graduating Class of 2014 now please stand and accept our congratulations and thanks.
It's a good ten minutes before the graduates have all exited the arena. The main lobby of the Student Development Complex is, as with every commencement, a sea of graduates, formal wear and hugs, the sound of bits of winter sand ground between dress shoes and floor tile.
In a quieter corner, Becky has connected with her family, with hugs and smiles and laughter. She holds her children close, she and Todd getting to exchange a few words while he also directs traffic for the family.
Then a few of them hand over cameras and phones to others, posing for pictures, the same moment captured—from a few different perspectives—ten times over.
Michigan Technological University is a public research university, home to more than 7,000 students from 54 countries. Founded in 1885, the University offers more than 120 undergraduate and graduate degree programs in science and technology, engineering, forestry, business and economics, health professions, humanities, mathematics, and social sciences. Our campus in Michigan's Upper Peninsula overlooks the Keweenaw Waterway and is just a few miles from Lake Superior.