State Farm Grant Helps Students Learn to Help Younger Students
By Erika Vichcales | Published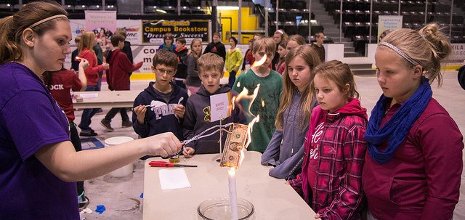 Exciting, inspiring, imaginative: three simple words that completely encompass Mind Trekker events. Mind Trekkers, a student organization at Michigan Technological University, started in 2010 and is designed to gives college students the opportunity to get younger students from all across the country excited about science.
Earlier in the year, Mind Trekkers received an $80,000 grant from the State Farm Youth Advisory Board to spread their impact to local high schools including Hancock, L'anse, Lakeland and Calumet. "The high school students participate in science demonstrations and activities – looking at problem solving, experimentation, explaining events that don't react or result in the way we think they should," explained Joe Heflin, a science teacher at Calumet High School.
Typically three or four college students along with the GEAR UP team, a college readiness program at Michigan Tech works with a Mind Trekkers Science Club at the various schools. The club's main objective is to help the school get the tools they need to make science more fun and exciting to learn.
"In addition to doing science and learning all these cool things, we bring college students to be mentors. A lot of the high school students are just like many of us, unsure of what they want to do," said Liz Fujita, assistant coordinator for GEAR UP. "We are not there to tell them they have to go to Tech, to be an engineer, or to even like science. We just want them to be interested in learning something after high school. There is this stigma that starts in middle school that science is for nerds, but science is actually everywhere. We want to show them that science is a real thing and that it is everywhere because it's important."
While the clubs may have started for some kids as a way to get out of class, they have turned into a life-changing experience for many high school students. "It's really interesting and fun," said Hancock High School student Blake Patterson. "I was nervous about going at first, but I started getting into science. I have wanted to be a teacher, and now I am thinking a science teacher, so I can teach students that science is fun."
Almost two-thirds of the grant is used to buy supplies for the local high schools, tools that they can keep forever. For example, if they need laser kits, the GEAR UP team will buy the school laser kits and put on a small program about optics and lasers. Then the school can use the equipment for their other science classes. The main goalof the grant is to get kids excited about learning, meeting college students and thinking about life and their futures. It also has brought a $40,000 infusion of equipment to local schools. The grant is purchasing whatever the science, math and engineering teachers need to create a better hands-on learning experience. "These materials/equipment will be used in the classroom to help demonstrate key concepts," said Heflin. "Some concepts you just need to see and interact with – seeing is believing. There is an old teachers' adage, 'Tell me and I will forget. Show me and I will remember. Involve me and I will understand.'"
As a part of the program, the students hosted a large event at Michigan Tech on May 16, similar to the ones Mind Trekkers conduct, but this one targeted younger students, giving the high schoolers the opportunity to become teachers and mentors themselves. Fourth and fifth graders came to learn from the high school students.
"It builds confidence and piques interest in the STEM curriculum," said Heflin. "I think teaching others [elementary students] helps to solidify their understanding of science concepts."
The event was a huge success. With the large lines of students at the different stations and the amount of children running around with a smile on their faces, you might have thought you were at a fair or amusement park.
"It's awesome," said Barkell Elementary student Colin Cowell. "We went to a similar one at the beginning of the year." "We are doing cool stuff and learning at the same time," said Barkell Elementary student Benjamin Galetto.
The teachers also loved the event. "It's a great way for hands-on science," said Barkell Elementary teacher Amy Jo Maki. Hancock brought 140 fourth and fifth grade students to the science extravaganza. "It's great because we don't have the hands-on materials or the resources to do this," said Barkell Elementary teacher Amy Pierce.
The clubs plan to continue into the following school year and potentially expand the number of students involved. The clubs try to tailor their activities to the best time for their students. So some clubs meet after school, while others are during lunch and fifth period to avoid conflicting with sports.
"I am planning on doing this again next year," said Heflin. "Possibly also extending down into the middle school for joint meetings with their Science Olympiad club." The hope is that the clubs will continue in the upcoming years, continuing to instill a passion for science and learning.
Michigan Technological University is a public research university, home to more than 7,000 students from 54 countries. Founded in 1885, the University offers more than 120 undergraduate and graduate degree programs in science and technology, engineering, forestry, business and economics, health professions, humanities, mathematics, and social sciences. Our campus in Michigan's Upper Peninsula overlooks the Keweenaw Waterway and is just a few miles from Lake Superior.