Michigan Tech Student Records the Sounds of Japan
By Erika Vichcales | Published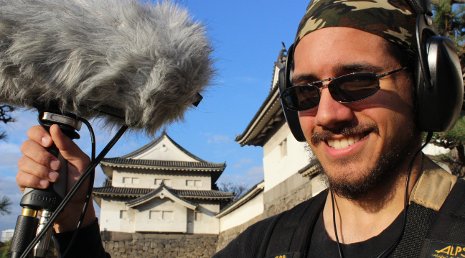 Crazy Smart. One of Michigan Technological University's favorite mottos is also exactly what it takes to win a Gilman Scholarship.
Christopher Trevino has been studying in Japan this school year because he won three scholarships: the Japan Business Society of Detroit Scholarship, the American Association of Teachers of Japanese Bridging Scholarship and the Benjamin A. Gilman International Scholarship. The Gilman Scholarship, awarded by the US Department of State, requires recipients to perform a service project after they complete their study abroad.
Trevino is staying in Hikone at the Japan Center for Michigan Universities. Hikone is in Japan's Shiga prefecture and is famous for being home to Lake Biwa, Japan's largest freshwater lake. Shiga is also a sister state to Michigan.
"I was particularly drawn to JCMU because it is located on the shores of Lake Biwa, Japan's largest freshwater lake. I grew up in Houghton County, just miles away from Tech, and have been surrounded by Lake Superior my whole life. Being close to nature and freshwater is something that makes me happy because that is where I spent my childhood," says Trevino. "I felt that no matter how difficult it may be to live in a new country, I would be fine so long as I was somewhere that was naturally beautiful. I know that I feel most at home in nature, which is one of the reasons I appreciate JCMU as well as Michigan Tech."
The Gilman Scholarship requires recipients to perform a service project. Trevino plans on using his love for Japanese sound, an often-overlooked aspect of their culture, and his skills as a sound designer and field recordist for his service project.
"Learning Japanese started as a childhood dream of mine and now has also become a professional goal," says Trevino. "When I was a kid, I bonded with my siblings through playing games together, many of which were Japanese. The music and sound of those games captivated me and led me to aspire to become a sound designer for video games. Japan continues to be a significant figure in the video game industry, and I think that it's invaluable to be able to communicate and collaborate with Japanese professionals once I'm working in the field."
Without his experience at Michigan Tech, Trevino feels he would not be nearly as qualified for this project. He has produced sound design for different plays while at Tech, including one for Northern Michigan University. He has also worked on a variety of class projects and independent student ventures through a student recording organization called Above the Bridge.
Summer work as an intern at the Detroit Chop Shop, which specializes in recording and producing commercial sound effect libraries, gives Trevino an important leg up on his project.
"Working at the Chop Shop challenged me to hone my skills as a field recordist and sound designer in a professional setting," Trevino explains. "While there I helped record and edit five different commercial libraries. Also I was expected to work as an equal to the rest of my coworkers, and I was able to learn a lot through collaborating with other sound designers."
Trevino's project has two different aspects. One centers on the library that he has been recording during his time in Japan. Once he returns to the US, he will finish editing and mastering these recordings, and will then release a collection of the sounds into a creative commons for anyone to use.
"It is my hope that this will be of value on a cultural side, to raise awareness of how soundscapes differ throughout the world, and in a practical way, giving people, such as independent game developers and filmmakers access to sounds that are unique in Japan," says Trevino. "There are sounds I've experienced while living in Japan that I've never heard in the US. I want to share this with other people because I believe is a significant part of the human experience. Our minds can relate poignant memories to specific sounds, and sound itself influences us as people."
The second phase of his service project will be communicating his experience in Japan and the benefits of studying abroad to Michigan Tech. One presentation will be university-wide; the other will be tailored to students in the Department of Visual and Performing Arts.
"I hope that the presentations I give at Michigan Tech will inspire other undergraduates to study abroad," Trevino says. "Within my department especially, very few students have studied abroad. I want to show my peers what they can accomplish studying abroad while being an undergraduate. The months I've spent in Japan have been some of the most enlightening of my life. I feel that I've discovered a great deal about myself, my native culture and the world at large. I want others to be able to have an experience like mine because you learn things while living in another country that are difficult to learn when you live in the same country all of your life."
Studying abroad brings many great new experiences to one's life, he goes on to say. Students are immersed in a brand new culture, and basically have to retrain their way of life. This is especially true for cultures that are much different than the US.
One of Trevino's favorite parts of studying abroad was rediscovering how to do everything. "Starting from nothing gave me the chance to rebuild myself, appreciate and learn to conquer the challenges and complexity of everyday interactions, and discover pieces of what makes me who I am," he explains. "After starting from a kid-state, I'm overwhelmed with joy now that I've reached a semi-autonomous state once more. I feel like going through this process has made me a bolder person, and I'm excited to see how I use this newfound boldness when I return to the United States and rejoin my native culture."
Another favorite pastime while living in Japan was travelling using the local trains. He was able to take a weeklong trip by train, seeing more than 1,300 miles of northern tiers of the country—where foreigners rarely travel—at half the cost. The places he saw and misadventures he had during that trip made it an unforgettable memory for him. Journeying throughout Japan has kindled Trevino's travelling spirit, and now he hopes to continue travelling to as many places as possible.
Trevino is looking into doing a Kickstarter crowdfunding project to support a return to Japan to continue recording even more Japanese sounds. He says he has made great connections while living in Japan, so he feels he would have a reliable network of Japanese professionals to help him continue his work and potentially take on even more ambitious projects.
Trevino calls studying abroad an invaluable experience for any student. "The benefits are endless, and luckily, Michigan Tech has many options for students who hope to travel abroad."
He also has advice for students interested in working or studying abroad, "Be both bold and humble. Be bold enough to have the audacity to realize your goals and not get set back by fear, and so humble that you are always conscious of your shortcomings and biases as a person. The more that you are aware of yourself, the better able you are to work with other people. This is especially important to internalize when you are living in a foreign culture. In fact, this is life advice that I would give to anyone."
To see what Trevino is working on, go to http://www.trackingtrevino.com.
If you are interested in studying abroad, contact Michigan Tech's International Programs and Services
Michigan Technological University is a public research university, home to more than 7,000 students from 60 countries. Founded in 1885, the University offers more than 120 undergraduate and graduate degree programs in science and technology, engineering, forestry, business and economics, health professions, humanities, mathematics, and social sciences. Our campus in Michigan's Upper Peninsula overlooks the Keweenaw Waterway and is just a few miles from Lake Superior.