US News Ranks Michigan Tech PhD Programs in Engineering, Science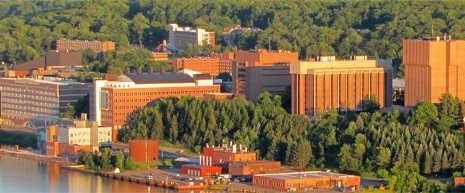 More of Michigan Technological University's PhD level engineering and science programs than ever made the US News & World Report's annual graduate school rankings, released today. The rankings reflect momentum generated by Michigan Tech's focus on graduate education and research, said Provost Max Seel. The Graduate School has more than doubled its enrollment since 2005.
Michigan Tech's PhD engineering programs earned an overall ranking of 90th, tied with George Washington University, Rochester Institute of Technology and Mississippi State University. Biomedical engineering at Tech showed up in the rankings for the first time, placing 71st.
'I am happy to see that six of our engineering programs are ranked within the top 75, with two (Environmental Engineering and Materials Science and Engineering) nearly within the top 50," said Jacqueline Huntoon, dean of Tech's Graduate School. "We all recognize that rankings are based on many factors that do not necessarily correlate to the true quality of a program. Still, having ours ranked in the top 100 helps us attract students—particularly international students, who frequently have little other than the rankings to use when choosing a school for their graduate education."
Engineering specialties were ranked individually. Michigan Tech's rankings were:
Biomedical engineering—71st
Chemical engineering—68th
Civil engineering—68th
Computer engineering—97th
Electrical engineering—114th
Environmental engineering—52nd
Geological and mining engineering and sciences—88th (ranked under the Science category of Earth Sciences rather than an Engineering category)
Materials science & engineering—51st
Mechanical engineering—61st
Environmental engineering at Michigan Tech tied with Michigan State University. Mechanical engineering tied with George Washington University and Missouri University of Science & Technology.
"It is a pleasure to see that Michigan Tech's Graduate Engineering programs continually rank in the top 100 of the nation overall, and individually are all ranked very highly," said Wayne Pennington, interim dean of the College of Engineering. "Our recent strategic hiring initiative, along with strengthened faculty hiring overall and increasingly high-quality graduate admissions and support mechanisms, will continue to provide dividends in graduate student performance and placement. Rankings such as this recognize these quality features, and we are proud to receive that recognition."
Three of Michigan Tech's PhD programs in the sciences were ranked. Earth sciences, which at Tech is based in the Department of Geological and Mining Engineering and Sciences, ranked 88th, Physics ranked ranked 123rd and biological sciences ranked 224th.
Bruce Seely, dean of Tech's College of Sciences and Arts, pointed out that the significance of rankings like those done by US News is nuanced. "Many of the indicators are based on absolute numbers, and Michigan Tech's science departments are small," he said. "That counts against them in the rankings but means that students here get personalized instruction."
The US News graduate rankings are based on two types of data: expert opinions about program excellence and statistical indicators that measure the quality of a school's faculty, research and students. The data come from surveys of administrators at over 1,350 programs and of more than 13,500 academics and professionals, conducted during the fall of 2013 and early 2014.
For graduate schools of engineering, eight "quality indicators" are measured: average Graduate Record Exam (GRE) score, acceptance rate, ratio of PhD students to faculty, percentage of faculty holding memberships in the National Academy of Engineering, the engineering school's total research expenditures, research expenditures per faculty member, PhDs granted and total graduate engineering enrollment.
To gather the peer assessment data, US News asked deans, program directors and senior faculty to judge the academic quality of programs in their field on a scale of 1 (marginal) to 5 (outstanding). In business, education, engineering, law and medicine, the magazine editors also surveyed professionals who hire new graduates in their fields.
Michigan Technological University is a public research university, home to more than 7,000 students from 54 countries. Founded in 1885, the University offers more than 120 undergraduate and graduate degree programs in science and technology, engineering, forestry, business and economics, health professions, humanities, mathematics, and social sciences. Our campus in Michigan's Upper Peninsula overlooks the Keweenaw Waterway and is just a few miles from Lake Superior.