Isaacson Helped US to Sled Hockey Gold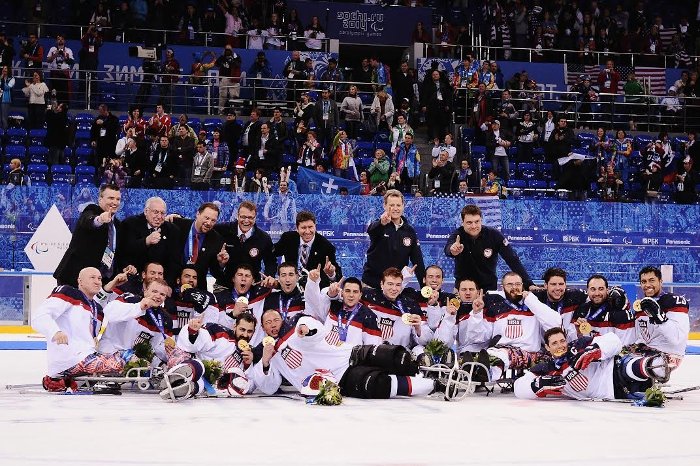 Michigan Tech associate athletic director for external relations Joel Isaacson helped the United States Sled Hockey Team to the gold medal at the Paralympic Games in Sochi, Russia, earlier this month.
The Hancock, Mich., native was the team's equipment manager as the Americans defeated the Russians 1-0 in the gold medal game at Bolshoy Ice Dome, which also played host to both men's and women's ice hockey gold medal games for the Olympic games.
"It was an unbelievable experience," said Isaacson, who worked with the team of disabled athletes for the last four years. "The venues and accommodations were top notch, and the Russian people were very welcoming. Working with this team and winning the gold will be unforgettable."
Team USA, which has won three of the last four Paralympic gold medals in sled hockey, went 2-1 in its preliminary games. It then defeated rival Canada 3-0 in the semifinals before besting the host nation 1-0 in the gold-medal game.

"It was a once-in-a-lifetime opportunity," he said of the chance to represent the US at an Olympics. "I'm humbled and honored to be able to help these athletes chase their dreams of a gold medal."

The team consisted of 17 men ages 15 to 35. Some are military veterans who are amputees because of injuries suffered in active duty. Some experienced other accidents to their legs or spine. Others have congenital conditions that qualify them for the Paralympics.

"These guys are the best at what they do," said Isaacson. "It's amazing to be around them and see the adversity they overcome on a daily basis. It's also infectious to see their passion for the sport."

Sled hockey, also called sledge hockey, is played with regular ice hockey rules with some exceptions. Players sit on sleds with medal blades and propel themselves with modified hockey sticks. The handle end of each stick has spikes to grip the ice. Modifications are made to the benches to allow the teams to change lines, but otherwise it's played like hockey with skill, speed and checking.

While it may seem strange that Isaacson, who currently holds the title of associate athletic director for external relations at Michigan Tech, would be working as a hockey equipment manager, that's exactly how he got his start at Tech.

The 2001 Michigan Tech graduate worked as a student manager for the Huskies NCAA Division I Hockey program before being hired on full time as the equipment manager for the department. He was later promoted to assistant athletic director for NCAA compliance and then to his current position.

"I'm extremely thankful to (athletic director) Suzanne Sanregret and Michigan Tech for allowing me the flexibility to pursue this opportunity," he said.

Isaacson got his start with the sled team in 2011 when Michigan Tech athletic trainer Brian Brewster, who was already working with the team, recruited him to fill in at the Four Nation's Tournament in Nagano, Japan.

A year later, he was installed as a permanent member of the staff as they competed at the World Championships in Norway.

Isaacson's experiences, including another World Championship in Seoul, South Korea, and several more training camps and tournaments in North America, have all led up to his opportunity in Russia.

PBS aired a documentary on the team's preparation for the Paralympics. It can be found at PBS.org(http://www.pbs.org/wgbh/medal-quest/ice-warriors/#film).

For more updates on Team USA, visit USAHockey.com.
Michigan Technological University is a public research university, home to more than 7,000 students from 54 countries. Founded in 1885, the University offers more than 120 undergraduate and graduate degree programs in science and technology, engineering, forestry, business and economics, health professions, humanities, mathematics, and social sciences. Our campus in Michigan's Upper Peninsula overlooks the Keweenaw Waterway and is just a few miles from Lake Superior.