Michigan Tech Earthquake Expert Wants to Make Nuclear Power Plants Safer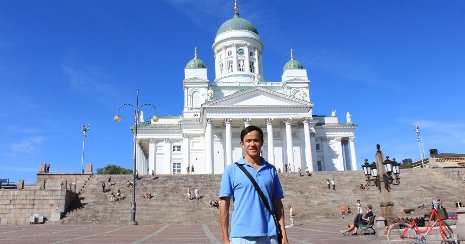 Yue Li, an associate professor of civil engineering at Michigan Technological University, specializes in earthquakes and natural disasters. He was awarded a Fulbright Scholar grant to work at a research center in Finland, seeking solutions to the ever-present threat facing nuclear power plants during natural disasters. He and his Finnish colleagues are focusing particularly on the nuclear plants' performance during earthquakes.
His research started last summer at the VTT Technical Research Centre of Finland, the largest multidisciplinary research organization in Northern Europe. He is returning to Finland this summer to continue his research.
Li is working with a research team there to examine current nuclear power plants' structure and to see where improvements could be made. Finland currently is building new nuclear power plants, and within 10 years, the country expects to be getting 60 percent of its electricity from nuclear plants.
Nuclear Power Plants & Earthquakes
Li has 10 years of earthquake engineering experience. He hopes his work in Finland can benefit many countries around the world.
"My expertise includes earthquake engineering, so I can apply my experience and provide my perspective looking into the problem," he explains. He and his Finnish colleagues are working as a team, doing modeling and simulations.
Li is passionate about helping find ways to address a hazard that has already affected many lives across the globe, such as the people in Japan who are still cleaning up years after the Fukushima nuclear power plant incident.
"Unlike Japan, and the United States, Finland does not have a lot of earthquake activity," Li points out. So he and his team are working to create new ways of constructing nuclear power plants in order to prevent catastrophes from occurring in the future.
Li is eager to see what will come from his research in Finland.
"Our outcome will hopefully be a better way to design and evaluate the performance of nuclear power plants in Finland. Then we can ensure the safety of existing and new nuclear power plants," he says.
Li thoroughly enjoyed his stay in Finland. Having talked to other Fulbright participants in Finland he went expecting a great experience and was not disappointed.
"They know how to enjoy work. They know how to work and how to play, and they are very efficient," says Li. 'Most of the time they don't talk small-talk in the hallway. They focus on their work and then take a break to have a coffee and chat. They don't like to work long hours like Americans. They get off work at 3 or 4p.m., but their productivity is not less than ours, because they are very efficient."
Li has some advice for would-be Fulbright Scholars. "If someone is interested in pursuing this experience [a Fulbright grant], then I would suggest first of all try to have a better understanding of the problem and see what your experience and value could add to the project," he says. "Then you are in a better position for you and the institution overseas to complement each other."
He has advice for students too. "Get out of the country and try to have some international experience. The world is now globally interconnected. Knowing different cultures will help better prepare you for your future."
Michigan Technological University is a public research university, home to more than 7,000 students from 54 countries. Founded in 1885, the University offers more than 120 undergraduate and graduate degree programs in science and technology, engineering, forestry, business and economics, health professions, humanities, mathematics, and social sciences. Our campus in Michigan's Upper Peninsula overlooks the Keweenaw Waterway and is just a few miles from Lake Superior.