Programmers Score Russian Success: Finished as Top Michigan School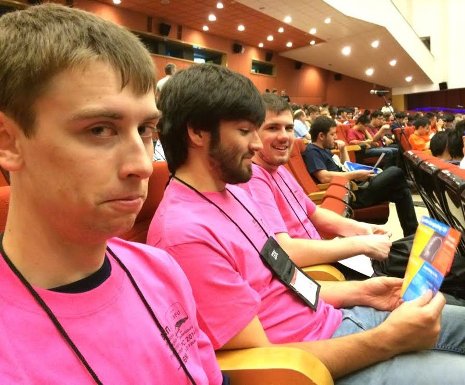 A team of current and former Michigan Tech students did well at the recent International Collegiate Programming Competition. They finished 64th of 122 schools from across the globe and the top school from Michigan. The team included Tom Holmes, computer science; Ryan McNamara, recently graduated math major; and Eric Rinkus, computer science, along with coach Jason Hiebel, PhD student in computer science.
The competition was held at Ural Federal University in Ekaterinburg, Russia. The 122 teams were finalists from an original 2,300 universities.
There was not a lot of time for sightseeing.
"Honestly, we didn't get to see a whole lot of the city," says Rinkus. "Our days started early and ended late, so most of our time was spent at a convention center called Kosmos. Other than that, we were at the Palace of Team Sports for the rehearsal and competition—a really cool venue."
Rinkus says the event began fairly low-key, with a relaxed rehearsal before the actual competition. The team tried to maintain that relaxed focus for the next day's actual start.
"However, as soon as the competition started, it felt like we changed gears," he says. "We went in wanting to finish at least in the middle of the pack and hopefully perform as well as we did at the invitational for our region." An earlier regional competition earned the team its chance to go to Russia.
In the Russian competition, the teams were given eight to ten problems to solve most accurately within deadline pressure. The most correct answers in the quickest amount of time produced the final ranking.
"We also thought it might be cool to grab a tougher problem right off the bat and see if we could solve it sooner than any other teams, to land a small cash prize," Rinkus reports. "Unfortunately, it turned out to be a problem that nobody solved. It was a bit of a shocker, seeing the difficulty of the problems. I have never seen harder problems, and many people were calling it the toughest problem set in a long time, maybe even the toughest ever. We came out of the competition feeling like we may have been able to get one or two more, but we were still immensely happy with where we placed overall. And it felt pretty awesome coming in ahead of U of M!"
It was pleasing to the team, Rinkus says, to meet people from many countries, "obviously quite a few Russians, along with a few competitors from the UK, India, Oceania and some familiar faces from the States."
In spite of the intensity of the competition, the teams all got along, he says. "It was so cool seeing all these competitors from around the globe having so much fun together. Outside of the competition, rehearsal, and few meetings we had to go to, it was basically like we were at a big party. There were games all over the place, various forms of entertainment to watch and people just hanging out. I'm pretty sure we were part of the most globally representative Frisbee circle ever!"
The team was particularly impressed with their Russian hosts, who showed all the competitors a great time and presented "fantastic opening and closing ceremonies that featured impressive cultural performances, mostly music and dance, that were really cool to see," Rinkus says.
There was one, small translation problem, during the games the teams all played.
"The four of us were standing next to a sack race station, where you race hopping up and down in a sack as fast as you can," Rinkus recalls. "The Russians were trying to get people to participate, and the girl running the sack races walks up to Ryan and asks 'Would you like to jump in the sack?' Ryan's jaw dropped, and he just froze. Tom and I froze for a second, and then just started dying laughing. Finally, Ryan realized what she was actually asking, and he started laughing too. We ended up trying the race after that. None of us explained to the girl what she had said. She probably just thought we were a bunch of awkward American nerds, which I guess isn't far from the truth."
There was plenty of camaraderie.
"All of the coaches were happy to share their knowledge and experience for teaching competitive programming," says advisor Hiebel. "I can now bring that knowledge back to Tech to enhance and grow our program. I hope in the years I have left as a graduate student, I can help generate a lasting interest and effort towards competing on the national and international scale."
The tradition is there. Tech has sent four teams to finals in last 11 years: 2004, 2005, 2008, 2014.

"I'm always impressed by the skills, knowledge and motivation the students bring to this competition," says veteran coach and computer science professor Dave Poplawski. "Being able to compete on an international level, and do well, is amazing. Tech's reputation and the high standards of the CS department attract many of the best students here and guide them on a path to success. But in the final analysis, most of the credit goes to the students for self-motivating themselves to study and practice towards getting to that level."
"We definitely have the talent," Hiebel says. "We now need to encourage more students to get involved. The faculty has been supportive of my push to make competitive programming more popular. We started a special topics course two falls ago, and we will be running the course again this fall. Recently, we allowed students to count the course as a technical elective as well.
"There are currently 20 students signed up for the course, so there is obvious interest," Hiebel concludes.
Michigan Technological University is a public research university, home to more than 7,000 students from 54 countries. Founded in 1885, the University offers more than 120 undergraduate and graduate degree programs in science and technology, engineering, forestry, business and economics, health professions, humanities, mathematics, and social sciences. Our campus in Michigan's Upper Peninsula overlooks the Keweenaw Waterway and is just a few miles from Lake Superior.