Michigan Tech Honors Two Alumni with Melvin Calvin Medal of Distinction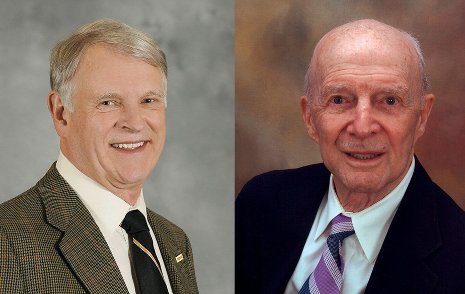 At its last meeting, Michigan Technological University's Board of Trustees bestowed the Melvin Calvin Medal of Distinction on two distinguished alumni and longtime supporters of Michigan Tech: David House and Richard Henes.
The Melvin Calvin Medal of Distinction is awarded to individuals associated with the University who have exhibited especially distinguished professional and personal accomplishments.
It is named for 1931 Michigan Tech alumnus Melvin Calvin, who won the Nobel Prize in Chemistry for unraveling the biochemical secrets of photosynthesis. The series of biochemical reactions he identified is known as the Calvin cycle.
In 2011 Calvin was memorialized on a 44-cent postage stamp. The commemorative stamp featured two photos of Calvin—one from 1948 in bold and one from 1970 as a backdrop—as well as equations from his research and a signature from a 1961 letter.
David House
David House earned a Bachelor of Science in Electrical Engineering at Michigan Tech in 1965. He began his career as a computer designer at Raytheon Computer and Communications. In 1968 he joined Honeywell Computer Control Division and in 1972 became director of computer development at Microdata. In 1974, House joined Intel Corp, becoming general manager of the company's Microcomputer Components Division in 1978. For the next 13 years, he led the group that developed the company's leading microprocessors, including the well-known Pentium Processor, growing that business from $40 million to $4 billion a year.
House also managed the team that developed the highly successful "Intel Inside" marketing program, one of the best recognized branding campaigns in the world. House currently is executive chairman of Brocade Communications Systems and is on the board of Azaire Networks.
He has been a generous supporter of Michigan Tech, helping the University establish the Michigan Tech Research Institute and endowing the Dave House Professorship in Engineering. He also made substantial contributions to the Leaders in Innovation Campaign, the Department of Electrical and Computer Engineering and the University's Enterprise program. He served as chairman of Tech's recent successful capital campaign, Generations of Discovery.
"Along with his leadership giving, Dave's long-term vision to grow Michigan Tech as a premier research university helped set the course for our Generations of Discovery Campaign and beyond," said Eric Halonen, assistant vice president for advancement. "His actions inspired many donors to endow faculty positions, scholarships and fellowships, the primary focus of the campaign."
Richard Henes
Halonen had high praise for Richard Henes too. "Dick's intense passion for his philanthropic dollars to advance Michigan Tech and to bring world-renowned scholars to campus is as heartfelt as they come," Halonen said. "It's been incredibly rewarding to work with someone like Dick."
Henes earned a Bachelor of Science in Mechanical Engineering from Michigan Tech and went on to earn a Bachelor of Law at the University of Michigan. In 1958 he founded Henes Stamping in Phoenix, Ariz., and served as president of Henes Manufacturing Company and Henes Products Company.
Henes and his late wife, Elizabeth, established the first endowed chair in Tech's Department of Mechanical Engineering-Engineering Mechanics. They endowed three associate professorships in Mechanical Engineering-Engineering Mechanics, held by Gregory Odegard in computational mechanics, Fernando Ponta in wind energy and Reza Shahbazian-Yassar in nanotechnology. They also established an endowed scholarship for students.
Henes has received the Distinguished Alumni Award and is a member of the Mechanical Engineering-Engineering Mechanics Academy.
"Dick Henes has been a longtime supporter of mechanical engineering and of Michigan Tech overall," said Bill Predebon, chair of mechanical engineering-engineering mechanics. "He gets excited about the latest developments in research and has a passion for supporting state-of-the-art research and education at Michigan Tech. Through his support of faculty research and facilities, he has made an investment in the future and a difference in the education of our students."
The Melvin Calvin Medal of Distinction has only been awarded six times since it was established in 1985.
Michigan Technological University is a public research university, home to more than 7,000 students from 54 countries. Founded in 1885, the University offers more than 120 undergraduate and graduate degree programs in science and technology, engineering, forestry, business and economics, health professions, humanities, mathematics, and social sciences. Our campus in Michigan's Upper Peninsula overlooks the Keweenaw Waterway and is just a few miles from Lake Superior.