Michigan Tech Couple Sees the USA on a Tandem Bike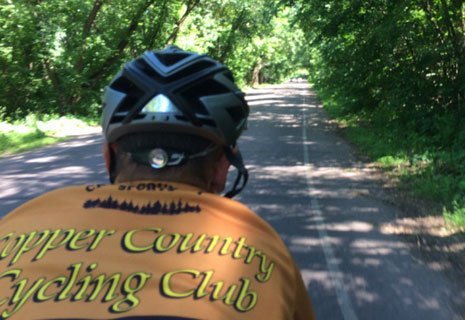 A Michigan Technological University alumnus and his wife quit their jobs and took off on the trip of a lifetime. "It was Shawn's idea," Jim Rathbun, 1981 civil engineering graduate says, when asked about the ride across the US that the couple is doing by bike. His wife, Shawn, studied computer science at Michigan Tech.
"There was something called Bikecentennial back in 76, and I was fascinated by it," Shawn explains. "Every Wednesday, there would be updates in our paper, with their latest adventures."
The Rathbuns are having adventures of their own. They just completed mile 2,500 in their 4,000-mile journey from Bar Harbor, Maine, to Anacortes, Wash. On July 9, they had just crossed into Montana, having survived North Dakota, where the traffic was intense because of all the oil production, Jim says.
One of their favorite things about the trip is the people they have met, especially through a group called Warm Showers—fellow bikers who provide a place to clean up and sleep along the way. "It's like a bicycle underground," says Shawn.
Warm Showers members have hosted one-third to one-half of the Rathbuns's stays, although they are getting more spread out now that the couple have hit the less-populated West.
"People are really kind," Shawn says.
"And one of our hosts was a home brewer, so we had too much beer the night before, and we got cramps," she adds with a laugh. "We couldn't get enough water!"
"We've done a lot of camping, too," Shawn says. "But lately, with the wet weather, we've done some hotels."
They've faced the "usual mechanical problems—flat tires, broken spokes, chains"—on their tandem bike.
But "riding is better on a tandem," Jim says. "You always can talk to someone."
The couple quit their jobs for the biking adventure. "You have to plan for it, financially," says Jim.
Their biggest challenge came from Mother Nature.
"A big hardship was our ride from Fargo to Kindred," Shawn recalls. "There was a wind advisory that day, and we took it head-on for much of 15 miles before taking shelter from the wind in a church. Nobody was around, but the door was unlocked, and we found the pastor's number in an old church bulletin. We called him, and he gave us permission to sleep at the church. It was a great place because the wind continued, and it also rained off and on all afternoon and evening! We were warm, had shelter, made use of the church kitchen and got a lot of knitting done! We're both knitters and have our needles and sock yarn with us—we've both finished several pairs of socks on this trip."
They met plenty of people biking the other way, too. And in Bismarck, N.D., they met an Australian, rode with him for a while, got separated, then found him again. "He was quicker on the uphills; we were quicker on the downhills," Jim explains.
For the inevitable aches and pains? "Aleve," he says.
Tired at night? "We sleep well," Jim replies.
The Rathbuns have family duties waiting for them out West: a new grandbaby is due Sept. 1 at son Walter's in Vancouver, and they have a daughter, Aimee—another Michigan Tech graduate—to visit in Anchorage,before they head home to Michigan, where son Matthew, a 2012 Tech alumnus, lives.
Those family visits will all be via 4-wheel vehicle.
Michigan Technological University is a public research university, home to more than 7,000 students from 54 countries. Founded in 1885, the University offers more than 120 undergraduate and graduate degree programs in science and technology, engineering, forestry, business and economics, health professions, humanities, mathematics, and social sciences. Our campus in Michigan's Upper Peninsula overlooks the Keweenaw Waterway and is just a few miles from Lake Superior.