Jackson Center Dedication Ceremonies Held Monday
By Marcia Goodrich | Published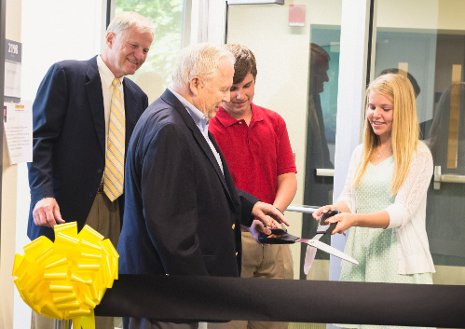 Michigan Tech's new William G. Jackson Center for Teaching and Learning was officially dedicated Monday, July 7, and the man who made it possible was on hand for the occasion.
Jackson, the president of CableAmerica, graduated from Michigan Tech in 1958 with a BS in Electrical Engineering. But his family ties to the region go back another generation. "My father was the first radio engineer in the UP," back in 1927-28, he said. The elder Jackson worked for area station WHDF, fondly known as "Where Hope Dies Fast." Son William later went to Michigan Tech, where he got to know such legendary electrical engineering faculty members as Walter Anderson and Jim Oswald.
The center, which Jackson supported with a $1 million gift, brings together a suite of technological tools to enhance teaching, learning, learning assessment and student evaluations.
Jackson's background has given him an appreciation for the value of technology, and he was pleased to see it being put to good use. "I'm happy to be supporting learning," he said, flanked by two of his six grandchildren, Cole and Robin Jackson.
"It's a perfect fit for what Bill's done his entire life," said President Glenn Mroz.
Michael Meyer, director of the center, provided an overview of the services that Jackson has made possible.
Thanks to a new secure testing site, students soon won't have to travel to Duluth or Green Bay to take TOEFL and GRE exams. And the test site is already busy providing exams to students qualifying for special accommodations.
New processing equipment generates results from thousands of student evaluations of teaching in a matter of hours instead of six weeks, giving teachers feedback in time to improve their teaching for the following semester. A video studio lets faculty record online lectures and also produces how-to videos on the use of Michigan Tech's teaching technologies. The Jackson Center also has a studio where faculty can experiment with new technologies, including clickers, those devices that allow students to vote on a multiple-choice question posed by the instructor; and a robot that trains a videocamera on instructors as they move about the classroom. Some teachers are experimenting with iPads and smartphones as clickers; that would allow students to upload drawings in class and answer more-complex questions.
In addition, the Jackson Center has been helping faculty members add blended learning to their classes. Staff are on hand to help with all aspects of a course overhaul. Meyer, a senior lecturer in physics, says the effort is worth it.
He now has his students watch a lecture or other material before class and then take a short quiz. He targets his class presentations based on the quiz results, allowing him to address any weaknesses in student learning. "It's made a huge difference," he said. In particular, it allows him to help students before it's too late. Good students do well in any case, Meyer said; it's the ones who struggle who are helped the most. "I don't have much of a lower end in my classes anymore."
Ultimately, that will mean fewer dropouts and happier and more successful graduates, thanks to Jackson's generosity. "We appreciate what you've done," Mroz told him. "Thank you so much."
Michigan Technological University is a public research university, home to more than 7,000 students from 60 countries. Founded in 1885, the University offers more than 120 undergraduate and graduate degree programs in science and technology, engineering, forestry, business and economics, health professions, humanities, mathematics, and social sciences. Our campus in Michigan's Upper Peninsula overlooks the Keweenaw Waterway and is just a few miles from Lake Superior.