Sean Kirkpatrick Named American Institute of Medical & Biomedical Engineers Fellow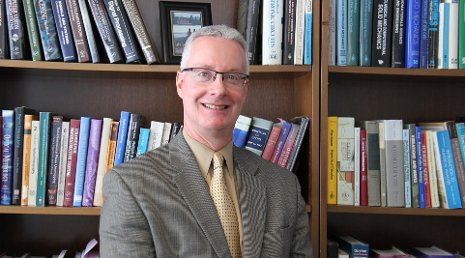 Sean Kirkpatrick, chair of the Department of Biomedical Engineering, has been named to the College of Fellows of the American Institute of Medical and Biological Engineering (AIMBE).
"To be counted as a member of this remarkable group of engineers is quite an honor," Kirkpatrick said. "My being elected to the AIMBE College of Fellows is truly a reflection of the outstanding quality of engineering scholarship that is found at Michigan Tech."
AIMBE is an advocacy organization recognizing excellence in, and advancing the fields of, medical and biological engineering, as well as providing the collective expertise of biomedical engineers to federal policy makers. The organization's College of Fellows comprises 1,500 outstanding bioengineers in academia, industry and government. Fellows have distinguished themselves through their contributions in research, industrial practice and/or education.
"We are proud that the professional community has recognized the talents of Dr Kirkpatrick with this appointment," said Wayne Pennington, interim dean of the College of Engineering. "The College of Fellows is limited to the top 2 percent and represents an elite group, indeed.
"As well as providing the national leadership recognized by this award, Dr Kirkpatrick has led Michigan Tech's Department of Biomedical Engineering through significant changes, greatly benefiting the education of our students and the research capabilities of our faculty and staff," Pennington went on to say.
Michigan Technological University is a public research university, home to more than 7,000 students from 54 countries. Founded in 1885, the University offers more than 120 undergraduate and graduate degree programs in science and technology, engineering, forestry, business and economics, health professions, humanities, mathematics, and social sciences. Our campus in Michigan's Upper Peninsula overlooks the Keweenaw Waterway and is just a few miles from Lake Superior.