Phi Taus Capture Seventh Straight Statue Crown
By Dennis Walikainen | Published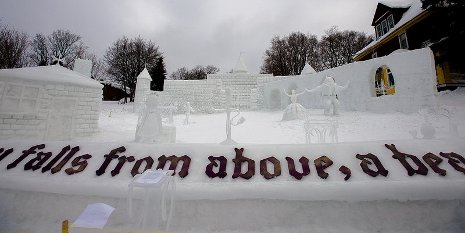 With a large and detailed snow statue based on The Beauty and the Beast, Phi Kappa Tau fraternity, located on West Quincy Street in Hancock, won the fraternity division of the month-long statue competition for the seventh consecutive year.
Tau Kappa Epsilon's tribute to The Lion King, next to the Administration Building, took second place, and Delta Sigma Phi's Toy Story entry, next to Wadsworth Hall was third.
All the statues had to follow this year's Winter Carnival theme: "Nostalgic Films of Childhood Days Come to Life in Frosty Ways."
Michael Braun of Phi Kappa Tau said they had a solid crew of twenty members logging some 200 to 300 hours each, since they returned after the holiday break. "I'm proud of the results," said the fourth-year chemical engineering major from Pinconning, Mich.
Among women's groups, Alpha Sigma Tau, on College Avenue near Franklin Square, took first with a tribute to Cinderella. Theta Chi Epsilon was second, with Peter Pan; and Delta Zeta third, with the Wizard of Oz.
The Residence Hall category found Summit/WIE, also focusing on The Lion King and located in front of the Walker Arts and Humanities Center, on top, followed by Mama's Boys and Raptor Hall.
Army ROTC (Land Before Time) bested Air Force ROTC (Jurassic Park) in the Student Organization group, with Four-Wheelers coming in third.
The all-nighters, who only had from 4 p.m. Wednesday to 8 a.m. Thursday to complete their artwork, had results in three categories.
On-Campus champions were the Lutheran Collegians, followed by the National Association of Home Builders
The Off-Campus category was won by Lutheran Campus Ministries, and Bastille won the University Housing category.
Michigan Technological University is a public research university, home to more than 7,000 students from 60 countries. Founded in 1885, the University offers more than 120 undergraduate and graduate degree programs in science and technology, engineering, forestry, business and economics, health professions, humanities, mathematics, and social sciences. Our campus in Michigan's Upper Peninsula overlooks the Keweenaw Waterway and is just a few miles from Lake Superior.