Michigan Tech Alumnus Tackles Graduate School in Israel
By Monica Lester | Published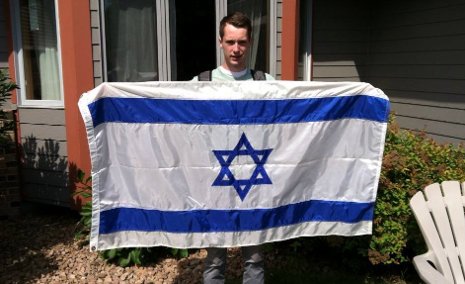 Many Michigan Technological University students at this moment are trying to decide what to do after graduation, and a common question is: graduate school or a job? But, Nathan Sankary, who graduated from Michigan Tech last spring, added another layer of complexity to the question: Could he complete more schooling in a country where he did not know the language, one that is riddled with turmoil over the Western perspective of their international political problems?
Sankary, originally from Minneapolis, Minn., answered that question in the affirmative.
In August 2013, he entered the Israel Institute of Technology, in Haifa, Israel, to earn his master's degree in environmental engineering.
Sankary left Michigan Tech with a BS in Geology and a geological engineering minor. As an undergraduate, he was extremely curious about water resources and gained a broad background in groundwater, surface water and water resource engineering. His desire to specialize in a topic within water resources confirmed his decision to go to graduate school.
There were numerous reasons why Sankary then chose to do his graduate studies specifically in Israel.
The innovations that the Middle East is developing due to the water scarcity there intrigued him. Israel is leading the world in irrigation development and in understanding how salt water and fresh water interact within coastal aquifers.
The mindset about water is also different there, due to its scarcity. "I thought it would be interesting and advantageous to study in a country where, with respect to water, the problems that the US will be facing in the future have already been faced and dealt with for 40 years," Sankary explains.
The Israel Institute of Technology itself, known as the Technion, is the second reason. The Technion is comparable to any of the highest ranked US universities, with some of the latest equipment. The Technion is in a partnership with Cornell University, with a campus on Roosevelt Island in New York. " I would expect the school will become more known around the US in the future," says Sankary
The third and fourth reasons are both personal to Sankary. His connection to his Jewish heritage and family members in Israel made the transition smoother for him. His desire to live abroad, learn a new language and become a part of a different culture also influenced his decision.
Sankary's eagerness for these new adventures, though, brought with it a large adjustment to living in the Middle East, compared to the Midwest. He describes the Midwest as calm, cool, spacious, friendly and quiet, while the Middle East does not quite fit those descriptions.
Sankary regularly updates a blog about his experiences in Israel. In a blog post, he described some of the challenges he faced in making the transition.
"There were many things that I did have to change to acquaint myself with the new culture. The most obvious, and probably the most un-natural, was to acquaint myself with life in a city. I was living in Haifa, Israel, housing 300,000 residents, making it the third largest city in a country that is the size of New Jersey. No longer was a car my means of transportation or even an option, and having never been a big bus rider, it was new and in a foreign language. Luckily enough I was able to learn the ways of the bus with fellow students from Los Angeles, who by nature were also unaccustomed to anything "public," especially transportation.
Sankary and his fellow Americans decided to try to ride a bus to a mall. "None of us knew Hebrew, no one had been to Haifa, and no one even knew the name of the mall," he blogged. Finding their way was "the best icebreaker, because everyone looks foolish, and everyone was having a great time doing it.," he noted.
"There are always huge barriers when studying anywhere away from your home country; the cultures are too different, and the United States is a bit of a bubble," Sankary continues. "As a Michigan Tech undergrad, I studied on exchange in Canada, and there I quickly met the fellow international students, who all ended up being my best friends. I was confident this would happen in Israel and was not disappointed."
Because it is very small, Israel's population is extremely dense. People live in apartments and condos and tolerate the constant buzz of noise. Unlike in the US, however, tension is evident everywhere. Fighter jets fly overhead; fortified shelters are the norm, and security before entering buildings is tight—and of utmost importance. "With all of this, though, I have never felt in danger in the country," says Sankary. "Day-to-day, the country is incredibly safe, and the public space is extremely welcoming. I have never experienced the 'wartime' in Israel."
Sankary says he was not sure what to expect, knowing about the ongoing tensions in the region. "It has been a very eye-opening experience. It offers an invaluable perspective on the world and the effects and repercussions of political and military decisions that are for the most part very distant from the general population in the US," he observes.
Sankary would call the whole experience of studying abroad another eye-opener. "The academic structure outside of North America is quite different, and it teaches you a new way to learn and study," he says. "Academically, Michigan Tech prepared me well for my studies abroad. Technically, I have all the skills I need."
He concludes: "Living abroad is difficult, but I think you learn so much about the world, people and yourself, on top of your studies, that it's worth it."
To read Nathan Sankary's blog, go to midwest-to-east.blogspot.co.il.
Michigan Technological University is a public research university, home to more than 7,000 students from 60 countries. Founded in 1885, the University offers more than 120 undergraduate and graduate degree programs in science and technology, engineering, forestry, business and economics, health professions, humanities, mathematics, and social sciences. Our campus in Michigan's Upper Peninsula overlooks the Keweenaw Waterway and is just a few miles from Lake Superior.