Rail Transportation Summer Program Gives Students a Look Inside the Industry
By Erika Vichcales | Published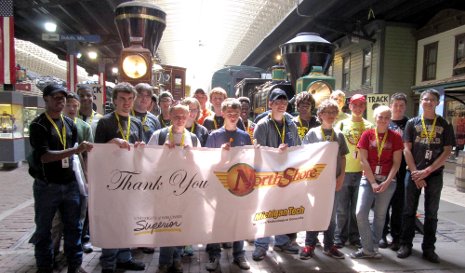 Two dozen high school students from across the nation spent a week this summer riding the rails. No, they weren't trying out the hobo life; they were participating in Michigan Technological University's Rail and Intermodal Transportation program, part of the University's popular Summer Youth Programs.
"This camp is different because the students spent much of the week on the road visiting rail-related transportation facilities," says David Nelson, program advisor. Nelson is a senior research engineer in Michigan Tech's Department of Civil & Environmental Engineering.
The students traveled across the Upper Peninsula, getting a glimpse behind the scenes of rail lines in Ishpeming and Marquette, Mich. They also visited rail yards and other intermodal facilities in Superior, Wis. and Duluth, Minn. Intermodal transportation involves more than one form of transportation, such as rail and truck.
Participants from as far away as California brought their passion for railroads and the industry that runs them.
"It definitely was an inside look at what rail and intermodal transportation is," said Howell High School senior Jack Wilson from Howell, Mich. "I was able to figure out if the rail industry is something that actually interests me and if it is the lifestyle I want. Seeing the different rail companies allowed me to see what it would be like to work in the industry."
This year the Rail and Intermodal Transportation program added new tours of the Empire and Tilden mine complex. Students also spent a good amount of time doing hands-on activities in a classroom setting.
"Our students got a complete picture of the transportation aspects of the mining operation, from trucking within the complex, rail transportation to docks and shipping operations that move product to a steel mill," says Nelson.
The goal of the experience was to show students Michigan Tech's campus and motivate them to explore the opportunities in transportation. Michigan Tech currently has several courses, Enterprises and research programs that work with transportation. Civil & Environmental Engineering has a Rail Transportation Program and is looking at offering a railroad engineering certificate.
A Railroad Night that has been held in conjunction with the spring Career Fair is being moved to the fall this year. It is sponsored by the Rail Engineering and Activities Club at Michigan Tech and gives students interested in rail transportation a chance to meet and talk with representatives of employers in the industry.
The Rail and Intermodal Transportation summer program's goal was to get students excited about the career possibilities in transportation and all the opportunities that Michigan Tech can offer them in this field. "This camp was perfect for a student interested in railroading and in learning how the rail industry interfaces with other transportation modes," says Nelson.
Michigan Technological University is a public research university, home to more than 7,000 students from 60 countries. Founded in 1885, the University offers more than 120 undergraduate and graduate degree programs in science and technology, engineering, forestry, business and economics, health professions, humanities, mathematics, and social sciences. Our campus in Michigan's Upper Peninsula overlooks the Keweenaw Waterway and is just a few miles from Lake Superior.