Frank Pavlis Muses on Changes at Tech as Pavlis Honors College Opens
By Jennifer Donovan | Published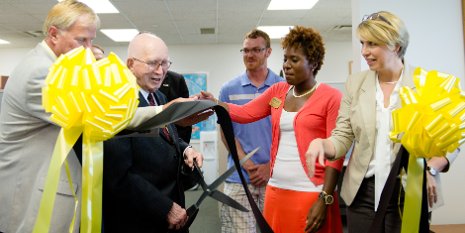 Gazing across the Portage Canal at the lush green hills to the north, Frank Pavlis remembered a very different view from the campus of Michigan Technological University. When the 1938 graduate was studying chemical engineering at Michigan Tech, those hills were barren. "There were no trees," Pavlis recalled. "They'd been taken down for mining and for people to use to heat their houses."
Pavlis is delighted with the difference. "This area has been transformed by trees and flowers."
The 97-year-old alumnus was at Michigan Tech last week for a ribbon-cutting ceremony marking the opening of the new college named for him: the Pavlis Honors College.
More Women at Tech
There are other striking changes as well. There were fewer than 1,000 students at the University in the mid-1930s, compared to 7,000 today. In his class, there was one woman. "Probably three or four in the whole university," Pavlis said. Last fall, female enrollment at Michigan Tech totaled 1,810, with 906 in the College of Engineering, the most ever.
"I am pleased to see so many ladies here," Pavlis remarked at the Friday afternoon ribbon-cutting for the Honors College.
A longtime supporter of the University, Pavlis is a member of Michigan Tech's McNair and Hubbell giving societies. In 2009, he received the University's Distinguished Alumni Award.
In 2005, a gift from Pavlis funded the establishment of the Pavlis Institute for Global Technological Leadership. Now that institute, along with the Honors Institute, the Research Scholars program, the Summer Undergraduate Research Fellowship program and Tech's signature Enterprise program, will become part of the new Honors College.
The new dean of the Honors College, Lorelle Meadows, also spoke at the ribbon-cutting.
Pavlis Honors College
"The Pavlis Honors College will serve students university-wide, by providing an intellectual home for engaging educational programs in leadership, innovation, research and service," she said. "The Honors College will instill in our students what Mr. Pavlis calls 'the plus factors,' those factors that encourage the unexpected in our students and inspire them to meet the University's vision of creating the future."
Pavlis graduated at the top of his class at Tech. He went on to earn a Master of Science in Chemical Engineering at the University of Michigan. Several years later, he participated in the Advanced Management Program offered by Harvard University.
His education and hard work resulted in a highly successful career, which began in 1940 when he was one of the founders and the first employee of Air Products and Chemicals. Pavlis held many official positions with the company and was a member of its Board of Directors for many years. Today Air Products is a Fortune 500 company with more than 20,000 employees, operating in more than 50 countries, with annual sales in excess of $10 billion. Pavlis retired in 1980 as vice president of world trade and currently resides in Allentown, Pa.
"I appreciate this great honor," Pavlis said as he cut the Honors College ribbon. "I really just hope that it makes a difference."
Michigan Technological University is a public research university, home to more than 7,000 students from 54 countries. Founded in 1885, the University offers more than 120 undergraduate and graduate degree programs in science and technology, engineering, forestry, business and economics, health professions, humanities, mathematics, and social sciences. Our campus in Michigan's Upper Peninsula overlooks the Keweenaw Waterway and is just a few miles from Lake Superior.