Three Generations, Seven Graduates, One Family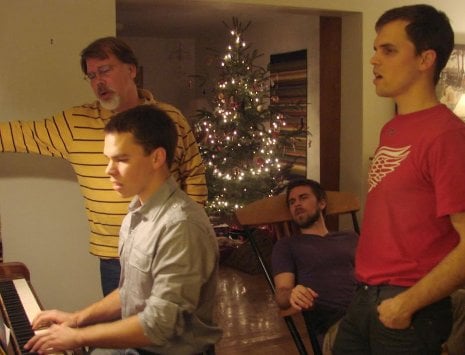 Michigan Technological University is known for generations of traditions, from the Zamboni song at hockey games to Winter Carnival and K-Day. And while some families can proudly say that they and their children graduated from Michigan Tech, few can match the Kilpela family of Atlantic Mine. The Kilpelas have seen six family members graduate from Michigan Tech, and on Saturday, they can add one more.
It all started with Tauno Kilpela, who graduated in 1947 with a degree in mechanical engineering. He was followed by his son, Don Kilpela, who graduated in 1976 with a degree in scientific and technical communication. Don's sons Daniel (2002, physics and education), Mikael (2005, civil engineering), Samuel (2009, physics and education), and David (2011, civil engineering) followed him, and Don's son Jonathan will graduate this Saturday with a degree in biology and secondary education.
After graduating Michigan Tech, Don Kilpela spent five years working as a technical writer for a small industrial agency. Then he worked as a carpenter before his current job at the Campus Bookstore, where he has been the go-to man for textbooks.
Don says that he's learned a lot about students and professors. "I've had a seat to the whole University for 29 years, and I've seen a lot of changes."
Don says that he's proud of his sons because they've done so well. They worked hard and they had their priorities right. He's pleased that they all seem to have a clear idea of what they want to do in life.
Why did they all go to Michigan Tech? "It was a very simple choice," Don says. "It was five miles from home; the kids got half-off tuition and it is a good institution."
All of his sons have achieved academic success. They were also members of the ski, cross country, and track teams. While at Michigan Tech, Jonathan broke the school record for the 10K in track.
"Training has always been a part of my life. Not doing that would be an adjustment," Jonathan explains. "I felt pretty average because the collegiate level is high. The last couple of years of training led to the school record. I also studied abroad in Finland for half a year, which made me grow a lot. I became an individual."
At home, the family never owned a television, which forced them to be creative in their free time and to communicate with each other. Don remembers that he had them pile wood, feed the dogs, and shovel snow while they were growing up on the Kilpela family farm in Atlantic Mine.
"I also involved them in carpentry projects. You learn self-confidence through genuine achievement," he recalls. The older ones helped raise the younger ones. Jonny's not much of a talker, but he's a great writer. He's the youngest, so he didn't get to talk much." One of Jonathan's biggest talents is his amazing ability to run, his father adds.
"I'm very proud of him," says Don. "What amazed me about Jonny is that his work ethic is phenomenal. He's been out running in 0 degree temperatures before. He focused and knew what he had to do to get himself in condition. Jonathan had every excuse not to run and he has phenomenal will power. My kids have all amazed me. They have the tenacity to stick with things."
Jonathan believes that his graduating must be a bit of a relief to his dad. "He finally got all the boys through college, though it hasn't really sunk in yet that we won't be here."
"It's the end of a chapter in our lives," Don says. "I feel privileged that we had our kids at home during those college years."
In between bites of an apple, Don cracks a smile and says, "I imagine that there will be more Kilpelas coming to Michigan Tech. Only time will tell."
Michigan Technological University is a public research university, home to more than 7,000 students from 54 countries. Founded in 1885, the University offers more than 120 undergraduate and graduate degree programs in science and technology, engineering, forestry, business and economics, health professions, humanities, mathematics, and social sciences. Our campus in Michigan's Upper Peninsula overlooks the Keweenaw Waterway and is just a few miles from Lake Superior.