Mind Trekkers, Dow Chemical Bring Science Magic to Washington, DC
By Jennifer Donovan | Published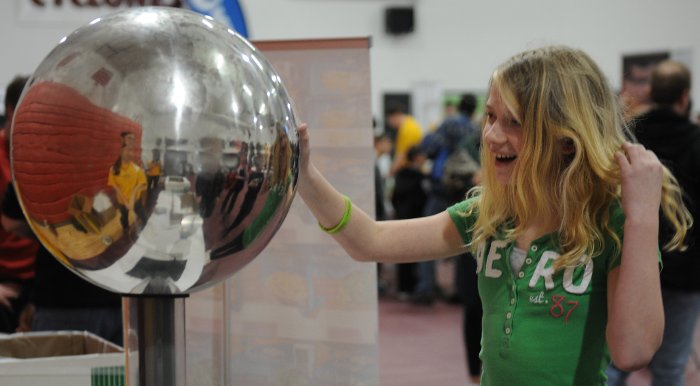 Can you walk on water? Stick a skewer through a balloon without popping it? Make delicious ice cream in 60 seconds?
It sounds like magic. But it's all science, hands-on excitement that the Michigan Technological University Mind Trekkers are bringing to the nation's capital to capture the minds and imagination of 350,000 children and their families at the USA Science & Engineering Festival and Expo April 26-27, 2014.
The free event runs from 9 a.m. to 6 p.m. Saturday and Sunday, April 26-27 in the Walter E. Washington Convention Center in Washington, DC. Featuring more than 3,000 exhibits and 100 stage shows, the festival includes hands-on science fun for all ages. Mind Trekkers is partnering with festival sponsor Dow Chemical to run the Dow Chemical/Mind Trekkers STEM Discovery Compound in the Engineering Pavilion at the Convention Center. Two other STEM outreach programs that Dow supports, FIRST Robotics and You Be the Chemist, will also display interactive demos in the compound
The day before the public festival is Sneak Peak Friday, a day when school classes, home-schooled children, military families and government officials can attend before festival opens to the public. The news media is invited to Sneak Peak Friday.
As an official traveling component of the USA Science & Engineering Festival, the Michigan Tech Mind Trekkers have been taking their science and engineering road show all over the country, giving children, families, teachers and communities a taste of the excitement that will fill the Washington Convention Center this weekend. The university staff and student volunteers of Mind Trekkers teach visitors to their booths to do what seems like magic tricks. It's a painless, exciting way to discover the real science behind the "magic."
Now about walking on water. Actually, it's not water—it's ooblek, a white liquid that acts like a solid under pressure. You can run right across the surface, but if you stop, you sink. The Mind Trekkers will be glad to explain the Newtonian physics behind that phenomenon.
Then there's liquid nitrogen ice cream, always a popular Mind Trekkers demo. Using milk, sugar, flavorings—and liquid nitrogen—you can make ice cream in all of 60 seconds. It's edible, and it tastes good too.
Mind Trekkers was established by STEM-oriented Michigan Tech to help produce the next generation of students by hooking school children on the wonders of science, technology, engineering and math (STEM). The group was invited to participate in the first USA Science & Engineering Festival in 2010 and returned to Washington for the much larger second festival in 2012. This spring is Mind Trekkers' third USA Science and Engineering Festival.
"The excitement that events like this generate do so much to inspire young people to think about careers in the STEM fields and to motivate their families and teachers to support them in those interests," said Steve Patchin, director of the Mind Trekkers program. "Our student volunteers have fun; visiting kids and their families have fun, and everyone takes home the message that science isn't tough, solemn stuff—science is intriguing and exciting."
On Thursday, April 24, the day before the DC festival begins, the Mind Trekkers team will take their science show to Newark, Del., where they will perform at The Independence School's STEMfest. The family event is free and open to the public from 6 to 8:30 p.m. on April 24 at the school.
Michigan Technological University is a public research university, home to more than 7,000 students from 54 countries. Founded in 1885, the University offers more than 120 undergraduate and graduate degree programs in science and technology, engineering, forestry, business and economics, health professions, humanities, mathematics, and social sciences. Our campus in Michigan's Upper Peninsula overlooks the Keweenaw Waterway and is just a few miles from Lake Superior.