Humanities Professor Explores the Assumptions, Usefulness of Pregnancy Manuals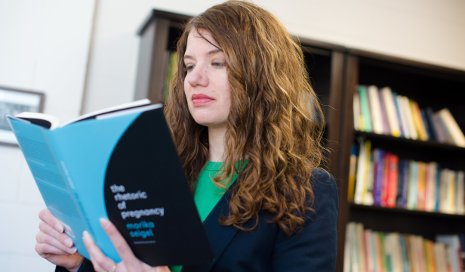 How To books have been around for years, but have you ever thought about the belief systems behind them or how usable their instructions are? That's of even greater concern when you think about books that impact critical times in your life, such as pregnancy.
Marika Seigel, an associate professor of rhetoric and technical communication in the Department of Humanities at Michigan Technological University, looks into just that with her recently published book, The Rhetoric of Pregnancy.
The Rhetoric of Pregnancy was released in January 2014, published by The University Chicago Press. According to the publisher, "The first book-length study of its kind, The Rhetoric of Pregnancy is a must-read for both users and designers of our prenatal systems – doctors, doulas, scholars and activists, and anyone interested in encouraging active, effective engagement."
The book dissects pregnancy manuals, examining how they portray the way women see themselves during that time in their lives and how they view the function of prenatal care. Seigel also suggests ways to improve communication about pregnancy and healthcare.
The book took about eight years to produce, from intensive research and writing to publication, Seigel's interest in the subject is deep rooted. "It's kind of complicated in some ways because it was a confluence of research I was doing for my academic interests and my personal experiences," she explains.
"Because my area is in rhetoric and technical communication, one of the things about technical communication that I've really been interested in is how typical technical communication like manuals and instructions is used for everyday life, not just for work. I think healthcare, and especially women's healthcare, is one of these areas where technical communication has a huge influence, but we really haven't done a lot of research on it."
Throughout the book, Seigel also discusses her own experiences with pregnancy and the manuals that are typically bought by pregnant women. "They were something I was interested in before I became pregnant, but especially after I was pregnant, I was dismayed by the kind of advice that the guides gave. It seemed very prescriptive, and it did not provide a lot of advice for negotiating the system. So I was wondering where these guides come from and why we even have them for pregnancy, which is a natural experience," she says.
The primary audiences for Seigel's new book are scholars in technical communication and women rhetoric, but also healthcare providers and pregnant women themselves. Seigel hopes her book will lead to more research about technical communication outside of the traditional frame and better instructions and guidance through the healthcare system
In the future, Seigel hopes to look at international technical communication, possibly continuing to examine prenatal care globally.
To purchase the book, go the University of Chicago Press Books. You can also check it out from Michigan Tech's Van Pelt and Opie Library.
Michigan Technological University is a public research university, home to more than 7,000 students from 54 countries. Founded in 1885, the University offers more than 120 undergraduate and graduate degree programs in science and technology, engineering, forestry, business and economics, health professions, humanities, mathematics, and social sciences. Our campus in Michigan's Upper Peninsula overlooks the Keweenaw Waterway and is just a few miles from Lake Superior.