Engineering on Alcatraz: Alumna Involved in Restoration and Stabilization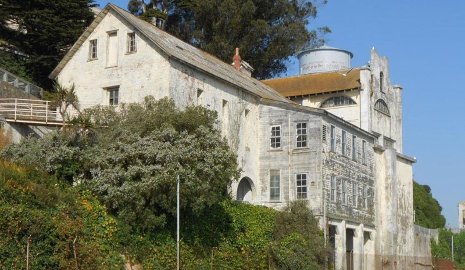 Certain names bring forth visceral associations. Alcatraz is one, but the notorious prison of the past is also a place for a Michigan Technological University alumna to use some of her civil engineering skills in the present.
Debra Campbell, a 1976 graduate, works for the National Park Service on Alcatraz, perched on an island in San Francisco Bay. She has been involved in four recent projects on the iconic island.
The most significant is the restoration of the cell house, to the tune of $17 million.
"Infamous," Campbell described it. "It was built on top of the site of a Civil War-era fort. They used saltwater in the concrete [causing corrosion] and ran saltwater in their plumbing, so when those pipes leaked, you had more damage."
The construction missteps combined with some harsh winds and salt air from the west necessitates the stabilization and repair of the exterior walls of the cell house. And, since it is a National Historical Landmark District, they must match material type and color as best they can.
Tight quarters can hamper the work, too, she says.
"We get 1.5 million visitors a year," Campbell explains. "And they have one point of access, walking up 100 feet in elevation. There is limited space for materials and workers."
How bad is the building?
"It's crumbling. We are stabilizing it, and the challenges are many: the remote location, access for workers and visitors together, and we have nesting birds that must be protected during certain times of the year," she says.
Another project, now completed, involved covering the roof of the cell house with photovoltaic cells, as the island is "100 percent off the grid." The result is 283 kilowatts and 1,920 kW hours of battery storage.
"Most of our electrical use is for offices, the tours and retail shop," Campbell says. "The generator kicks in on cloudy days, and the batteries are stored into the night."
Only a single, brave caretaker stays overnight.
Also being rehabilitated are the guardhouse, library, schoolhouse and sally port (entryway) structures. Here, there's more Civil War-era construction, some of which hangs off the cliffs of the island.
"We need to do seismic stabilization," Campbell says. "We've got staff working in these locations, and visitors walk under one of the structures. In case of a seismic event, we need to get people out safely."
A quartermaster warehouse, where the battery packs are stored, is also in need of work. It is located near where the "good" prisoners were allowed to work to support the prison.
Today, Alcatraz is a busy place, with boats on the half-hour from 8:45 a.m. to 6:30 p.m. and a constant "capacity issue with control and safety levels to maintain."
"We've got great proximity to an area with some seven million people," Campbell points out. "We are well used."
It's part of the urban Golden Gate National Recreation Area, and they have a lot of support from their partner, the Golden Gate Conservancy, whose volunteers outnumber NPS employees by as much as ten to one in the peak May to August season.
This Michigan Tech civil engineer is a part of a unique history. And she's not stopping with Alcatraz. She's been off to look at a former Japanese internment camp in northern California.
It's another piece of history to be restored. And Debra Campbell is just the one to help get it done.
Michigan Technological University is a public research university, home to more than 7,000 students from 54 countries. Founded in 1885, the University offers more than 120 undergraduate and graduate degree programs in science and technology, engineering, forestry, business and economics, health professions, humanities, mathematics, and social sciences. Our campus in Michigan's Upper Peninsula overlooks the Keweenaw Waterway and is just a few miles from Lake Superior.