Female and Graduate Student Enrollment Rises
By Jennifer Donovan | Published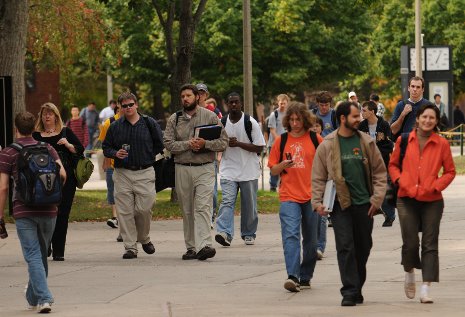 Michigan Technological University, like other public universities in the state, submitted its official fall enrollment numbers to Lansing this week. The news was very good.
Michigan Tech has 1,252 first-year students, the largest freshman class since 2008. The average ACT score and high school GPA of those students are at an all-time high, at 26.7 and 3.66.
Graduate student numbers also rose for the fifth straight year, to 1,359.
"I want to thank everyone all across campus for the work they do to attract the highest quality students," said President Glenn Mroz. "The results of their efforts speak for themselves."
Total undergraduate enrollment this fall is 5,617, making the University's total enrollment for the fall semester 6,976, up from 6,945. There are a total of 1,810 female students, the second highest ever. Female enrollment in the College of Engineering is now 906, up from 612 in 2005 and 835 last year. That is an all-time high. And the Graduate School has 392 female graduate students, the most ever.
The number of domestic ethnic minorities has risen to just shy of 7 percent of the undergraduate student body. This is a 10-year high that is also an all-time record.
"The academic caliber of this incoming class of undergraduates one of the highest in recent history at Michigan Tech," said John Lehman, associate vice president for enrollment, marketing and communications at Michigan Tech. "It's a diverse class with a relatively high proportion of women entering the STEM fields. We're very excited to have this group of talented, future leaders studying with us at Tech."
The Graduate School saw the number of first-time master's degree students rise 22.2 percent, to 314. There are 97 first-time doctoral students, a 1 percent drop from fall 2012. Tech's Graduate School processed more than 4,100 applications for the fall 2013 semester.
"This is the fifth consecutive year of record graduate enrollment at Michigan Tech," said Jacqueline Huntoon, dean of the Graduate School. "We are making clear progress toward our goal of 3,000 graduate students by 2035. Also, last year was the fourth consecutive year of record graduation numbers for master's and PhD students. We want to thank everyone who helped get new graduate students to Tech and who worked closely with the students who are here."
The enrollment report lists numbers of students in each of Michigan Tech's Colleges and Schools.
College of Engineering: 4,329
College of Sciences & Arts: 1,657
School of Business & Economics: 365
School of Technology: 276
School of Forest Resources and Environmental Science: 242
No School or College designated: 107
Michigan Technological University is a public research university, home to more than 7,000 students from 54 countries. Founded in 1885, the University offers more than 120 undergraduate and graduate degree programs in science and technology, engineering, forestry, business and economics, health professions, humanities, mathematics, and social sciences. Our campus in Michigan's Upper Peninsula overlooks the Keweenaw Waterway and is just a few miles from Lake Superior.