Honors Institute Gets a Home to Call Its Own
By Jennifer Donovan | Published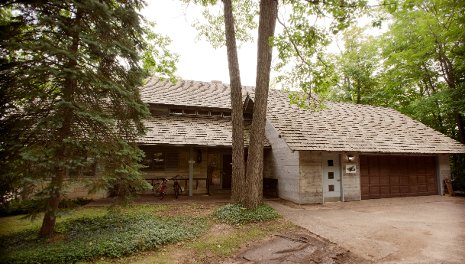 Housing and Residential Life at Michigan Technological University has rolled out the welcome mat for 13 students at a very special residence hall.
The Honors House, building number 82 on the campus map and formerly the Ruppe House, is a next-door neighbor of the University Residence on Woodland Road. The headquarters for Michigan Tech's Honors Institute, the Honors House is home to nine honors students and provides ample space for the group's operations. The remaining four beds are filled by non-honors students who have returned to campus after at least one year of study.
The idea of converting the Ruppe House—previously used for storage—into a livable home sprang from a conversation between Andrew Hoekstra, Honors Institute president and house manager, and Travis Pierce, director of housing and residential life. Hoekstra approached Pierce about carving out a small space on campus for the Honors Institute.
"We needed a mailbox, mostly, and a place on campus to process tickets for the inaugural student scholarship raffle," says Hoekstra. "Housing and Residential Life came up with the idea of renovating the Ruppe House for our needs. Once we all met, it started running from there, within the last two to three weeks of the spring semester."
The Honors Institute describes itself as a community of scholars, researchers and creative thinkers. The group's mission is to improve the University through student initiative and involvement, to support students in growing their academic and leadership skills and to provide a community where students can work together. Members must maintain a minimum 3.5 GPA and meet additional requirements.
Until now, the Honors Institute had no official place to call its own. The group held meetings in the Electrical Energy Resources Center and at the Van Pelt Library, where they have priority for reserving rooms—a nice perk, but only temporary, limited space.
Now they have much more than they bargained for—in a good way.
Nestled in a peaceful, wooded neighborhood, the two-story Honors House offers six suites, a fully renovated kitchen, new furnishings, a finished basement and many amenities, including high-speed internet and laundry facilities. Brand-new floors include luxury vinyl, tile with a dark-cork pattern (kitchen/entryway), strip flooring with a Honduran-mahogany finish (living/dining room) and Shaw loop carpeting in the color jet propel (throughout the house).
On the first floor, students can watch TV on an LED screen, hang out or just relax on the lounge-worthy leather couches and modern overstuffed chairs in the professionally designed living room. The kitchen features sleek black-granite countertops, cherry-wood cabinets, tile backsplashes and stainless-steel appliances, including two dishwashers, a triple-basin sink, two electric ranges and hoods, and a commercial-grade freezer and three-door refrigerator. The dining room, which connects the kitchen and living room, boasts a large modular table that can be used for meetings and rearranged to fit many purposes. Two student suites are on the first floor.
The second floor is dedicated to four roomy, carpeted suites, each occupied by two to four students. The residents share gender-designated bathrooms, also spruced up with new flooring, fixtures and paint.
The ground floor boasts an LED TV, a refrigerator and two large, circular tables—perfect for a meeting of the minds or homework time. This walk-in basement has tongue-and-groove walls and carpeting.
Residents have first-floor and ground-floor access to a spacious, two-story deck, complete with a stainless-steel gas grill and wrought-iron patio furniture.
As far as neighbors go, Honors House lucked out: Professor Andrew Storer, director of the Honors Institute, lives right down the street.
The institute plans to host cookouts and other events at the house, which Storer describes as a "real showpiece." In fact, during Orientation Week the institute already opened up their home to first-year students accepted into the program.
Next year, Hoekstra and Storer expect the demand for resident contracts to explode within the Honors Institute community—enough so that the house becomes exclusively for honors students.
"When this opportunity came up at the end of last spring, we were very excited, yet concerned about whether we could get enough contracts to fill the house," says Hoekstra. "Most students had already made living arrangements by that time. However, Housing and Residential Life allowed any student who had renewed a contract to live in a University residence hall to come live here instead, which was very helpful."
Both Storer and Hoekstra agree that Pierce and his staff have been "fantastic" to work with. "At the end of last year, Travis brought all of the residents into the house, laid out all the plans for the renovations, and asked us to do some picking and choosing," says Hoekstra. "Once we gave him our input, he just ran with it, and in one summer, turned this house into a home for us. That's impressive."
"Travis and the housing staff have been great," says Storer. "Basically, the challenge was, could the Honors Institute jump on this opportunity? Clearly, the institute did its part, and the University did its part. That's key for us: finding opportunities that benefit both students and the University, and being able to take the bull by the horns and get it done."
"This is a great example of another collaborative partnership between Academic Affairs and Student Affairs," says Pierce. "Such partnerships provide enhanced opportunities for student learning in a living environment."
Hoekstra hopes that bringing the Honors Institute members under one roof will encourage the group to thrive socially and advance their mission. "Recently, the institute has initiated new programs and has begun offering new member benefits, and we're hoping this home will help us in our next step of developing a sense of community—getting everyone to convene in one space and allowing them to develop friendships. It's important to develop a support network."
More About the Honors Institute
Established in 2005, the purpose of the Honors Institute at Michigan Tech is to support highly motivated Michigan Tech students as they achieve the highest standards of academic excellence. The institute organizes and supports events that benefit its members and the University community, including
a scholarship raffle, which is held at K-Day;
presentations by invited speakers;
homework meetings and workshops for members;
informational meetings on applying for nationally competitive scholarships, such as NSF or Fulbright scholarships; and
the Career Services Etiquette Dinner.
Requirements for membership include
a combined ACT score of 30 or above for incoming students, or 27 or above for current students;
maintaining a minimum GPA of 3.5;
completing three honors contracts, or projects designed to be compatible with a student's interests and activities;
completing the essay portion for a nationally competitive scholarship; and
enrolling in honors sections of select general education courses, such as Composition.
Michigan Technological University is a public research university, home to more than 7,000 students from 54 countries. Founded in 1885, the University offers more than 120 undergraduate and graduate degree programs in science and technology, engineering, forestry, business and economics, health professions, humanities, mathematics, and social sciences. Our campus in Michigan's Upper Peninsula overlooks the Keweenaw Waterway and is just a few miles from Lake Superior.