Martial Art Fuels Psychology Major's Fire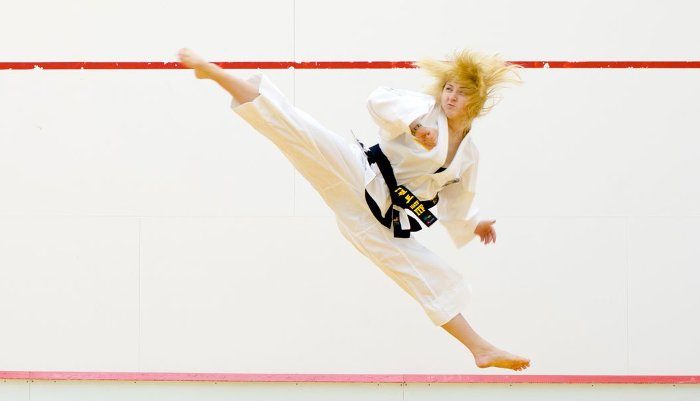 Our interests generally start to appear when we are young. Whether it is building structures with LEGOs or cooking a fantastic meal with your play kitchen, we often continue those passions later in life.
But what if your passion is fighting? Once this Michigan Technological University student's parents caught her kicking and enrolled her in formal classes, Alyona Zhuravlyova never looked back. Her passion for taekwondo has led her to become an inductee in the Taekwondo Hall of Fame.
Following her brothers, Zhuravlyova came to the United States from Kazakhstan to study at Michigan Tech. She is a third-year psychology major.
She began studying taekwondo sixteen years ago while she lived in Kazakhstan. At age five, she started to compete in city tournaments, and at 10 she began to enter bigger events.
Zhuravlyova is currently a fourth-degree black belt and has competed in many international and world championships. In 2006, she won three first places in the Asian Championship, where she was also named the tournament's absolute champion. This past summer she competed in the World Championship in Bulgaria. Representing the United States, she finished in third place.
Taekwondo is described as one of the most systematic and scientific Korean traditional martial arts. It has become a global sport that has both an international reputation and a spot as one of the official games of the Olympics. "It is a martial art," Zhuravlyova explains. "We have a lot of taekwondo styles, but it is more fighting than just breathing and self-control exercises. If you want a different perspective, you should try it."
Self-protection and self-control have been the most important skills that taekwondo has helped her develop.
Zhuravlyova recently returned from the Taekwondo Hall of Fame ceremony in Las Vegas, where she received the Outstanding ITF Taekwondo Player award. "I was participating in a lot of world competitions, and a lot of people know me," she said. "The director of the hall of fame contacted me to say I was probably going to be inducted. Once I started competing for the United States, it helped me gain more recognition here than just competing for Kazakhstan."
How does Zhuravlyova feel about being recognized? It was a huge honor, she said, and she was quite surprised, considering that many of the inductees were far older than she—and Olympic champions. "Everyone was surprised because I was the youngest to be inducted," she said.
Zhuravlyova's enthusiasm for taekwondo could continue to grow as she makes room for it in her future plans. She wants to open a taekwondo school in the US as soon as she can and share her passion with others.
Michigan Technological University is a public research university, home to more than 7,000 students from 54 countries. Founded in 1885, the University offers more than 120 undergraduate and graduate degree programs in science and technology, engineering, forestry, business and economics, health professions, humanities, mathematics, and social sciences. Our campus in Michigan's Upper Peninsula overlooks the Keweenaw Waterway and is just a few miles from Lake Superior.