Tech Students, Local Conservancy Group Team Up on Seven Mile Point Project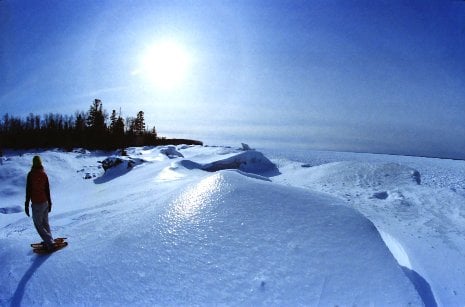 The Keweenaw Peninsula features geology that can be measured in billions of years. A project spanning four months isn't even a blink of an eye. This project, a collaboration between students and faculty at Michigan Tech and the North Woods Conservancy (NWC), a local land preservation group, set out to help maintain a small piece of nature for future generations. The service-learning project gave students experience solving real-world problems while meeting a local environmental organization's needs. Along the way, over those four months, they also learned that nature has a very big say in what we do and when we do it.
February 2013, Seven Mile Point Beach
It's cold. The sky is a cobalt blue; the ground covered in crunchy snow. The outer gate to Seven Mile Point Beach is still closed, and a couple of feet of snow prevent us from going any further, even it if were open. A.J. Hamlin's engineering fundamentals students are here to explore the site, to gain a sense of the place, its importance and why their work matters.
They're going to build a toilet.
It's jarring to need to think of waste in a place this pristine, but it is the responsible use of this land that Kate Griffith wants to see. Her family helped start the NWC in 1992 when she was two years old. Since then, the organization has purchased several other sites throughout the Keweenaw.
Hamlin joined this project because her Engineering Modeling and Design course bridges the needs of the NWC and the goals of Social Sciences Assistant Professor Emma Norman's World Resources and Development course perfectly. "When Emma asked if my first-year students might be interested in building a compostable toilet, I thought it would make a great design project," Hamlin said. "It's a chance give back to the community too. At the beginning of the semester I let my students choose between two projects: designing a microbrewery or designing the compostable toilet for this project. Out of 48 students, eight women chose to take on the compostable toilet project."
Those eight women--working in two teams of four--first discussed plans for meeting the Conservancy's needs while achieving the course goals. The Griffiths came to Michigan Tech to explore the specs and needs for the site: a compostable toilet would help meet the Conservancy's goals of being sustainable.
John and Jane Griffith, Kate's parents, are field biologists by profession and serve on the board of the NWC. In the meeting, John laid out what he would like to see at Seven Mile Point: he wanted not only a toilet, but one that is sustainable, one that has as small an ecological footprint as possible.
The site does not have running water or electricity, and it is an environmentally sensitive spot close to Lake Superior.
"Cost is an issue," he explained, "but we want to do this right."
The students also heard from Christine Matlock, a senior environmental engineering student and Michigan Tech student representative for Engineers Without Borders. They have the knowledge and experience to install the final product in rugged locations. A site at the end of a dirt road in the Keweenaw should be simple compared to a remote village in Guatemala, though the climates certainly differ.
Although Norman's class is not here for this trip, she attends with her family. Hamlin and Norman's children are the same age and have become fast friends since Emma and her family moved here in August. Norman's social science students will do a service project later in the term.
"Including service learning in my classes has always been part of my teaching practice," says Norman. "When my students learn about current environmental issues, many feel overwhelmed and don't know where to turn. Supplementing courses with service projects makes it a winning situation for everyone."
Madeline Baron, a student in Norman's class, agrees that hearing the litany of problems in the world can be tough, but there are ways to turn that into something positive. "Much of the material we covered in class is disheartening and depressing," she says. "But I doubt I'm the only one inspired by the issues we've covered, or at least somehow incorporated what we've learned into our daily processes."
Back at Seven Mile Point
The trail to the shore is mostly flat, with a dip at the end where the rocks give way to Lake Superior. Seven Mile Point Beach is along the north shore of the Keweenaw, west of Eagle River. The site was originally set to be developed until the NWC and its members stepped in.
It isn't an overly large site, but with the variety of terrain present in one spot, it's unique. "It's a microcosm of the Keweenaw," Kate Griffith explains. "A sandy beach, a billion-year-old rock outcrop and a section of cobble, all right here."
She stops walking for a moment, her snowshoes making tiny crunches as she halts. "I mean, this is worth saving."
The students are gazing out onto the still horizon, blue sky and blue ice coming together, the scene quickly frozen in memory. Everyone nods.
April 2013, Conglomerate Falls
Winter has come late, but it has been thorough as we stand at the tail end of a 300-inch snow season. It was late in coming, and the late spring snowpack is playing havoc with plans to prepare the site at Seven Mile Point for construction.
Emma Norman is driving a van full of her students; as planned back in January, they pull into the Streetcar Station in Ahmeek, a building that hosts a popular ice cream stand in the summer and doubles as the headquarters for the NWC.
But the group isn't going to Seven Mile Point.
Kate arrives separately, and she is guiding everyone to Conglomerate Falls. More than 30 inches of snow still covers the ground at Seven Mile Point; preparing the site to install the toilet later in the summer would be impossible. Instead, the cabin at Conglomerate Falls could use some cleaning prior to summer rentals, and Norman's class, here for service learning, troops out to get the job done.
Much like Seven Mile Point, Conglomerate Falls is a hidden gem. As we hike in, largely without snowshoes and only sinking knee-deep into loose snow every fourth step or so, the sun glistens between branches yet to bud. There are about two dozen students there and only room for a handful in the cabin itself.
While six or seven students tackle the cabin, most of the rest head down to look at the falls. There is ice on the Gratiot River away from the flow of the water, and a few students chuck snowballs at it to see if they can dislodge another small piece of winter.
They're laughing, enjoying some real signs of spring. According to Norman, they're also learning. "Even though this isn't what we had in mind when we first organized the service project," she says, "they're still getting into the habit of volunteering, building that into their lives. That's important."
After an hour or two, the class hikes back to the road, the students talking amongst themselves while they wait for one of Norman's graduate students to bring the van back.
"Man, it's beautiful here."
April 2013, Dillman Hall
The computer lab stands in contemporary contrast to the more traditional appearance of the building. There was a winter storm the night before, and every surface is clutching what, by now, everyone hopes is the last storm of the year.
It is the last regular week of classes.
After months of preparation, Hamlin's students are prepared to present their designs for a compostable toilet. The two teams took different tacks with the project, with one designing a single-seat unit and the other a double-seat. The original specifications called for two—John Grifith hoped to be able to switch between them for ease of composting—but the single-seat design would be 40 percent less expensive and the structure would be less obtrusive.
"I was impressed with how many designs for composting toilets are out there," says Hannah Garner, an engineering undergraduate student from Laingsburg. "A lot of people are working on these."
Not only are the students learning about technology and design; they're also picking up a few bits of knowledge that could serve them well as future homeowners. "I showed the plans to my father," says Jennifer Holthouse, a mechanical engineering students from Newtonville, Mass. "He said 'that's not how you frame a house' and gave me a construction manual."
"So now I know how to frame a house, too."
Hamlin sees benefits in the bigger picture as well. "Involving students in a service project gives them a better understanding of the design process," she says. "You find out where there are problems and go back and redesign. The students really enjoyed working on a project with a real client that is actually going to be built."
While walking out of Dillman, Kate Griffith reflects one last time on conservation, why the little things like composting waste at one small beach on the Keweenaw is important. "It's stupid not to think ahead," she says.
"What's wrong with saving a little slice of heaven you love?"
Michigan Technological University is a public research university, home to more than 7,000 students from 54 countries. Founded in 1885, the University offers more than 120 undergraduate and graduate degree programs in science and technology, engineering, forestry, business and economics, health professions, humanities, mathematics, and social sciences. Our campus in Michigan's Upper Peninsula overlooks the Keweenaw Waterway and is just a few miles from Lake Superior.