Michigan Tech Researchers Receive Two Great Lakes Restoration Grants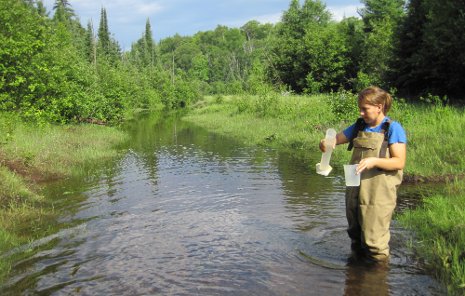 Two Great Lakes restoration research projects by Michigan Technological University researchers are among 12 selected for funding, the University of Michigan Water Center announced today. Fifty-four research teams from universities near the Great Lakes and beyond submitted proposals for nearly $570,000 total funding.
"Michigan Tech should be very proud of its Great Lakes researchers," said Guy Meadows, director of the Great Lakes Research Center (GLRC) at Michigan Tech. "These grants are a recognition of their outstanding abilities, and their work will produce critically needed data to improve our restoration efforts on the Great Lakes
A team led by Amy Marcarelli, assistant professor of biological sciences who also works with the GLRC, received $50,000 to study the impact of remediation of stamp sands along Hills Creek on the Keweenaw Peninsula. David Dean, assistant research scientist at the Michigan Tech Research Institute (MTRI) in Ann Arbor, heads another Michigan Tech team that received a $50,000 Water Center grant to develop a geospatial database to inform response plans for dealing with oil or chemical spills in the Great Lakes.
Marcarelli's co-investigator is Casey Huckins, associate professor of biological sciences who also works with the GLRC. Dean's co-investigators are Colin Brooks and Arthur Endsley, both research scientists at MTRI in Ann Arbor.
The UM Water Center was formed last October to provide a scientific framework for more efficient and effective Great Lakes restoration. This is its first round of grants. A second round of larger grants will be awarded later this year.
The 12 grants announced today focus on analysis of the outcomes of existing restoration projects. "It's key to understanding what we're doing right and what we need to tweak," said Water Center Deputy Director Jennifer Read.
Marcarelli and Huckins will measure the mechanisms underlying the function of the ecosystem of Hills Creek, where copper-rich stamp sand has been removed from the floodplain and 18.2 acres of vegetative cover has been planted as part of a major restoration project. They will analyze the nutrient dynamics—how nutrients in the water are used by the organisms that live there—the movement of particles and dissolved materials, what the fish are eating and how much energy they are getting from that food. They will compare those measurements to data from sections of the stream that weren't as affected by the stamp sands.
The new funding will enable them to enhance ongoing pre- and post-restoration monitoring that Huckins has been conducting at these sites, where he and his students sample stream fish and other organisms that live in the water.
"People rarely monitor ecosystem response to restoration projects," Marcarelli explained. "They do the work and assume that they've fixed the problem." Huckins added: "Integrating these measurements of ecosystem responses with traditional assessments of stream health should improve restoration monitoring and guide future projects.
The GLRC scientists will work with the Houghton Keweenaw Conservation District and the US Department of Agriculture Natural Resources Conservation Service, which conducted the restoration.
Receiving the grant is "very exciting," Marcarelli said. "There were very few funded, and it's great to see one right here on the shores of Lakes Superior."
Dean, Brooks and Endsley are going to use geospatial technology—including geographic information systems (GIS), the global positioning system (GPS) and remote sensing—to develop easily modifiable, high resolution maps that can help responders act quickly and effectively in case of an oil or chemical spill. They will map the western basin of Lake Erie, an area that sees significant ship traffic. Oil pipelines under rivers in the area also pose a spill threat.
The MTRI researchers will work with the US Coast Guard and the US Environmental Protection Agency to develop the data that would be need to mount a rapid and appropriate response should a spill occur.
"This project applies geospatial technology to oil spill response plans, improving the information available to responders and helping to protect critical habitat in the western basin of Lake Erie," said Dean, whose master's degree research formed the basis for the new research.
The other UM Water Center grants went to Baylor University, State University of New York-Syracuse, University of Northern Iowa, University of Toledo, University of Michigan-Dearborn, University of Minnesota-Duluth, University of Wisconsin-Milwaukee and University of Michigan.
Michigan Technological University is a public research university, home to more than 7,000 students from 54 countries. Founded in 1885, the University offers more than 120 undergraduate and graduate degree programs in science and technology, engineering, forestry, business and economics, health professions, humanities, mathematics, and social sciences. Our campus in Michigan's Upper Peninsula overlooks the Keweenaw Waterway and is just a few miles from Lake Superior.