Women's History Month—Honoring and Educating Tech's Extraordinary Females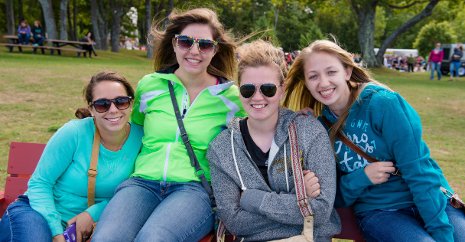 March is Women's History Month, and the Women's Programming Committee has kicked off its month-long celebration of the accomplishments of women. This year, events focus on a central message of health and wellness.
The month's events started with the Society of Intellectual Sisters' annual Bra Show, which raised over $500 for the National Breast Cancer Foundation. For the show, different women's student organizations each design a bra and choose a male student—and a song for them to perform to—for the public reveal of their design. This year's theme: the Seven Wonders of the World.
"It was a huge hit," said Sarah Stoolmiller, a member of the Women's Programming Committee. "The Women's Leadership Council did a UP-themed bra, and my sorority, Delta Phi Epsilon, made one based on the pyramids."
A Spring Break safety and self-defense workshop was held Tuesday evening, March 5. Officers from the Department of Public Safety and Police Services shared safety tips and self-defense strategies.
Four more events are slated for Women's History Month, including:
Free Fitness Extravaganza—6–9 p.m., Wednesday, March 6, Memorial Union Ballroom A and B
Six fitness courses will be offered:
Kickboxing, Ballroom A, 6 p.m.
Ultimate conditioning, Ballroom B, 6 p.m.
Pilates, Ballroom A, 7 p.m.
Cardio mix, Ballroom B, 7 p.m.
Yoga, Ballroom A, 8 p.m.
Zumba, Ballroom B, 8 p.m.
Due to equipment limitations, please email Renee Wells (rrwells@mtu.edu) to sign up for classes if you plan to attend. Courses will be 45 minutes long to allow for equipment setup and cleaning.
Film Screening: The Education of Shelby Knox—7–8:30 p.m., Tuesday, March 19, Fisher 135
Join Keweenaw Pride and the Women's Programming Committee as they co-host a Women's History Month/Pride Week screening of The Education of Shelby Knox—a film about a Texas high school student who stood up to her school board by demanding comprehensive sex education and equal treatment for gay, lesbian, bisexual, transgender and queer students. Free admission and refreshments will be provided.
Ask the Sexologist—7–8 p.m. (women only) and 8:30–10 p.m. (open to all), Wednesday, March 20, Memorial Union Ballroom A
Women's History Month guest speaker Jill McDevitt, a professional sexologist, will discuss safer sex practices, positive body image and what's normal in terms of college sex. There will be an anonymous question-and-answer session. Come find out anything you ever wanted to know—but were afraid to ask—about sex.
Healthy Eating on a Budget—7–8 p.m., Thursday, March 28, Memorial Union Ballroom B
Want to learn about healthy meals and snacks that you can afford to eat on a student budget? Join Michigan Tech's own Eric Karvonen, Dining Services executive chef, and members of Healthy Options for Wellness Living (HOWL) for a free food workshop. Topics will range from a balanced diet and healthy snacking to inexpensive meals.
Planning for the month's events is almost a year in the making. "We start planning next year's event while the current year's programming is happening," said Stoolmiller. "It's a lot of fun brainstorming with so many women. About a dozen students have helped shape this year's programming."
Having such a big head start on next year's Women's History Month is certainly helpful, especially with the educational importance of the events' message.
"At first, when I came to Tech, I wondered why it was important to watch videos about empowering women," said Stoolmiller. "But, when you think about it, stereotypes really haven't been completely broken. Men still earn higher salaries than women. There's still a lot of inequality. It is so important to help female students find resources to help them succeed."
All events are free and open to the public, except the first hour of "Ask the Sexologist," which is open only to women.
Michigan Technological University is a public research university, home to more than 7,000 students from 54 countries. Founded in 1885, the University offers more than 120 undergraduate and graduate degree programs in science and technology, engineering, forestry, business and economics, health professions, humanities, mathematics, and social sciences. Our campus in Michigan's Upper Peninsula overlooks the Keweenaw Waterway and is just a few miles from Lake Superior.