GM, Square One Sponsor 3D Printer Workshop for Teachers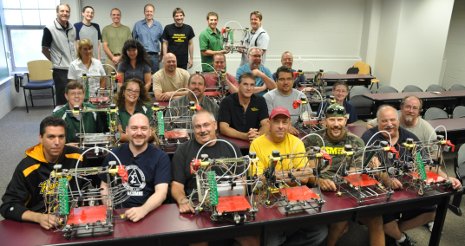 3D printer. The very words sound contradictory. Printing is 2-dimensional by nature—words on paper, pictures on posters, letters on signs.
Yet 3D printers are fast becoming one of the hottest new technologies. People are using them to "print" everything from lab equipment to jewelry to toys to surgical implants.
It might be more accurate to call them replicators. Here's how they work. Computer Aided Design (CAD) files feed digital instructions for a three dimensional object into the 3D printer. Then software slices the design into hundreds or even thousands of tiny, horizontal layers. Using materials—often plastic, but sometimes metal, ceramic or other substances—the 3D printer lays down one layer at a time according to the computerized specifications, until the entire object emerges.
This week, 12 teams of teachers from all over Michigan are at Michigan Technological University to get an inside look at this new technology. And they're getting much more than a look. Each team will build its own 3D printer.
What's more, they'll get to take it home with them. And, since one of the wonders of the open-source RepRap 3D printers developed for the workshop is that they can print their own components, teachers and students back at those schools could use the workshop printer to build another one, and then use the two printers to build two more, and on and on. The possibilities are virtually unlimited.
The teachers are from Alpena, Calumet, Chassell, Clarkston, Dollar Bay, L'Anse, Livonia, Oak Park, Roscommon, Sterling Heights, Stockbridge and Wakefield. The Calumet High School team is sponsored by General Motors and PACE (Partners for the Advancement of Collaborative Engineering Education). Through PACE, GM is launching an industry/university/high school partnership curriculum, and Calumet is the program's pilot school.
"GM is continuously looking for ways to further develop student's interest in science, technology, engineering and math. This new pilot program with PACE provides a tremendous opportunity in which to accomplish this goal," said John Calabrese, vice president, global vehicle engineering at General Motors. "We are able to train these students on some of our more advanced technologies, such as the 3D printers, so they are prepared once they enter the workforce to jump right in to understanding these applications."
Square One, a Michigan-based nonprofit educational funding organization, is sponsoring the other 11 teacher teams.
"At the Square One Education Network, we strongly believe that investing in creative and innovative teachers is a top priority for our region and country," said Karl Klimek, executive director. "Providing the gear necessary for the teachers and students to thrive is what we do best. Introducing additive manufacturing technology to teachers who are traditionally STEM teachers is a conversation we believe has a place in today's exciting educational landscape."
Michigan Tech faculty member and researcher Joshua Pearce will help teach the teachers about 3D printing and help them build their printers. An associate professor of materials science and engineering and electrical and computer engineering, Pearce has garnered worldwide attention over recent months for his work developing scientific equipment with open-source computer-aided design software, microcontrollers and 3D RepRap printers, and for sponsoring a "3D Printers for Peace" contest to encourage people to think about ways that 3D printing can be used to benefit humanity.
"In addition to building 3D printers, the teachers will develop printable teaching and learning aids for their classrooms. These designs will be printed, tested, and shared with the global community so anyone with access to a 3D printer can make their own or tweak them for the needs of their students", explains Pearce.
"3D printers will enable teachers everywhere to save tons of money and get precisely what they want for their classrooms," says Pearce. "It's spawning a revolution."
The teacher workshop was organized by Michigan Tech's High School Enterprise program, working with GM/PACE and Square One.
---
General Motors Co. (NYSE:GM, TSX: GMM) and its partners produce vehicles in 30 countries, and the company has leadership positions in the world's largest and fastest-growing automotive markets. GM, its subsidiaries and joint venture entities sell vehicles under the Chevrolet, Cadillac, Baojun, Buick, GMC, Holden, Isuzu, Jiefang, Opel, Vauxhall and Wuling brands. More information on the company and its subsidiaries, including OnStar, a global leader in vehicle safety, security and information services, can be found at http://www.gm.com.
Michigan Technological University is a public research university, home to more than 7,000 students from 54 countries. Founded in 1885, the University offers more than 120 undergraduate and graduate degree programs in science and technology, engineering, forestry, business and economics, health professions, humanities, mathematics, and social sciences. Our campus in Michigan's Upper Peninsula overlooks the Keweenaw Waterway and is just a few miles from Lake Superior.