MC Friedrich Wins Kennedy Center Medallion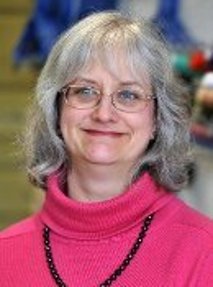 December 12, 2013—
Mary Carol "MC" Friedrich, associate professor of theatre at Michigan Technological University, will be one of three recipients of the Kennedy Center Medallion in the Great Lakes region.
The Kennedy Center American College Theater Festival (KCACTF) presents the Medallion to two or three recipients in each of its eight national districts every year. The award honors individuals or organizations that have made extraordinary contributions to the teaching and producing of theatre and that have significantly dedicated time, artistry and enthusiasm to the development of educational theatre.
The award is the most prestigious regional award given by KCACTF and is considered one of the greatest honors in theatre education.
"Last year, I finished a seven-year appointment with KCACTF," said Friedrich. "I was part of the discussion each year surrounding nominees for the Medallion. It's a great surprise and an honor to receive the award myself."
Friedrich teaches costume, lighting, scene design and costume construction and history courses at Michigan Tech. She will be presented with her award at a Jan. 11, 2014 reception in Saginaw, Mich.
Michigan Technological University (www.mtu.edu) is a leading public research university developing new technologies and preparing students to create the future for a prosperous and sustainable world. Michigan Tech offers more than 120 undergraduate and graduate degree programs in engineering; forest resources; computing; technology; business; economics; natural, physical and environmental sciences; arts; humanities; and social sciences.